Darriel Harris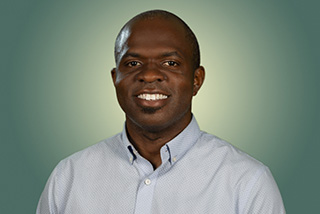 ---
111 Market Place, Suite 840, Baltimore MD 21202
Cynthia and Robert S. Lawrence Fellow

In 2021, Darriel was named the inaugural Cynthia and Robert S. Lawrence Fellow at the Johns Hopkins Center for a Livable Future. As a fellow for the next two years, he will advance CLF's mission and join the next generation of leaders working to improve food systems.
Darriel first worked with CLF in 2013, when he contributed to the (now-retired) Baltimore Food and Faith Project, doing outreach with local faith communities. In this role, he worked with community leaders establishing congregational gardens, and he helped develop an educational series that discussed food systems from within the perspective of religious texts.
In 2015, he began work on his doctorate at the Bloomberg School of Public Health and enrolled in the health communications program in the Department of Health, Behavior and Society. He worked with CLF for the duration of his six-year course of study. He earned his doctoral degree from the Bloomberg School in 2020, complimenting his bachelor of science degree in electrical engineering, his master's degree in organizational management, and his Master of Divinity degree.
Before his engagement with the Bloomberg School, Darriel worked in various domestic and international settings to improve health outcomes in communities, in ways that extend beyond methods typically associated with academia. One of these settings was South Sudan, where he wrote a curriculum that uses Bible passages to convey health messages. He's also led research projects with his congregation at Newborn Community of Faith Church in Baltimore, where he serves as senior pastor. His research focuses on how health messages can be better communicated to faith-based communities, and draws on his skills as a community organizer and leader.
Darriel has also been a C. Sylvia and Eddie C. Brown Community Health Scholar for five years, and a CLF-Lerner Fellow for two years.
His current work at CLF is with the Food Policy Network, using funds from the Kellogg Foundation to bring an equity lens to food council work.