Pastor, Fellow, Researcher: Bringing Equity into the Food System
November 03, 2021
By: Christine Grillo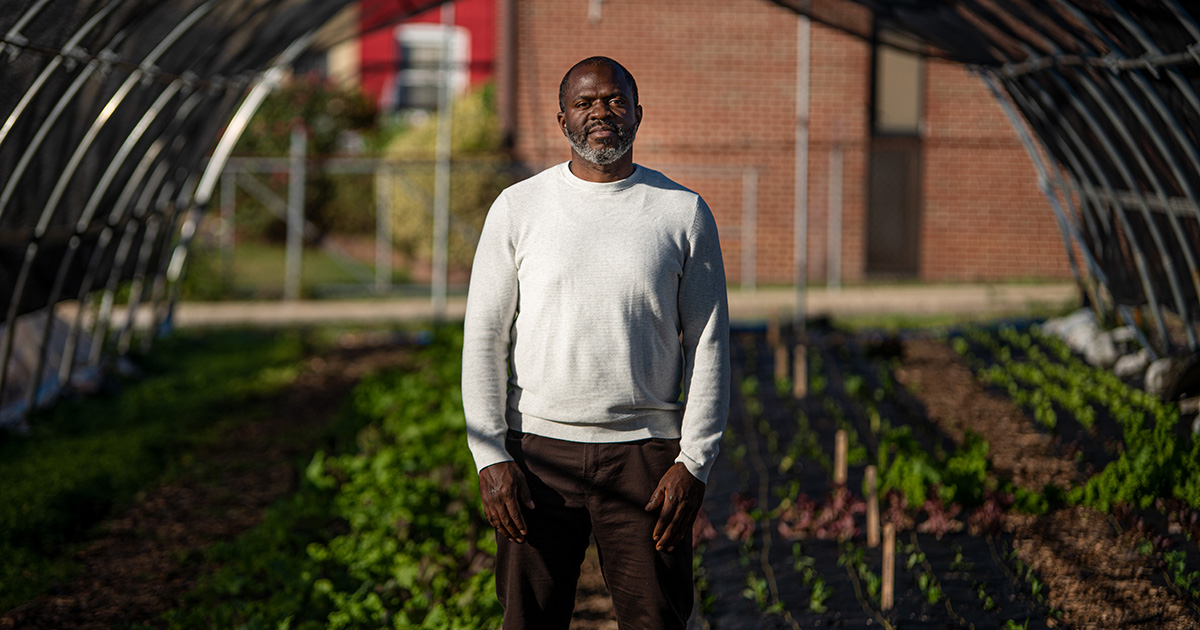 BALTIMORE—November 4, 2021. How can food policy councils build equity in their communities? How can people who live near Industrial Food Animal Production operations protect their homes and health?
Dr. Darriel Harris, the first-ever Cynthia and Robert S. Lawrence Fellow at the Center for a Livable Future (CLF), will spend the next two years trying to answer these questions, and more. In his role as fellow, he'll help the Center explore food solutions that protect public health and focus on environmental justice and racial equity.
The fellowship is intended to provide fellows with experience as researchers and practitioners. To this end, Darriel will help to create the foundation for new CLF initiatives  within diverse, collaborative interdisciplinary settings, and he'll work closely with different communities to improve food systems.
Darriel began working with CLF in 2013, when he joined the Center to work on the (now-retired) Baltimore Food and Faith project. In this position, he worked with faith groups around their engagement with the food system, using sacred texts to encourage faith communities to explore how they eat, and how their diets affect their health and the environment. That outreach included congregational gardens, farmers markets, and an educational series around food systems.
When he arrived at CLF, he was already an ordained minister and had earned his Master of Divinity degree at Duke University. (He also holds a bachelor of science degree in electrical engineering from Morgan State University and a master's degree in organizational management from the George Washington University.) The position at CLF was a next step for him after working in the South Sudan, where he wrote a curriculum that uses Bible passages to convey health messages.
He serves as senior pastor of Newborn Community of Faith Church in Baltimore and has led research projects with his congregation. Curious about how health messages—for example, "Eat more fruits and vegetables"— based in sacred texts might persuade people to improve their health behaviors, he began exploring how religious messages lend themselves to instructions on how we should interact with food systems.
Bob Lawrence, the CLF's founding director, is no stranger to the important role that faith can play in communities. His father was a minister, and during his time at the Bloomberg School, Bob often emphasized the role of community in public health.
"We were delighted to learn that Darriel is the inaugural recipient of the fellowship," said Bob. "Cynthia and I have admired and loved him for years. We know the food system will become more just as a result of Darriel's work."
In the neighborhood where Darriel is a pastor, finding healthy, nutritious food is a challenge. "The neighborhood is 97 percent Black, and it's extraordinarily difficult to find nutritious food," he said. "But it's super easy to find awful, life-stealing, unhealthy take-out."
"CLF introduced me to the food world," he said. "I hadn't thought critically about the food system before, beyond 'Hey, there needs to be a grocery store here.' I hadn't thought about why some neighborhoods don't have grocery stores, or how that affects them."
In 2015, he began work on his doctorate at the Bloomberg School of Public Health and enrolled in the health communications program in the Department of Health, Behavior and Society. He worked with CLF for the duration of his six-year course of study.
"I was doing a study with Anne [Palmer], when I quickly realized I didn't have the skills to craft a study that would be seen as valid," he said. "So, I applied for the degree [program]."
This past May, he defended, and he'll walk in December of this year. Some of his doctoral research has explored pathways of persuasion. For example: When science fails to persuade, are health messages coming from religious texts more effective at getting people to eat more fruits and vegetables? Preliminary analysis suggests that faith-based messages are at least as effective as science messages. 
In addition to being awarded the Lawrence Fellowship, Darriel has benefited from two other scholarships at the School. He was a C. Sylvia and Eddie C. Brown Community Health Scholar for five years, and a CLF-Lerner Fellow for two years; the scholarship and fellowship helped support him and his family while he earned his degree.
The Lawrence Fellowship will help support him while he works on equity with CLF, starting with projects through the Food Policy Network. One of his first projects will be to collaborate with CLF and partner organizations, using funds from the Kellogg Foundation, to bring an equity lens to food council work.
Bob noted that "from the beginning, the CLF has looked at the food system and its impact on health from the perspective of a human rights framework. The right to health and the right to food are embedded in the International Covenant on Social, Economic, and Cultural Rights. Much of the inequity in the US health system and food system stems from our failure to honor these obligations."
"The way we look at nutrition is a microcosm for health in general. I've seen how inequities in the food system leave minority groups unlikely to thrive, because eating nutritious foods is not part of the norm," says Darriel. "Before CLF, I was thinking it was individual choice, but now I'm seeing how it's environmental norms that sway people more heavily."
---
Photos: Mike Milli, 2021.
More information about the Cynthia and Robert S. Lawrence Fellowship:
The Cynthia & Robert S. Lawrence Fellowship supports individuals from an array of academic disciplines to advance the mission of the Johns Hopkins Center for a Livable Future (CLF). Recipients of the Lawrence Fellowship will join the next generation of leaders working to improve food systems and protect the public's health. Upon completion, Lawrence Fellows will be well-positioned as active participants in building a healthy, just, equitable, and sustainable food system.
More information about the CLF-Lerner Fellowship:
Established in 2003, the goal of the Center for a Livable Future-Lerner Fellowship Program is to support doctoral students at the Johns Hopkins University who are committed to the discovery and/or application of knowledge about public health challenges associated with the current food system, and/or the creation of a healthier, more equitable, resilient, and sustainable food system. The CLF-Lerner Fellowship program is named to honor Sid and Helaine Lerner, whose generous support made it possible to establish the program.
More information about the C. Sylvia and Eddie C. Brown Community Health Scholarship Program:
The C. Sylvia and Eddie C. Brown Community Health Scholarship Program trains future public health leaders who are committed to eliminating health disparities in Baltimore and other cities. The program is jointly funded by Baltimore-based philanthropists C. Sylvia and Eddie C. Brown and the Bloomberg School.
More Stories and Viewpoints