Enlightenment at the Food System Lab
December 10, 2018
By: Christine Grillo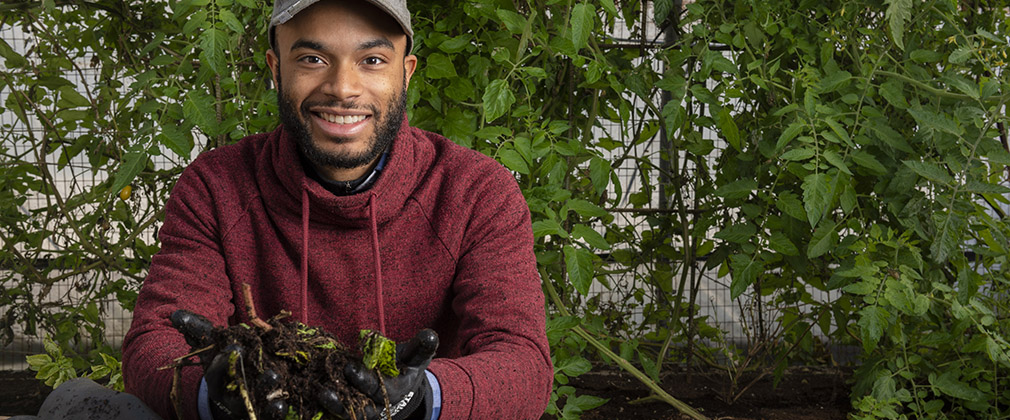 "Before I started at the Center for a Livable Future," says Kenai McFadden, "I didn't even know what a food system is."
A Bloomberg School graduate student focusing on Health Education and Health Communication, Kenai's full-time field placement at the Food System Lab has piqued new interests and expanded the way he thinks about community health.
The Food System Lab is an urban teaching farm in Baltimore City that operates on the grounds of Baltimore's Cylburn Arboretum. Begun in 2012, it has evolved from a demonstration project exploring the feasibility of aquaponics to a beloved destination for thousands of students—and educators—from all over Baltimore who want to learn about food systems, particularly about growing plants in a small-scale agro-ecosystem.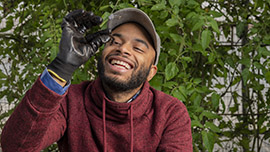 "I think of myself as an urban gardener," says Kenai. He spends his days seeding vegetables, tending compost, giving tours to students, implementing food system lessons and exploring new opportunities for students to engage more deeply with food system learning.
He recently harvested what he calls "mammoth dill," most of which he was able to sell at a local farmers market through the Farm Alliance of Baltimore. Dill, apparently, does very well in the Lab's environment. (Cilantro, on the other hand, does not grow well in aquaponics. Go figure.)
When he started working at the Lab in 2017, he was brought on as a curriculum specialist to focus on developing lessons for students and to help align FoodSpan, the Center's free food system lesson plan package, with national standards and Baltimore City public school standards. In 2019 the lab will re-introduce tilapia in its aquaponics system. Until then Kenai keeps the plants, such as sorrel, basil and mustard, healthy and takes care of the compost bin, which is home to about 4,000 of his friends, the red wiggler worms. He uses the compost to enrich the Lab's soil bed. One of the jobs he lets his student visitors do is water quality testing. "You don't need a degree in chemistry to test the pH of the water," he says.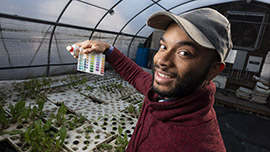 Before coming to the Center for a Livable Future (CLF), Kenai graduated from Duke University with a bachelor's degree in chemistry and psychology. It was at Duke that Kenai found himself drawn to education. After earning his bachelor's degree, he joined HealthCorps and taught nutrition, fitness and mental health classes at a high school in Houston. "That job made me realize I wanted to pursue public health," he says. His interest in health behavior change had been piqued—he wants to tackle the tough questions about the best ways to communicate about adopting healthy behaviors. Now he's in his second year of a masters program in the Department of Health Behavior and Society at the Bloomberg School. Pursuing his studies in Baltimore adds a lot of texture to his work. "Baltimore's food system is a great environment to dig into this field," he says.
His time of the Food System Lab is turning out to be a great complement to his coursework and hands-on experience in education and communication. For his thesis, he's flirting with a couple ideas, one of which is an exploration of best practices for getting food system lessons (like CLF's FoodSpan) implemented in schools.
After graduating, he'd like to continue working in food systems education. Ideally, he'll continue weaving together his interests in public health, food access, health behavior change and education. "I'm still trying to decide where in the food system I want to end up, whether that's on the production side, like in urban agriculture, or on the education side," he says. "I do know that I want to help people through food."
More Stories and Viewpoints