Urban Food Waste Interventions: Where To Go Next
February 05, 2020
By: Christine Grillo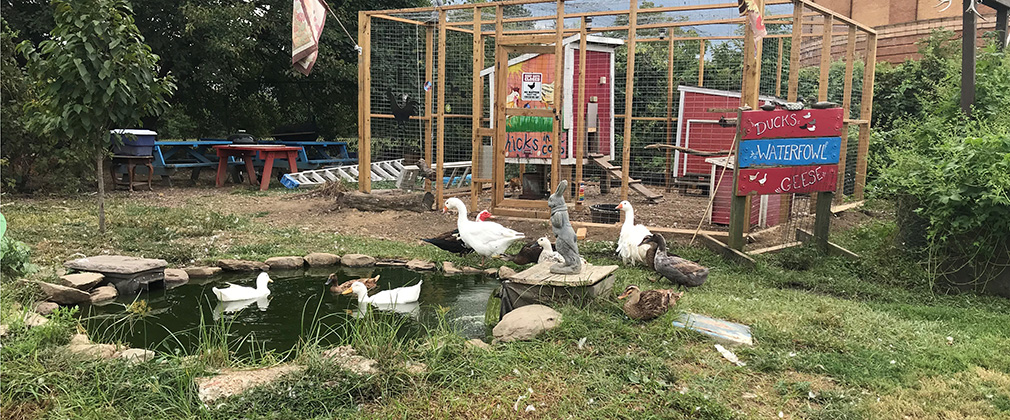 BALTIMORE—September 9-10, 2019. Most Americans live in urban areas and eat food that gets imported into their cities—but an alarming percentage of what comes in as food goes out as waste. And while the wasting of food poses a threat to urban systems, addressing the problem also provides an opportunity to increase sustainability. Many US cities are stepping up to the challenge with measures such as composting programs that include curbside pickup, and food rescue programs that redistribute surplus food to food pantries and community members.
These programs can engage citizens in making their cities more sustainable, boost social capital by helping people learn new skills, and divert food from landfills. In addition, interventions also have impacts on the many other systems that intertwine with wasted food. But how much do we really know about the benefits and costs of these programs, and the optimal ways to implement them? When the action outpaces the research, as it often does with wasted food, interventions could advance significantly from more and better evaluation.
In response to the need for a greater understanding of the problem and its solutions, and how food waste action could improve sustainability of urban systems, the National Science Foundation supported a two-day workshop in Baltimore to identify key research needs. Led by the Johns Hopkins Department of Civil and Systems Engineering's Sauleh Siddiqui, the Johns Hopkins Center for a Livable Future's Roni Neff and Ohio State University's Brian Roe, the Wasted Food and Sustainable Urban Systems workshop took place in September and was attended by more than 40 urban food system researchers and practitioners. This convening is one part of CLF's multi-faceted focus area on reducing wasted food.
"The research literature on addressing waste of food is growing by leaps and bounds. So too are practice-based efforts to address waste of food in cities," says Neff.  "However, as yet the research literature makes only limited connection to cities."
She points to opportunities including addressing linkages between wasted food and other urban systems, and performing research with front-line workers in food and waste management. She adds, "We're talking about vast volumes of food, and that means vast opportunity."
Siddiqui also notes that a systems approach means going beyond urban geographies. "Tackling a problem like urban wasted food allows us to see the connections between urban and rural systems, and then also see how those connections vary in different places," says Siddiqui.
The workshop was one of 27 funded by the National Science Foundation  this year to identify priority research needs for understanding and supporting sustainable urban systems. One other workshop  focused on wasted food, at the Rochester Institute of Technology (also attended by Neff). Among the opportunities is to figure out how we can take lessons from one city and apply them to another city. For example, "Baltimore's challenges may be similar to Columbus' challenges, but not at all similar to Los Angeles'," says Roe.
As part of the workshop process to spark ideas and discussion about research needs, attendees participated in two field trips to learn about wasted food efforts in Baltimore. In one, they visited the Baltimore Convention Center to learn about its interventions to address waste of food at the scale of a large catering program. In the other, they visited Filbert Street Garden/Baltimore Compost Collective, a youth-empowered community-based program that collects and composts food scraps locally, and uses the compost to grow healthy food while providing skills and earning income. The program also reduces the volume of food going to the city's incinerator, which is located in the same neighborhood and has been associated with environmental injustices.
"It was rewarding to connect workshop attendees with real-life practitioners in Baltimore City," says organizing committee member Ava Richardson, the city's lead on food waste and a CLF-Lerner Fellow. "We wanted attendees to not only see what people in Baltimore are doing to reduce wasted food, but also to experience how the issue is connected to other urban challenges like food insecurity, environmental justice, and workforce development."
An added benefit of the Filbert Street Garden tour was the opportunity for attendees to hold the garden's resident chickens. It was a reminder that while reducing wasted food can be popular from a "business case" perspective, those interventions are built upon a foundation of people working with each other and with animals in an ecosystem—even in the middle of a city.
"Sustainable urban systems are an important area of study," says Neff. "Wasted food is the right-sized case study for looking at how all these systems can work together to advance change."
The workshop was supported by NSF Award # 1929791. Read the conference report, Wasted Food and Sustainable Urban Systems: Prioritizing Research Needs. In addition to the three lead reseachers, the organizing committee included Richardson, CLF's Erin Biehl; Laura Moreno from UC Berkeley; Darby Hoover and Yvette Cabrera from the Natural Resources Defense Council's Food Matters cities program, Kat Klosek from the Johns Hopkins Center for Government Excellence, and Natasha Wedderburn from Coppin State University. Attendees included academics and experts from federal and local governments, businesses and organizations focused on food waste reduction across the food recovery hierarchy, from prevention to composting. 
Image by Erin Biehl, 2019, Baltimore Compost Collective.
More Stories and Viewpoints