CLF-Lerner Fellows Volunteer Day at Boone Street Farm
December 03, 2013
By: Patrick Baron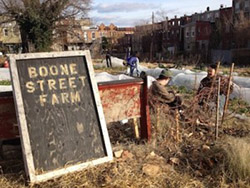 The CLF-Lerner Fellows enjoyed a sunny Saturday afternoon last weekend volunteering in East Baltimore at Boone Street Farm, a small community farm managed by a former CLF staff member, Cheryl Carmona. We braved the brisk-not-quite-freezing weather and warmed ourselves by planting, cleaning, weeding and performing other farm tasks with Cheryl and several members of the Boone Street Farm community to help wind down the season at the farm.
Boone Street Farm is a member of the Baltimore Farm Alliance, a network of local urban farms (including the CLF Aquaponics Project) that are dedicated to increasing the viability of urban farming in Baltimore and improving access to high quality urban-grown foods. Cheryl and the team at Boone Street Farm are doing an amazing job involving their community in the ongoing effort to transform Baltimore's food landscape, one vacant lot at a time.
The CLF-Lerner fellows will be visiting and volunteering at other Farm Alliance sites in Baltimore throughout the year, and will report more highlights from our experiences!
More Stories and Viewpoints