Building Resilient Food Systems: Lessons Learned from Baltimore
August 02, 2017
By: Erin Biehl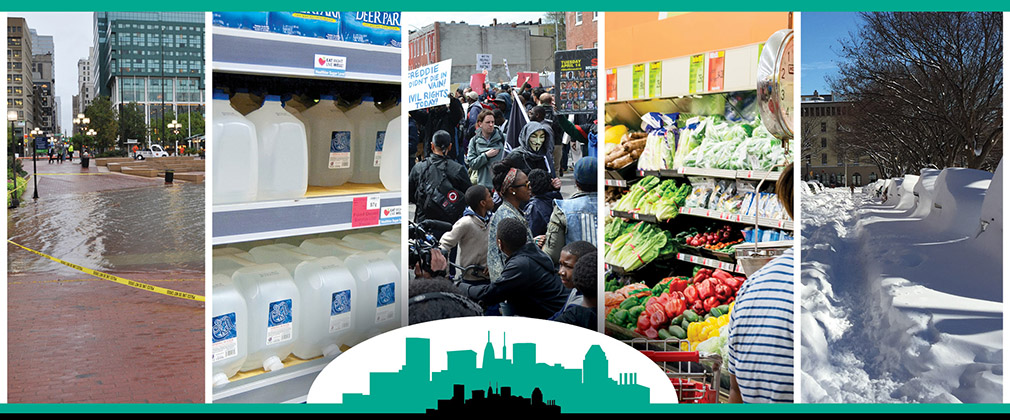 Last summer, I returned home from vacation to find a deck full of scorched plants—apparently they just couldn't take the heat during Baltimore's hottest week of the summer. Or so it seemed. A week later, with some careful nurturing, my withered tomatoes and basil returned to their tender, tasty selves. Despite the beating they took from the Baltimore heat, they were resilient.
Ideally, food systems would be as resilient as my plants, able to survive the hotter, stormier days we expect to have if climate change projections are on target. Resilience is the ability to withstand, recover from and adapt to a disruptive event. A resilient food system, therefore, can provide enough accessible and safe food even in the face of crisis.
With climate change, we expect that stronger, more frequent storms, drought, extreme heat and many other weather hazards will have detrimental impacts on the food supply. Threats beyond climate change – such as civil unrest, terrorism, economic downturn or shifting international trade policies – can also jeopardize the food supply of the future.
For the past year and a half, I've been working with Baltimore City to figure out how to make urban food systems stronger in the face of such crises. Recently, with collaborators at the Johns Hopkins Center for a Livable Future (CLF) and Baltimore City's Office of Sustainability, I finished a 168-page report that takes a deep dive into potential threats to the city's food system and what factors make people, places, and infrastructure most vulnerable to those threats.
The Baltimore Food System Resilience Advisory Report provides specific recommendations for how Baltimore City and its community and business partners can improve food system resilience. Although hazards and food systems vary from city to city, while developing Baltimore's report I learned some key lessons that could help urban planners and food security advocates in other cities develop their own plans for improving food system resilience:
1) Address existing challenges to food access throughout the city. The policies and programs that result from addressing chronic food access challenges in an urban environment can also support the populations who may be the most vulnerable to disasters. Many of the people we think would be more vulnerable to disasters in Baltimore (such as children, older adults, and people who are homebound) live in areas where there are more physical and economic barriers to accessing healthy food – barriers that could be even more formidable after a disaster.
2) Urban agriculture is not the solution to food resilience. When I tell people I work on food resilience, they often start asking me questions about urban agriculture. But while expanding urban agriculture has many benefits, there are several reasons why it cannot be the only viable food source for a city's population. Urban agriculture cannot meet the demand for an entire city due to restrictions on growing seasons, scale of production and supply chains available for wide distribution. Beyond that, a storm that destroys buildings in Baltimore could also destroy its urban farms. Cities shouldn't put all of their eggs in the urban farming basket, which leads me to my next point…
3) Diversity is key. Achieving lasting resilience in a system requires diversity and redundancy–meaning there is more than one source of food and more than one way for that food to get from farm to table. Having diverse supply chains that source food from a mix of regional, national and global sources, and having more than one way for food to enter the city will make it more likely that a city's food supply is protected from a disruption in one food-producing region. Diversity in supply chains can also prevent bottlenecks, a challenge that Chatham House investigated in a recent report.
4) Support small food business and nonprofit preparedness capabilities. As we learned in Baltimore, smaller, independent food businesses could be less connected to preparedness and recovery resources, compared to regional or national chains. Similarly, food pantries or other organizations providing food assistance sometimes lack the tools, knowledge or funds to adequately prepare for disruptive events. In Baltimore, for example, the cost of backup generators often prevents pantries and small stores from purchasing them, and many non-profits, already stretched to provide enough food services in normal times, cannot handle a surge in demand after a crisis.
5) Build community resilience to build food system resilience. During the development of Baltimore's report, some community leaders shared stories of strong social capital and resilience among individuals at the community level. We heard about neighbors who helped each other dig out of the snow or pick up food from the store for homebound residents before a big storm. Since the City cannot be everywhere at once, and policy only reaches so far, communities need the resources and established relationships to help each other out.
6) Involve stakeholders from various levels – and involve them NOW. Establish a network of food stakeholders ahead of time to avoid last-minute coordination during a crisis. In Baltimore, developing an Emergency Food Working Group and preliminary emergency coordination protocols early in the creation of the Advisory Report enabled the city and key partners to more effectively coordinate a food response to a 2016 winter storm that shut down roads and schools for multiple days. With coordination between the City, community centers, non-profit meal providers and others ahead of time, stakeholders were able to open community centers and serve food to students who would have missed their meals because of school closure.
Food resilience planning is a growing field among city planners, advocates, and academics alike. In a recent webinar hosted by the CLF's Food Policy Networks project, we heard from food policy councils and city planners about their desire to support resilience in their own food systems. There are some resources available for anyone interested in this topic, including a review of food plans relevant to resilience posted on the CLF's Food Policy Networks and a new report from the Rockefeller Foundation and the Initiative for a Competitive Inner City. As cities take on climate change, including food systems as a critical part of urban infrastructure in solutions to new challenges can help to improve urban food security both now and in the future.
More Stories and Viewpoints