Wasted Food and Sustainable Urban Systems: Prioritizing Research Needs
September 30, 2019
CLF Report
On September 9-10, 2019, our team convened 40 practitioners and researchers at the Johns Hopkins University in Baltimore to co-create a research agenda on wasted food as a sustainable urban systems opportunity. As envisioned below, in this figure (below) that was shared at the conference's opening session, urban systems represent a nexus in the food-to-waste process. Two leading indicators of an urban system's sustainability are the percent of food that goes uneaten and the percent of landfill occupied by food waste. Food systems and the other urban systems depicted in the figure (below) influence one another, creating the potential for important synergies in addressing overall urban sustainability.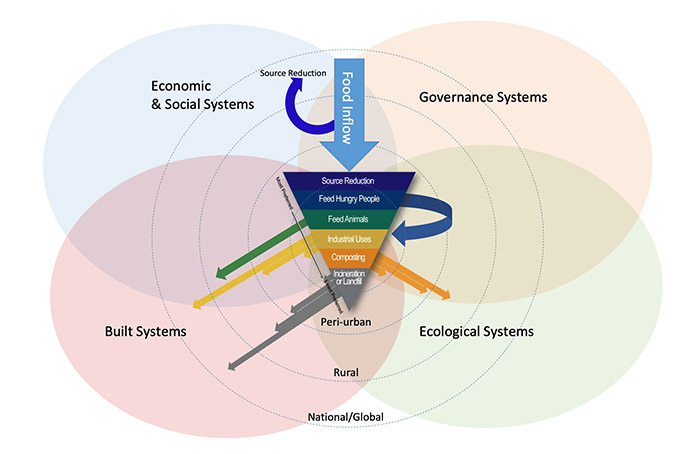 The meeting followed a "double-diamond design" process. We gathered preliminary input with a pre-conference survey of nearly 300 practitioners and researchers. We then engaged in expansive idea generation through a sequence of group sessions and Baltimore city field visits presenting challenges and solutions at different scales. Our process led the assembled group to identify top urban food waste challenges, to select key approaches to address them, and finally, to identify the research most needed to inform and advance those approaches. The interdisciplinary and community-engaged conversations produced the groundwork for a convergent research agenda addressing six core knowledge gaps:
I.   Tools and Typologies for Systems Modeling and Evaluation
II.  Understanding Intervention Spillovers Across the Supply Chain & the Food Waste Hierarchy
III. The Potential for Leveraging Front-line Workers in Cities
IV. Preventing Consumer-level Waste of Food in Cities
V.  Equity
VI. Data on Wasted Food and Connected Systems
We map each knowledge gap to key elements of convergence science in sustainable urban systems as articulated by NSF.  If followed, the resulting research agenda will provide much-needed data, frameworks, and knowledge to support city efforts to address waste of food while creating generalizable insights across urban systems of diverse scales and types. Co-creation of knowledge will build buy-in and assure research projects are designed so as to yield actionable findings.
Our convening and its outputs support the national goal of halving waste of food by 2030—a goal also adopted by many cities. To date, little urban-oriented research supports city efforts to address waste of food. Yet, cities are rapidly scaling efforts to increase the retention of food's value, while strengthening co-benefits for food security, economies, environments, and employment, urban system sustainability, and equity. The pace of development in this sector contributes to the urgency for research findings to shape efforts, including investments in infrastructure likely to last decades or more. We envision food waste as a test case for addressing sustainability across multiple urban systems. We are energized by the participants at our conference and by our interactions with the organizers of the related NSF SUS conference at the Rochester Institute of Technology and look forward to collaborating with these and other research and practitioner groups to co-generate the knowledge required to advance sustainability science and address this opportunity for cities across the globe.
The organizing team included Roni Neff, Center for a Livable Future; Brian Roe, Ohio State University; Sauleh Siddiqui, JHU Dept. of Civil Engineering; Ava Richardson, Baltimore City Department of Planning; Darby Hoover, NRDC; Kat Klosek, JHU Center for Government Excellence; Laura Moreno, UC Berkeley; Natasha Wedderburn, Coppin State University; Yvette Cabrera, NRDC; Max Marshall, JHU Dept. of Civil Engineering; and Erin Biehl, Center for a Livable Future.