Offering Free School Meals to All Students Supports Household Food Security
Study Finds Implementing Community Eligibility Provision Increases Student Participation in Free School Meals Programs
Mar 08, 2021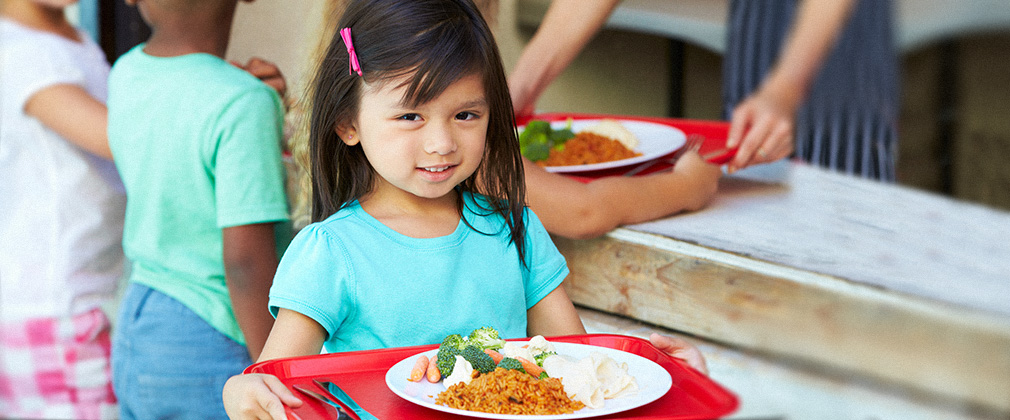 Waiving eligibility requirements for free school meals programs may be an effective strategy for improving food security among students and their families, according to a study from researchers at the Johns Hopkins Center for a Livable Future (CLF) in the Bloomberg School of Public Health's Department of Environmental and Health Engineering. The study is the first of its kind to examine the relationship between school participation in the Community Eligibility Provision (CEP) and household food security, which has become an increasingly dire issue in the United States because of disruptions caused by the COVID-19 pandemic.
The Community Eligibility Provision (CEP) is a funding option that allows schools to offer meals at no charge to all students—without requiring households to apply for meal benefits. The CEP is available for schools where at least 40 percent of the students are deemed eligible for free school meals, but it is underused. Only 55 percent of eligible schools participated in CEP during the 2016–2017 school year.
"The CEP is beneficial not only for students but for schools too. For schools, it reduces administrative costs, simplifies reimbursement structures, and increases participation in school meals. Previous research suggests that it can also reduce suspension rates and absences, improve test scores, and reduce stigma associated with receiving free school meals," said Karen Bassarab, co-author of the study and senior program officer with CLF's Food Communities and Public Health program. "Our goal with this study was to assess whether the benefits of CEP extended to students' families and had an impact on the food security status of their families."
To conduct their analysis, the researchers compared survey responses from families with children attending CEP-participating schools in Baltimore City, Maryland, against responses from families with children attending schools in a different Maryland school district that were eligible but not enrolled in CEP. A total of 427 families from five CEP schools and three comparison district schools participated in the study.
The study found that the families of students at CEP schools were less likely to report food insecurity. In addition, the families of students attending a CEP-eligible but not participating school also had a higher risk of experiencing more severe forms of food insecurity.
These results suggest that CEP implementation may be an effective method to reduce food insecurity for children and families. These findings are especially important considering the disturbingly high rates of food insecurity that were reported in this study. While 15.7 percent of all US households with children younger than 18 years are food insecure, a disturbing 43.8 percent of households in the study sample were food insecure.
"School meals programs have well-documented, positive impacts on student nutrition, wellness, and academic achievement. The CEP is another important tool for schools to maximize access to and participation in school meals. Access to school meals programs is  critical right now as an unprecedented number of families are seeking food assistance due to the coronavirus pandemic," said Bassarab. "We hope the results from this study will help inform administrators and other stakeholders' decisions about using CEP in their schools, and can assist legislators in their evaluation of the program."
"The Center is dedicated to researching food system solutions, and we hope this research will convince decision makers in local school systems to take advantage of an easy-to-implement program that would result in broad improvements at the local level, for the most vulnerable children," said Martin Bloem, MD, PhD, director of the CLF and the Robert Lawrence Professor of Environmental Health at the Bloomberg School. "Ensuring that all schoolchildren receive adequate and nutritious meals is one piece of the puzzle for creating an equitable food system."
"Household Food Security Status of Families with Children Attending Schools that Participate in the Community Eligibility Provision (CEP) and Those with Children Attending Schools that are CEP-Eligible, but Not Participating," was written by Susan Michelle Gross, Tam Lynne Kelley, Marycatherine Augustyn, Michael J. Wilson, Karen Bassarab, and Anne Palmer and published in the Journal of Hunger & Environmental Nutrition.