COVID-19 Pandemic Highlights Longstanding Health Risks Facing US Farmworkers
New CLF report calls for urgent action to protect farmworker health
May 04, 2021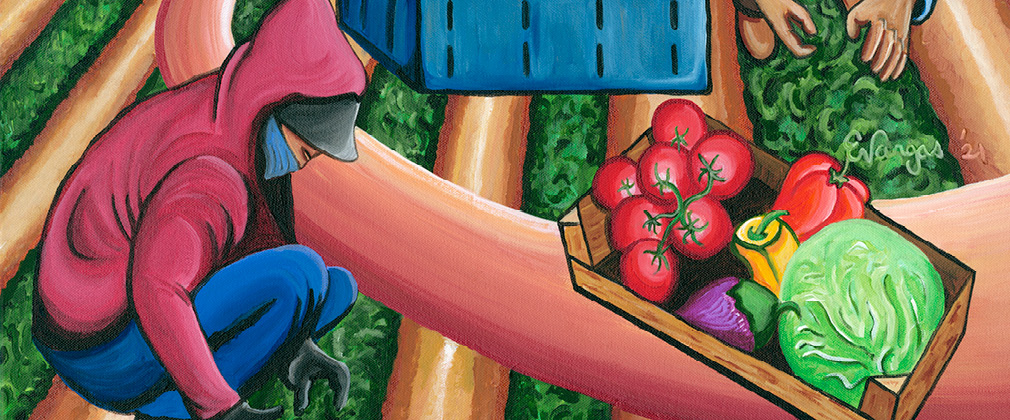 The disproportionate impact of the COVID-19 pandemic on farmworkers in the United States reflects an urgent need for systemic reforms to protect farmworkers' health, safety, and economic security, according to a new report released today by the Johns Hopkins Center for a Livable Future (CLF) in the Bloomberg School of Public Health's Department of Environmental Health and Engineering. The report, "Essential and in Crisis: A Review of the Public Health Threats Facing Farmworkers in the US," examines health burdens affecting farmworkers and outlines critical opportunities, challenges, and interventions to advance reform.
On March 19, 2020, the Federal government issued guidance declaring that agricultural workers were "essential" to the stability and security of the national food supply during the COVID-19 pandemic. As the pandemic spread across the US, farmworkers endured dangerous working conditions, were denied access to basic public health protections, and suffered some of the country's highest COVID-19 infection and fatality rates.
"The US government and agricultural employers have largely failed to provide protections or address systemic problems that make workers vulnerable to sickness, while relying on farmworkers' skills to feed and sustain the US population. This incongruity isn't unique to the pandemic—it's actually a reflection of longstanding inequities in our food system." said Sarah Goldman, Senior Program Coordinator with CLF's Food System Policy program. "Our report examines how the social, economic, and legal precarity farmworkers face in the US contribute to health disparities and lays out key avenues for change."
To conduct their analysis, CLF researchers reviewed evidence from the scientific literature published between January 2016 and January 2020 on occupational hazards and social conditions that affect the health of US farmworkers and their families. The researchers also engaged directly with farmworker advocates, labor organizers, legal experts, and other stakeholders throughout the research process to solicit their opinions and insights to ensure that the report reflected a diverse range of perspectives.
According to the report, important health risks affecting farmworkers include injuries resulting from long work hours and inadequate breaks, repetitive motion, dangerous machinery, and animals; exposures to pesticides, extreme heat, and animal waste; mental health threats; gender-based violence; and food insecurity. The researchers note that health impacts associated with hazards such as extreme weather conditions are likely to worsen in the future due to climate change. Factors such as discrimination, poor housing conditions, language barriers, age, social isolation, limited access to healthcare, and low wages also compound physical and mental health risks for farmworkers and their families.
The report is the result of a collaboration between CLF and the Center for Agriculture and Food Systems (CAFS) at Vermont Law School. Its findings complement those of an accompanying report produced by CAFS researchers, "Essentially Unprotected: A Focus on Farmworker Health Laws and Policies Addressing Pesticide Exposure and Heat-Related Illness," which calls attention to critical gaps in legal protections for farmworkers related to occupational exposures to pesticides and heat stress.
The researchers note that health burdens borne by farmworkers are, in part, the result of laws, policies, and practices that limit this workforce's resources and recourse to fight against unsafe working conditions. Although farms are among the most dangerous workplaces in the US, most farmworkers are exempt from core labor and occupational health protections afforded to workers in other industries. As a result, in order to effectively address farmworker health disparities, it is critical to complement additional labor and occupational standards with structural interventions such as providing legal protection and representation to all farmworkers and holding employers accountable to provide safe working conditions through increased industry oversight.
"The COVID-19 pandemic has directed long-overdue attention to how the health of the US food supply is inextricably linked with that of the workers we depend upon to grow our food," said Martin Bloem, MD, PhD, Director of the CLF and the Robert S. Lawrence Professor of Environmental Health at the Bloomberg School. "When farmworkers receive the rights, protections, and compensation they have fought for and deserve, our food system, our agricultural communities, and our collective wellbeing will become stronger."
"Essential and in Crisis: A Review of the Public Health Threats Facing Farmworkers in the US," was written by Sarah Goldman, Anna Aspenson, Prashasti Bhatnagar, and Robert Martin.