Sarah Goldman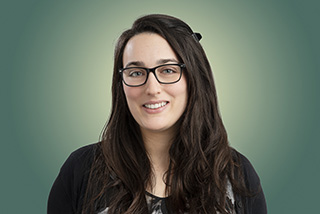 ---
111 Market Place, Suite 840, Baltimore MD 21202
Senior Program Coordinator, Food System Policy

Sarah joined the Center for a Livable Future in 2019 as a Senior Program Coordinator with the Food System Policy Program, following work as an Emerson National Hunger Fellow.  As a fellow, Sarah worked on agricultural policy with the Indigenous Food and Agriculture Initiative and National Farm to School Network. At Carleton College, Sarah started an agricultural training program for fellow students that allowed them to learn from practitioners on topics ranging from soil health to water quality to business management, while also gaining hands-on farming experience. She's also served as a community organizer in Nicaragua and as a student ambassador at the World Expo in Milan, which focused on food and nutrition.  
At the Center, Sarah conducts research and writes reports related to policies in key issue areas such as procurement, nutrition, antibiotic resistance, industrial food animal production, rural development, migrant food chain workers and more. She enjoys working on policy issues that get to the root causes of inequity in agriculture.
"There are many opportunities to spur positive social change through food systems work," says Sarah. She finds that her work at the Center is a great opportunity to work on two food systems issues that are close to her heart—anti-hunger and agricultural production—while also allowing her to explore questions of equity and how to build diverse and inclusive communities within the food system. An avid cyclist, banjo player and gardener, Sarah spends as much time outdoors as possible.