Reducing Food Waste and Setting the Table for All
September 21, 2015
By: Christine Grillo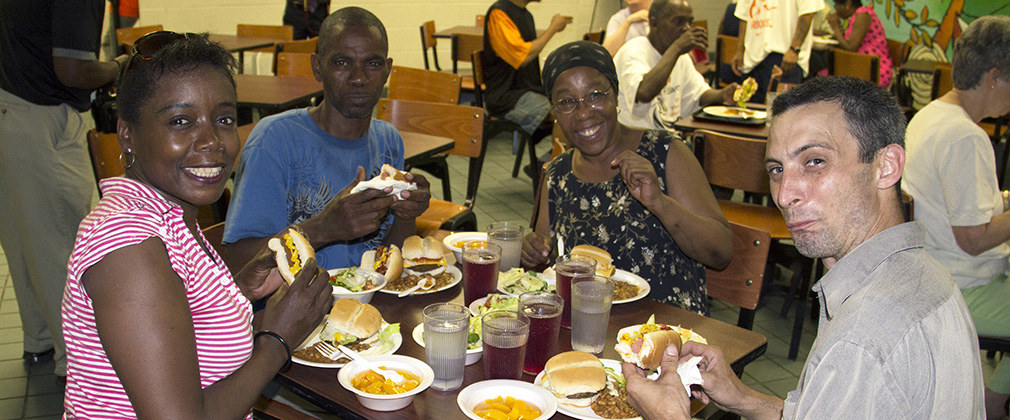 In December 2013, Pope Francis brought attention to what he called "a global scandal"—the 1 billion people in the world who are hungry. Earlier this year he launched an anti-hunger campaign, saying "The planet has enough food for all, but it seems that there is a lack of willingness to share it with everyone. We ought to set the table for all."
Every year the soup kitchen at the Franciscan Center of Baltimore serves 100,000 meals and donates 8,000 bags of groceries to the hungry. Most of the food the Center serves is "recycled" or "repurposed," meaning that it's been recovered from catering companies, supermarkets, cafeterias, and farms before it has to be thrown away. The food is perfectly safe, but nearing its use-by date.
Sometimes farms have an excess of a particular crop and can't distribute or sell it all. Typically, the excess crop simply rots. But gleaning organizations, such as Gather Baltimore, work with farms to collect the excess. "There's so much poundage of edible stuff on the farm," says Christian Metzger, the executive director of the Franciscan Center. "Arthur [Morgan, of Gather Baltimore] might call and say, 'Hey, I got 3,000 pounds of potatoes, do you want a thousand?'" He'll distribute that day's haul among meal programs like the Franciscan Center, Our Daily Bread, and Moveable Feast.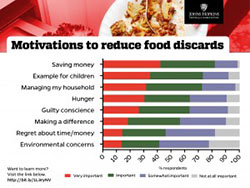 According to the U.S. Department of Agriculture, up to 40 percent of food (after harvest) in this country ends up in a landfill. Last week, the agency, in conjunction with the Environmental Protection Agency, announced their goal of reducing food waste by half by the year 2030. Roni Neff, a researcher at the Johns Hopkins Center for a Livable Future, recently published research on how people feel about wasting food. What she found is that consumers are very motivated by their wallets to cut down on wasting food, but less motivated by making a difference for the hungry (chart 1). "I'm an optimist," says Metzger, "and I'd like to think that Catholic leadership will inspire us to reflect on our personal habits based on the principles of justice and charity."
"St. Francis [of Assisi] is all about living a dignified life with justice," he says. "We don't ask for ID, and there are no criteria for getting a meal from us: that's food justice. How we prepare, serve, and take care of the food, that's where dignity comes in."
Some institutions have committed to repurposing food to feed the hungry. The dining program at Catholic-affiliated Loyola University in Baltimore donates unused food to Beans and Bread, which serves the hungry and homeless. Notre Dame of Maryland University, another Catholic-affiliated college, does not allow food out of its dining halls out of a concern for food safety, but the chefs use a batch cooking method to reduce the amount of leftovers.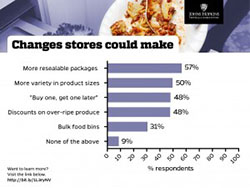 But there's still a lot of food being wasted. "A lot of it comes down to cost," says Metzger. "The startup costs of investing in reducing food waste and recycling that food are enough to chase people away." It's hard to find low-cost options, he says: "We would really like to be involved in composting, but it's expensive." Neff's study asked consumers what supermarkets could do to reduce waste; action items such as "sell food in resealable bags" and "buy one, get one later" scored high (chart 2). But it's hard to know how expensive it would be for stores to implement these changes.
"Catholic institutions should lead by example," he says. "On a government level, there's not a lot of help for feeding people. There's a real lack of support for organizations that serve the poor." Less than two percent of the Franciscan Center's operating budget comes from government sources. The Center is almost entirely supported by the community, and they work with 20 to 25 volunteers every day.
With Pope Francis on the East Coast and Thanksgiving only two months away, now might be a good time to think about how we can reduce food waste and feed the hungry. Here are some suggestions from the Franciscan Center:
Connect food suppliers with food pantries. Metzger suggests going to your neighborhood bakery, for example, and asking them what they do with all the bread leftover at the end of the day. "Hook us up," he says.
Make a cash donation to a food pantry. Because food programs buy in bulk at a discount, your donation goes much further than it would if you were to buy that amount of food in a supermarket.
Make a food donation to a food pantry. Before you do this, ask for a list of items the pantry seeks. Many of them will supply a nutrition-based list. And keep in mind the principle of dignity: don't donate what you wouldn't feed your own family.
Food pantries need helpers to prepare and serve food, and gleaning organizations need help collecting excess crops.
More Stories and Viewpoints