Maryland Poultry Production Poll 2022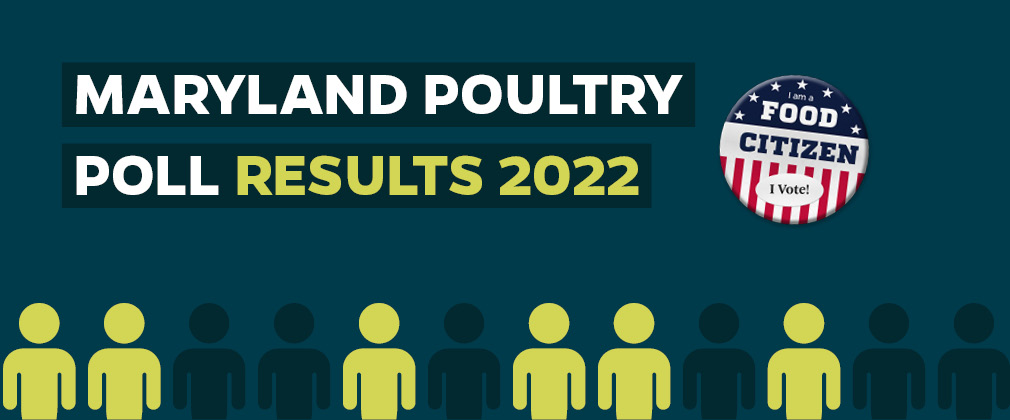 Summary of Findings
Following up on a 2016 poll, the Maryland Poultry Production Poll 2022 measures Maryland voters' attitudes about issues relating to poultry production and agriculture policies, such as environmental impacts, worker safety, pesticide use, support for oversight of industrial chicken facilities, and more. Respondents demonstrated a high level of support for sustainably-produced food and food security; for keeping food workers and communities safe; and for enhanced protections to protect communities from harmful impacts of industrial poultry production.  
The poll also included oversampling for Maryland's Eastern Shore, where there is a high concentration of poultry production.
Methodology
The statewide survey was conducted by Greenberg Quinlan Rosner (GQR) Research in June 2022 and drew responses from 604 Maryland registered voters. Of those 604 voters, 152 are registered on Maryland's Eastern Shore, where most of the state's poultry production is sited.
More Key Findings
89 percent of Maryland respondents support the monitoring and enforcement of the Clean Water Act with regard to industrial poultry production operations.
79 percent of Maryland respondents favor implementing tougher environmental impact standards that apply to all poultry production operations, including ones that are smaller in size.
92 percent of Maryland respondents support requiring large poultry processing companies to pay for the removal of chicken waste, instead of requiring local contract growers to bear the burden of that expense.
78 percent of Maryland respondents support allowing communities to place limits on number of chickens that can be contained in one area, whether in an individual operation or across multiple properties.
For more information about the survey and its findings, please contact Robert Martin, director of the Food Policy Program at CLF: rmarti57@jhu.edu
This poll was commissioned by the Johns Hopkins Center for a Livable Future (CLF) as part of its Food Citizen Project and conducted by Greenberg Quinlan Rosner.