Maryland Supports Poultry Industry Reform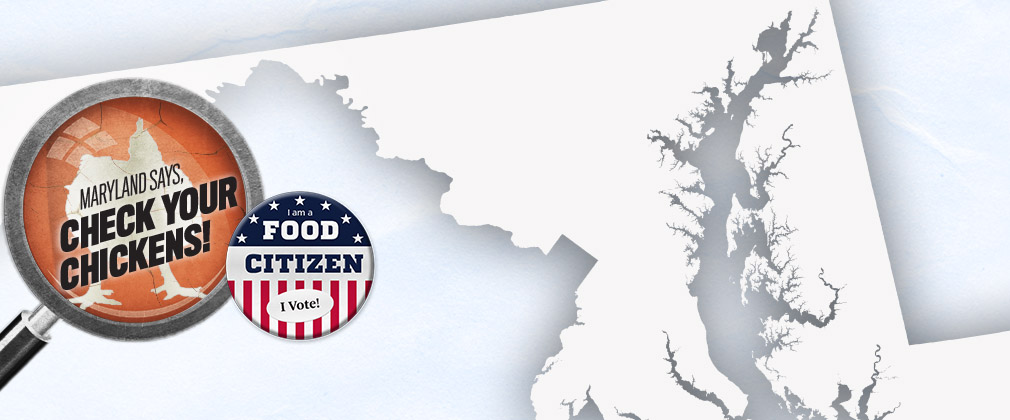 News release   |   Blogpost   |    Survey results   |    Infographics (4)
Summary of Findings
Our 2016 statewide survey of Maryland voters, with a focus on the Eastern Shore, found that there is broad support for a number of reforms to the poultry industry. Hot spot areas for reform include the issues of who pays for chicken waste removal, the contracting system that leaves seven in ten growers living below the poverty line, practices that harm the environment and jeopardize Maryland's tourist industry, and limits on the number of new chicken houses that can be built.
Methodology
The Johns Hopkins Center for a Livable Future worked with Greenberg Quinlan Rosner (GQR), a public opinion research company, to conduct a survey of Maryland voters to determine perceptions about the poultry industry and attitudes toward reform within the industry. The survey was conducted in 2016 among 500 registered voters across Maryland, with an additional 100 voters from the Eastern Shore for a statewide total of 600.
Key Findings
Maryland voters believe government should do more to solve problems and meet needs.
Maryland voters want large chicken processing companies to pay for the removal of excess waste.
Across party lines, Maryland voters support reforms to the poultry contracting system.
Maryland voters support a 5-cent per chicken fee on processing companies that would be dedicated to protecting the environment.
Maryland voters support measures that would allow local areas to limit new poultry houses and number of chickens.
Maryland voters said they would feel more favorably toward a legislator who supports increased oversight.
For more information about the survey and its findings, please contact Robert Martin, director of the Food Policy Program at CLF: rmarti57@jhu.edu