Supriya Shah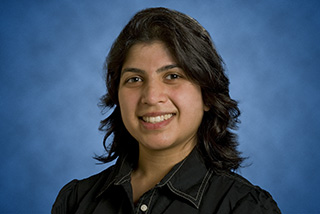 Fellowships Awarded: 2011, 2010

Supriya's interest in the impacts of diet on health stemmed from her lifelong love of cooking, and the cultural importance of food in her family. She became curious about where her food was coming from, which ultimately led her to public health and the Center for a Livable Future.
During her master's studies at the Johns Hopkins Bloomberg School of Public Health, she learned about the Center and its fellowship program. Supriya says that she especially enjoys the Center's Journal Club, which provides a forum for bringing together various perspectives. "I like interacting with the fellows and learning from their knowledge on the food and agriculture field that I was not previously aware of, and that could further my own studies."
Supriya plans to focus her dissertation research on genetically modified foods. In the long term, she foresees a career in academia, but may also pursue opportunities in the public sector related to food and nutrition policy.
Supriya, who hails from Columbia, MD, earned both her BS and MHS at Johns Hopkins University. Her advisor is Dr. Mary Fox, MPH, PhD, assistant professor in the Department of Health Policy and Management.