Jillian Fry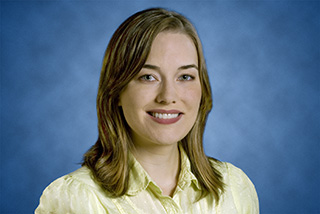 Fellowships Awarded: 2011, 2010, 2009, 2008

Jillian joined the Center for a Livable Future in 2008 as a research assistant, and now also serves as a doctoral fellow. Prior to coming to Johns Hopkins, Jillian earned her MPH from the University of New Mexico and her bachelor's degree from Penn State University.
Her dissertation research is a qualitative case study examining the political system surrounding animal agriculture regulations in Maryland within the context of the Cheseapeake Bay restoration effort. This project appealed to her in part, because she says she "really enjoys the opportunity to highlight gaps that need to be addressed."  Jillian also stresses the importance of not just raising concerns about problems, but also participating in the development of viable solutions.
Jillian says she appreciates the Center's interdisciplinary approach and its ability to balance in-depth research on specific problems while also keeping in mind the larger context.  While these dual perspectives can make the work more challenging, she says they also make the Center's research and education efforts more valuable.
Jillian's doctoral advisor is Robert Lawrence, MD, Center for a Livable Future Director and professor in the Department of Environmental Health Sciences. Her faculty advisor in her department is Daniel Webster, MPH, ScD, professor in the Department of Health Policy and Management.