Dr. Ricardo Castillo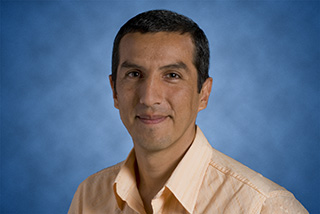 Fellowships Awarded: 2011, 2010, 2009

Ricardo began his studies in veterinary medicine planning to specialize in animal conservation. When he found out that irresponsible uses of land are a major cause of the decreasing biodiversity of animal species, he began learning more about how the increasing amounts of land used for growing livestock in his home country of Peru was affecting the environment.
"While learning more about the food animal industry, I heard about the introduction of new species and genetically modified organisms (GMOs) to the Peruvian region and the lack of regulations for these activities," he says. "At that moment I knew that something was wrong with the way we were producing food."
Ricardo's doctoral research analyzes the transmission of antibiotic resistant bacteria originating from large animal farm operations. Specifically, he will be evaluating the risk of acquiring MRSA of animal origin among hog slaughterhouse workers.
One of Ricardo's future career goals is to teach a course that integrates quantitative methods in infectious disease research with evidence about industrial food animal production, so that future generations of public health leaders are trained on these issues.
Ricardo's advisors are William Moss, MD, MPH, associate professor in the Department of Epidemiology and Ellen Silbergeld, PhD, professor in the Department of Environmental Health Sciences.