Food and Farm Worker Protections Critical to COVID-19 Pandemic Response
New Policy Brief Provides Framework for Safeguarding US Food Supply Chain
May 27, 2020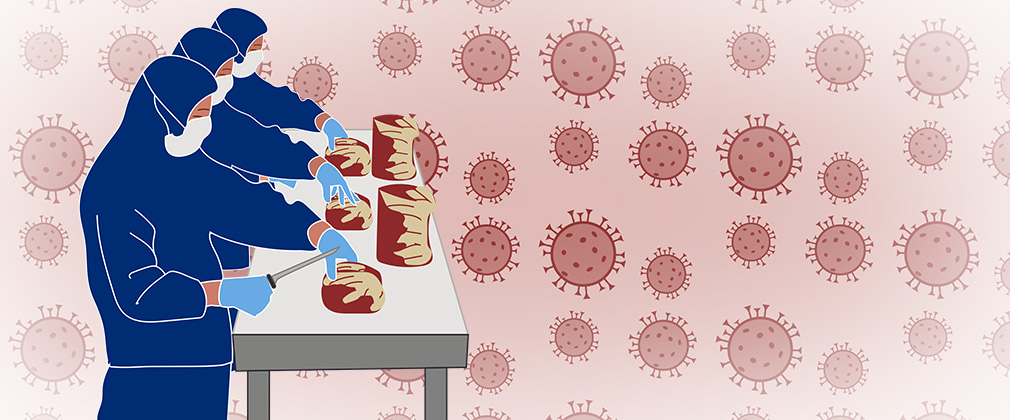 Urgent action is needed to protect the US food and agricultural workforce against COVID-19, according to a new policy brief released today. Developed by experts from the Johns Hopkins Center for a Livable Future (CLF) and the Johns Hopkins Education and Research Center for Occupational Safety and Health (ERC) in the Bloomberg School of Public Health's Department of Environmental Health and Engineering, the brief outlines steps that companies, labor unions, and government agencies can take to protect food system workers and the food supply chain during the COVID-19 pandemic.
COVID-19 has exacted a heavy toll on workers at every stage of the US food supply chain. Millions of food service workers have lost their jobs in recent months, while others face the risk of exposure to the virus working on the front lines of the pandemic. Infections have been reported among workers at farms, meatpacking plants, food-processing plants, distribution facilities, grocery stores, and restaurants. According to the brief, widespread outbreaks at meatpacking plants highlight the need for stronger measures to protect workers. As of May 2020, the Centers for Disease Control and Prevention (CDC) has documented nearly 5,000 COVID-19 cases and 20 deaths among workers at 115 meat and poultry processing across 19 states.
"Even before the pandemic, meatpacking workers often experienced hazardous conditions and high rates of injury and illness. What we're seeing now is that the pandemic is compounding health risks faced by an already vulnerable population," said Keeve Nachman, director of the CLF's Food Production and Public Health Program and an associate professor with the Bloomberg School's Department of Environmental Health and Engineering. "Our goal with this brief was to describe how workplace conditions in the food system could contribute to the spread of the coronavirus, and provide a framework decision-makers can use to provide the best possible protections to workers."
The SHIELD · TEST · TRACE · TREAT framework proposed in the brief applies evidence-based public health principles and approaches to make recommendations for enhancing food and agricultural workforce protections. The core components of the framework include:
SHIELD: Protect food and agriculture workers using mitigation strategies based on the hierarchy of controls such as: maintaining a six-foot distance between workers, installing physical barriers, staggering worker shifts, and providing appropriate personal protective equipment (PPE).
TEST: Prioritize food and agriculture workers for regular COVID-19 testing.      
TRACE: COVID-19 cases must be subject to contact tracing by state and local health departments.
TREAT: Provide workers affected by COVID-19 with access to health care, isolation, quarantine pay, and other support to stop outbreaks.
The authors note that in addition to these measures, ongoing monitoring and evaluation should play an essential role in assessing the effectiveness of each intervention and adjusting course as needed.
Gurumurthy Ramachandran, director of the Johns Hopkins Education and Research Center (ERC) for Occupational Safety and Health and a professor with the Bloomberg School's Department of Environmental Health and Engineering said, "We are proposing common-sense and evidence-based guidelines that are consistent with recognized public health principles and those proposed by agencies such as the CDC, OSHA, WHO, and APHA."