Baltimore Restaurant Collaborative Fights Food Insecurity, Health Disparities During the COVID-19 Pandemic
'Food That Connects Us All' program provides promising model for healthy, sustainable, and equitable food assistance
Oct 21, 2020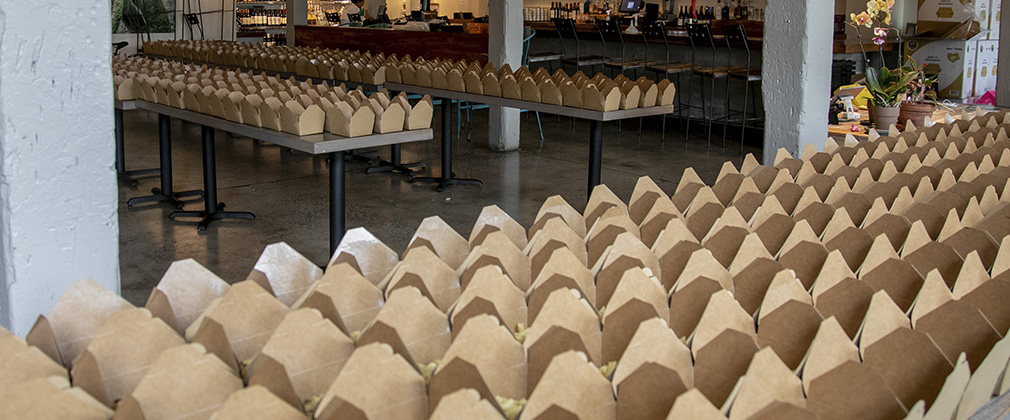 An innovative program in Baltimore called 'Food That Connects Us All' demonstrates the feasibility of providing healthy, sustainable meals to populations at high risk for poor health outcomes during the COVID-19 pandemic, according to a new paper from researchers at the Johns Hopkins Center for a Livable Future (CLF) based within the Department of Environmental Health and Engineering at the Johns Hopkins Bloomberg School of Public Health. A survey of people who received meals through the program showed a high level of satisfaction with the taste, appearance, and healthfulness of the meals.
The Food That Connects Us All program is a collaboration between catering business Mera Kitchen Collective and restaurant Alma Cocina Latina. It was founded with support from Chef José Andrés' World Central Kitchen in response to the COVID-19 pandemic. The stated objective of the initiative is to "to address food insecurity, provide meaningful employment, and reimagine our relationship to food systems and the hospitality industry." Since March 2020, the initiative has served about 79,000 meals to primarily low-income Black and Hispanic families in Baltimore. Many of the program's beneficiaries live in areas of the city with limited access to healthy foods, known as "Healthy Food Priority Areas" or "food deserts."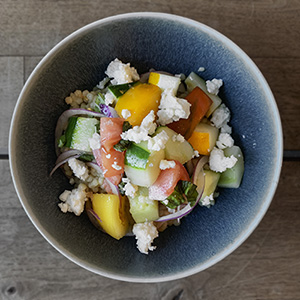 The meals provided by Food That Connects Us All follow guidelines for the planetary health diet, a reference diet developed by the EAT-Lancet Commission to optimize health and be sustainable within planetary boundaries. The planetary health diet consists largely of vegetables, fruit, whole grains, legumes, nuts, and unsaturated oils, with a low to moderate amount of seafood and poultry and with little or no red or processed meats, refined grains, starchy vegetables, or added sugar. Recent research suggests that widespread adoption of the planetary health diet could significantly reduce both greenhouse gas emissions and diet-related diseases such as heart disease and diabetes. Food That Connects Us All is among the first community-based programs to apply planetary health diet guidelines to the meals it provides to low-income families.
"The COVID-19 pandemic has exacerbated longstanding economic and health inequalities in the United States and led to a devastating rise in food insecurity — especially among low-income Black and Hispanic families," said senior author of the study, Richard Semba, MD, MPH, the W. Richard Green Professor of Ophthalmology at the Johns Hopkins School of Medicine and an associated faculty member with CLF. "Structural racism, food insecurity, barriers accessing healthy foods, poor dietary quality, diet-related diseases, and risk of severe illness from COVID-19 are all deeply interrelated. A core strength of the Food That Connects Us All program is its use of planetary health diet guidelines to meet the immediate nutritional needs of its community in a way that could also help reduce health disparities."
In order to evaluate the satisfaction of the recipients for the meals provided by Food That Connects Us All, a survey was conducted in both English and Spanish. The survey asked recipients to evaluate the taste, appearance, health value, and portion size of the meals. Participants were also asked whether they would recommend the meals to a friend. The survey responses were highly positive, and 92 percent of respondents reported that they would recommend the meals to a friend. More than half of the respondents gave the meals the highest-possible marks across each of the variables surveyed, with 55.4 percent ranking the taste of the meals as "delicious," 52.0 percent ranking appearance of the meals as "beautiful,' and 56.2 percent describing the meals as "very healthy." As much as 55.8 percent of the respondents reported that they "love" the meals. When asked whether they would change anything about the meals, 36.8 percent said they would not change anything, 32.2 percent wanted bigger portions, 14.4 percent wanted more vegetables, and 9.0 percent wanted more variety.
The researchers note that another unique feature of the program is its holistic, food systems-based approach to food procurement and food worker compensation. Fresh fruit and vegetables, dairy products, and chicken were sourced from local organic farms, as much as possible, or received as donations of excess fresh produce from farms in Maryland and Pennsylvania. Fish and meat were obtained from local purveyors. Food workers employed by the program were paid a minimum of $16 per hour.
One potential limitation to the scalability of the Food That Connects Us All program model is its relatively high per-meal cost in comparison to other food assistance programs. The total cost to produce one meal, including food costs, food preparation, transport, and delivery, is $10/meal compared with $1.40/meal provided by support from SNAP. The long-term impact of the Food That Connects Us All meals upon long-term health outcomes is also not yet known because the program has been in operation for less than one year.
"The success of Food That Connects Us All in Baltimore and the popularity of these meals with participants shows that it's possible to apply the planetary health diet in the context of emergency food assistance. It also offers a promising example of how food assistance programs can adopt a food systems-focused approach to their work," said Semba. "We hope that this innovative program can serve as a positive 'proof of concept' for funders and other food assistance programs."
"Providing planetary health diet meals to low-income families in Baltimore City during the COVID-19 pandemic" was written by Richard D. Semba, Rebecca Ramsing, Nihaal Rahman, and Martin W. Bloem and published in the Journal of Agriculture, Food Systems, and Community Development.
Images: Irena Stein