Major Health Gains and Carbon Savings Possible from a Shift to Plant-based Diets
Researchers caution that without additional mitigation strategies, adoption of a 'planetary health diet' would increase emissions in countries already lacking adequate nutrition
Aug 13, 2020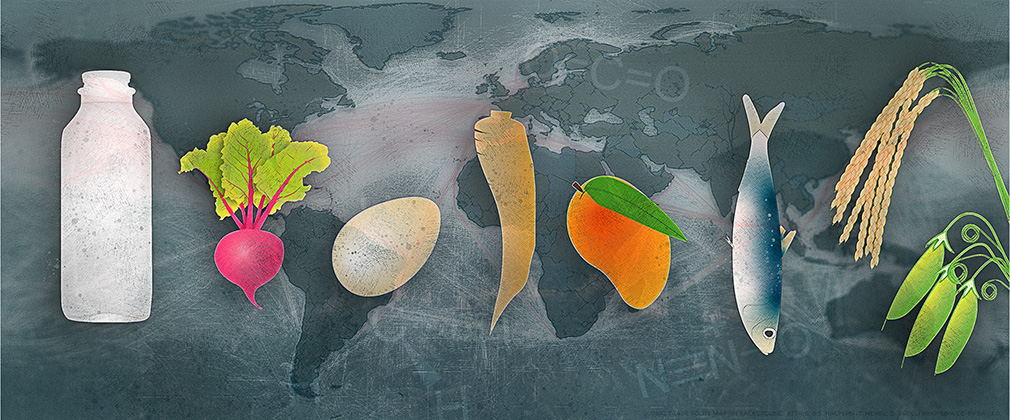 If all countries and territories in the world adopted a healthy diet, high in plant-based foods such as fruits and vegetables, whole grains, nuts, and legumes and low in meat and processed food, global agricultural greenhouse gas emissions would fall by nearly a quarter, according to new research from the Johns Hopkins Center for a Livable Future (CLF) based within the department of Environmental Health and Engineering at the Johns Hopkins Bloomberg School of Public Health.
However, in 36 countries, home to around 2.5 billion people, the adoption of this diet would increase agricultural greenhouse gas emissions per capita by more than 10 percent, unless additional climate mitigation measures were put in place. These are predominantly poor countries with low levels of nutrition. For example, in 29 of them more than 1 in 5 children are stunted, and the countries' mortality rates are high among children under five. The findings of this research builds upon existing literature led by CLF and supports key findings from the United Nations State of Food Security and Nutrition in the World 2020 (SOFI 2020) report.
The research paper, Adoption of the 'planetary health diet' has different impacts on countries' GHG emissions was published online August 13 in the journal Nature Food.
"Overall the adoption of a healthy, plant-based diet around the world would significantly reduce greenhouse gas emissions, and improve health," says senior author of the study, Richard Semba, MD, MPH, the W. Richard Green Professor of Ophthalmology at the Johns Hopkins School of Medicine and an associated faculty member with CLF. "However, in some poor countries where people's diets are really lacking in vital nutrients, achieving a healthy diet would actually lead to an increase in carbon emissions unless additional action were taken to mitigate against this."
The analysis by CLF follows the proposal by the EAT-Lancet Commission in 2017 of a 'planetary health diet' aimed at optimizing health without surpassing planetary boundaries. The planetary health diet is flexible, allowing for cultural and individual preferences, and primarily aimed at reducing non-communicable diseases such as coronary heart disease, stroke, and diabetes. It sets the energy intake at 2500 calories a day for adults, which would also help address both obesity and undernutrition.
In 101 of the countries studied, home to around 4 billion people, adoption of the planetary health diet would reduce agricultural greenhouse gas emissions per capita by more than 10 percent. In 14 other countries a shift to a healthy, plant-based diet would neither increase nor decrease emissions significantly. Overall, the net effect of this change in diets would be a 23 percent reduction in agricultural greenhouse gas emissions.
According to the SOFI 2020 report, the world is not on track to reach zero hunger by 2030 and many nations will be unable to reach established global nutrition targets. The report suggests that among vulnerable populations, nutrition status will likely worsen due to the negative health and socio-economic impacts associated with the COVID-19 pandemic. Therefore, a global shift towards a planetary health diet will require significant trade-offs. In low-and lower- middle-income countries where undernutrition is prevalent, populations will need to increase their consumption of nutritious foods which will lead to an increased carbon footprint. High income countries can offset this increase by reducing their animal-sourced foods along with other climate mitigation strategies.
"Some countries such as Indonesia and India are undergoing rapid economic growth, and a growing number of their citizens are doing less physical activity while eating more meat and processed foods. This is contributing to a double burden of both undernutrition and obesity," says study co-author, Martin W. Bloem, MD, PhD, director of the CLF and the Robert S. Lawrence Professor of Environmental Health at the Bloomberg School. "This is the opportunity for these countries to shift towards more sustainable, healthy diets and prevent the negative health and environmental impacts of continuing on their current trajectory."
The authors note, "The shift to a healthy diet won't happen quickly or uniformly and will require behavioral and economic changes, as well as significant transitions to food production."
To make healthy choices the easy, preferred, and affordable option for consumers, governments will need to address, among other things, the currently limited affordability of the planetary health diet and other diets that meet nutritional needs.
"Adoption of the 'planetary health diet' has different impacts on countries' GHG emissions" was written by Richard D. Semba, Saskia de Pee, Brent Kim, Shawn McKenzie, Keeve Nachman, and Martin W. Bloem and published in the journal Nature Food.