Supply Chains Play Valuable Role in Seafood Safety
New Research Offers Recommendations for Safe Shipment of Live Molluscan Shellfish
Nov 11, 2019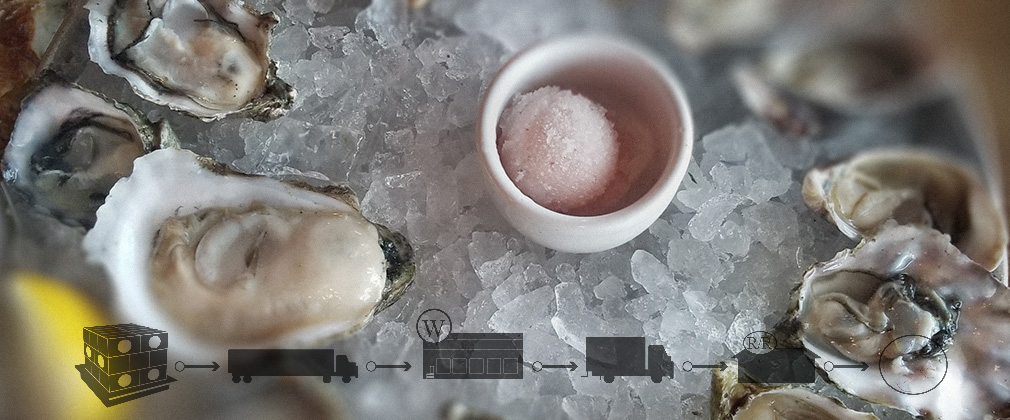 Oysters are one of the top aquaculture products in the United States, are highly perishable, and are shipped live to distant markets. Although oysters grown in the waters of Puget Sound are increasingly available on raw bar menus thousands of miles away, relatively little is known about the businesses that connect farmers to consumers, and their critical role in keeping molluscan shellfish safe during distribution.
A new series of studies led by researchers at the Johns Hopkins Center for a Livable Future (CLF) in the Bloomberg School of Public Health's Department of Environmental Health and Engineering, the Virginia Tech Seafood Agricultural Research and Extension Center, and the Pacific Shellfish Institute is the first to the map and track the performance of supply chains for farmed oysters in the US. These reports and peer-reviewed publications are the culmination of more than two years of research, including extensive visits to oyster farms on the East Coast in the Chesapeake Bay region and the West Coast in Washington State.
Temperature-controlled supply chains, also called cold chains, require an unbroken course of refrigeration from harvest to consumer to maintain product quality and safety. Oysters are susceptible to spoilage or pathogen growth if temperature spikes occur at any point during harvesting, processing, distribution, or at the point of sale. Cold chains are especially important for preventing diseases like vibriosis, a foodborne illness linked to eating raw or undercooked shellfish and caused by Vibrio bacteria. Vibrios thrive in warm coastal waters, and climate change is increasing both the geographic spread and number of vibriosis cases.
"Many people have heard the adage, 'only eat oysters in months that end with the letter R.' That's in part because 'R' months are cooler and oysters can be preserved longer without spoiling. But today, there's growing consumer demand for oysters year-round," said Dave Love, Associate Scientist of CLF's Seafood, Public Health & Food Systems Project. "Our goal for this research was to provide a better understanding of supply chains and how they maintain food quality and safety across different seasons, regions, and modes of transit."
To collect study data, researchers visited a dozen oyster farms at various times of the year and placed coin-sized temperature sensors inside freshly harvested oysters and taped sensors to the outside of boxes and bags during packing. Over 125 boxes were tracked this way over a two-year period. The oysters with sensors were clearly marked to make sure they did not enter the food supply. The sensors were ultimately removed by retail or restaurant staff and returned to the study team using pre-paid envelopes. This information was then used to track the temperature profile of oysters from dock to plate, and model the risks of Vibrio parahaemolyticus – one of the Vibrio bacteria of human health concern.
Researchers also interviewed over 50 stakeholders from oyster farmers, to processors, freight carriers, wholesalers, food retailers, and chefs. Participants were asked about their protocols and practices for handling oysters, as well as their experiences with and perceptions of cold chains, product recalls, and food safety regulations.
The studies found that a box of raw oysters is typically handled by two to seven companies as it moves through the supply chain. Most of the oyster farms included in the in the study sold products primarily to wholesalers that coordinated distribution with freight forwarders, commercial trucking companies, and commercial airlines that shipped products over thousands of miles. A few shipments in the study were delivered as far away as Hong Kong with the help of exporters.
The studies also found that overall, oyster cold chains are well-maintained and effective at reducing the risk of V. parahaemolyticus. There is, however, room for improvement at each stage of the supply chain, in how products are handled, and how businesses interact with each other to maintain the value of the product. The majority of shipments maintained temperatures below the US government's food safety requirements for shellfish. Researchers found that in 75 percent of measured oyster shipments, a decrease in V. parahaemolyticus occurred. Some shipments did show temperatures above the recommended level and these occurred more often when shipping by air freight. In general, the researchers determined that shorter, direct supply chains had less instances of temperature abuse.
The researchers used the studies' findings to offer actionable recommendations for strengthening cold chains and ensuring their continued performance. For example, there is need for the industry to develop best practices for shipping live oysters on airlines. At the processor and distributor level, it is also important that companies use temperature sensors or TTIs to evaluate and verify that their procedures and practices are working properly.
"As our food supply becomes more global, proper handling and distribution of foods through every link in the supply chain is critical for protecting food safety and preventing waste," said Love. "We're tremendously grateful to the farmers, wholesalers, and chefs who worked with us on this research, and we hope it will help support their efforts to provide safe and high-quality products."
"Performance of cold chains and modeled growth of Vibrio parahaemolyticus for farmed oysters distributed in the United States and internationally" was written by Dave Love, Lillian Kuehl, Robert Lane, Jillian Fry, Jamie Harding, Benjamin Davis, Kate Clancy, and Bobbi Hudson, and published in the International Journal of Food Microbiology.
"Performance and conduct of supply chains for United States farmed oysters" was written by Dave Love, Robert Lane, Lillian Kuehl, Bobbi Hudson, Jamie Harding, Kate Clancy, and Jillian Fry, and published in the journal Aquaculture.
"Performance of Cold Chains for Chesapeake Bay Farmed Oysters and Modeled Growth of Vibrio parahaemolyticus" was written by Dave Love, Robert Lane, Benjamin Davis, Kate Clancy, Jillian Fry, Jamie Harding, and Bobbi Hudson, and published in the Journal of Food Protection.
The report, "Application of Time-Temperature Indicators and Time Temperature Data Loggers in the Seafood Industry," was written by Robert Lane, Dave Love, Lillian Kuehl, and Bobbi Hudson, and published by the Virginia Cooperative Extension.
The NOAA Saltonstall-Kennedy Final grant report, "Supply Chains for Aquacultured Oysters: Enhancing Opportunities for Businesses and Shellfish Growers, and Examining Traceability and Food Safety," was written by Dave Love, Robert Lane, Lillian Kuehl, and Bobbi Hudson.