Remembering Sid Mintz
January 22, 2016
By: Anne Palmer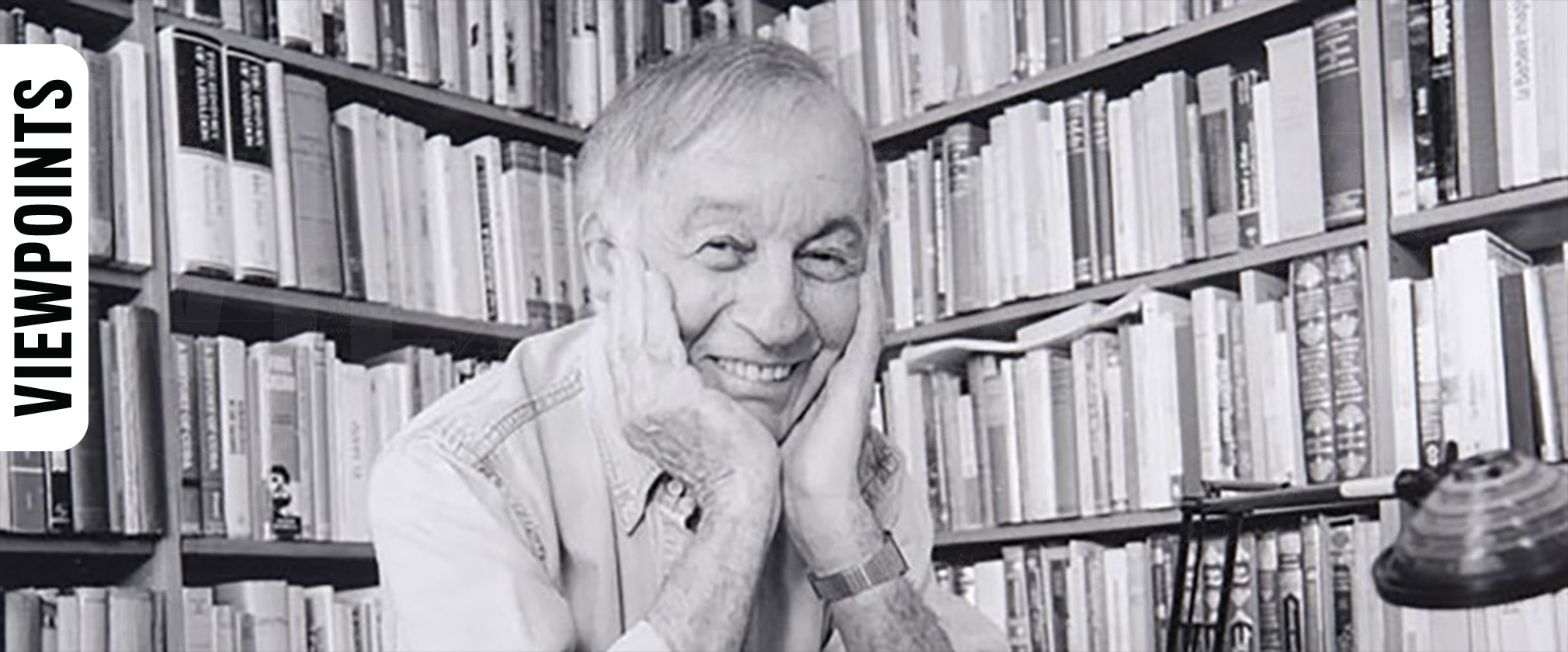 I am one of many who called Sid Mintz a friend. After reading volumes of tributes and accolades since his death, it's clear to me that this is not an exclusive club. In my naiveté, I didn't realize the depths of his contributions to the world until he died, so I won't pretend that I have anything to offer about Sid's scholarship that has not already been said.
I tried to be a good student. I read what he told me to read but not much beyond that. I met Sid 10 years ago because of my position at the Center for a Livable Future (Thanks, Polly, Bob and Shawn). I became Sid's friend because we enjoyed hanging out. For whatever mysterious reasons, Sid chose me (and the three fabulous males I live with) to share dinners, laughs and emails.
I had the foresight to save many of the emails we exchanged over the years. Here are a few that reflect what I consider Quintessential Sid.
After I asked Sid about giving a lecture for an interfaith group of scholars:
I am not sure I'm right for that lecture assignment, particularly as I am reaching my middle years and starting to slow down [He was 87]. Talking to people who are trying to find out what makes change take shape would be fun, particularly if it assumed the form of a seance — sort of everybody sipping coffee and humming together, after I draw a picture for them of people, somewhere else, who eat the same stuff every day, and are absolutely happy with it, just as it is.
When we gave him and his wife Jackie a subscription to The Week:
Thanks so much for sending us that news mag sub! We got a trial copy; and then, after that, the card from you, notifying us. We pant with excitement — well, that may be a slight exaggeration — while awaiting the first regular issue. All the news is bad, as you know. Maybe they can do it better. Hope springs eternal.
He schooled my husband Bill on cooking lamb and then Jackie shared his New York Times recipe. This email exchange included detailed cooking instructions, ingredients, etc. and went on for several days as he remembered different elements to share:
This is a far cry from, say, the way Jacques Pépin or Julia Child would flavor lamb, and their lamb recipes are wonderful. But this has a remarkable punch, I think. You simply cannot imagine how much I miss cooking. The only thing I miss more is teaching. [emphasis his]
While finalizing dinner plans:
I will pass the possible dates along to my social director who, at this point, is going insane with her many different commitments and obligations. I dare not enumerate them, lest they arouse my semi-fossilized adrenal glands. 
More dinner plans, my sons getting older:
Sid: Please tell us the preferred hour and, if you are inclined, what magical whatever — hula hoop, Chinese finger puzzle, clown's hat, counterfeit FDR dime, very old copy of Wall St journal — you would like us to bring. Tell Bill to get busy on those piecrusts again.
Me: Let's say around 6:00. Unless you have an elixir that transforms pubescent boys into charming and thoughtful beings, you don't need to bring anything.  
Sid: My memories of myself as a pubescent lad certainly would lead me to endorse your pessimism, flatly and without hesitation. Worse — I am reluctantly coming around to the yet more disagreeable realization that pubescence in my case lasted at least until my thirties. I will think about whether there is anything — anything — that I might bring to help. I think an annual gingerbread cookie rapture has much to recommend it, perhaps particularly around pubescent males. Lard, of course (which is popular with the Asian wing of the family) has much to recommend it.
Just the two of us catching up on email, with his self-deprecating humor:
I can tell I'm getting old, in all the familiar, tiresome, sometimes repellent ways. But I am plainly still able to see lightning and hear thunder. I gave a talk last week, and everybody said I was a genius. What better proof that, in spite of Honest Abe, you can fool all of the people some of the time? I was lecturing on Coke's wonderful plan to convince the American people that obesity is due to bad habits of exercise, while food and drink are not really related to getting fat. It's a battle that perhaps the sugary drink people are no longer quite winning but surely they're not losing it, either.
It was a little more three weeks ago when Sid and Jackie sat at our table to eat roast chicken in our new clay pot, Brussels sprouts that were a little burned and underdone and some delicious sweet potatoes. I forgot to share my new dark beer with him; instead we drank his aged red wine. Dark chocolate pecan turtles for desert. This was a better offering than our previous meal a few months before, which we all agreed was underwhelming due to my adding yogurt to the chicken marinade, which diluted the spices.
From December 19, 2015:
Me, speechless, is what the French would call un évènement curieux, an odd event or occasion. Sheer animal terror makes me extremely talkative; boredom makes me boring. But great joy silences me in a truly special way. That's why I do not know how best to thank all of you for such a thoroughly enjoyable evening. I feel speechless. No kidding! The food and (perhaps especially) dessert(s) lifted my spirits noticeably. But the dialogue — wow, that was unmatched. I think it all should have been recorded. (I admit: I don't know what we could do with it, once it was made into a record, a video, or whatever.) But like Ilya Ehrenburg's "historical cigarette," it was a historic evening. We do hope you and the boys will want to join us sometime for a Roman Sunday of fresh sea food and roast beef, with dancing girls (all over 80), and their dashing partners (once they manage to remove their trusses and put on their wooden legs). We will get in touch, once the magic of the New Year has begun to fade.
It was a historic evening in so many ways. I felt a tremendous sense of gratitude for him and Jackie, proving to all of us that growing old is about so much more than achy joints. His parting remark that night was something about how spending time with the boys warmed his spirit and made me believe that Bill and I are not terrible parents. That I can make edible meals. And that we had another brunch to share. The magic of the New Year has faded and I am heartbroken and mad that he's gone. But oh so happy that he picked me to be his friend.