Nicolette Hahn Niman: It's Not the Cow, It's the How
March 16, 2022
By: Christine Grillo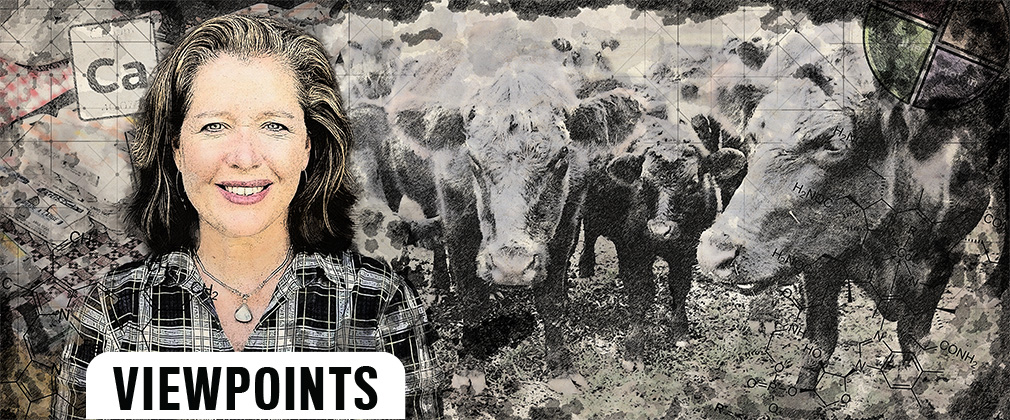 BALTIMORE—March 16, 2022. For thirty-three years, Nicolette Hahn Niman was a vegetarian, despite being married to a cattle rancher who raised livestock humanely and sustainably. As a rancher, attorney, mother, runner, and author of two books, she brought vast quantities of energy to everything she did. But around age fifty, she started to evaluate her health and re-think her diet.
"I realized I should be upping my game in terms of nutrition," she says.
A dedicated runner, she was expecting better results from a bone density scan that showed her being at risk of osteoporosis. She began a research odyssey into human nutrition and decided that if she wanted to "keep her muscles and keep her bones," she would need to start eating meat. She wanted to thrive, she said, not just survive. Her husband, rancher Bill Niman, prepared her a hamburger from their ranch.
"I thought I'd be conflicted, but I just felt relief," she said. "It was delicious, and I said, 'Why have I not been eating this? This is the right thing for my body.'"
In her most recent book, a much revised and expanded edition of her 2014 book, Defending Beef, Hahn Niman shares the findings of her research into how important beef—and meat, in general—is to human health. Just as critically, she shares her thinking on how livestock plays an important role in natural ecosystems and regenerative agriculture. She also looks at the ways that meat has been unfairly maligned. In her opinion, we're asking all the wrong questions about human health, planetary health, and our food systems.
Hahn Niman considers beef an incredibly nutrient-rich food, containing many essential amino acids in the most bioavailable form for humans. "We've evolved so closely with meat eating," she says, referring to how and why the nutrients in meat are so available to us. Nutrients such as iron can be obtained from plants, she says, but as an example, it's so much harder for our bodies to absorb non-heme iron (from plants) than heme iron (from animals).
She would love to make a dent in the binary way of thinking that "meat is bad" and "plants are good." Everything has been oversimplified to the point of not making any sense, she says.
"Nature always functions with plants, animals, and fungi—the three pillars," she says. "In soil biology, all three are incredibly important. All three are essential to health."
And healthy soil is key to good nutrition, Hahn Niman says, because the health of the soil correlates to the type and amount of nutrients in food grown in the soil. Food coming from the modern farm that uses conventional—not regenerative methods—is not as nutritious as it should be.
"There's a growing body research on animal food but also on fruits and vegetables that shows dramatically lower levels of nutrients than historic records show used to be in those foods," she says. "There's also clear evidence that the modern varieties of foods were developed to grow faster and contain more water, leading to less flavor and lower nutrition. You start with a seed variety whose breeding has diminished nutritional value, and then you put it in a soil with hampered biological function, and then store the food, transport it, process it—put all these pieces together, and wow, our food is much less nourishing than it used to be."
The modern "farm" is not geared toward fostering life, she says. "When you drive past huge crop fields–like potatoes or soy–you see an oversimplified landscape, a moonscape, really, devoid of life. Nothing else is happening there, biologically. It's the opposite of how nature works." Crops are grown in massive monocultures, usually with chemicals, and nothing else happens on the farm, not even insect life.
Complexity is the key issue in healthy farming, she says. Nature is complex and diverse, from grasslands to forests to marine environments. There are always multiple things happening at once. Grazing animals add necessary biology and diversity to an ecosystem, and in concert with plants and fungi, create a vibrant food system.
Many of the people interested in food system reform are asking the wrong questions, Hahn Niman says. Too many people ask how we can do a better job of reducing meat consumption. But meat is not the problem of health, she says. The problem is the industrialization of the food we eat—how it's stored, transported, and processed. She argues that animal fats are not what's causing diet-related diseases. Instead, it's the ultra-processing of foods that create poor health: the pasta the comes from wheat, the potato chips that come from potatoes, the processed meat products that come from meat.
"Are you eating a meat stick you get at the gas station, or are you eating grass-fed beef?" she asks.
As for meatless meat—she doesn't see the point. Alternative meats are another form of ultra-processing, and she finds the results to be "meh."
"You get breathless media coverage about these high-tech meats," she says, "but then people try it, and they say, 'Well, it was okay,' and probably won't buy it again."
You can grow any food well, or you can grow any food and turn it into junk food, she argues. You can grow a food to regenerate soil and ecosystems, or you can grow it in a way that creates environmental damage.
"It's not the cow, it's the how," she says. "And that's not just true for cattle, it's true for all foods."
For more perspectives on food system reform, check out the CLF Global Thought Leaders Series.
Illustration by Mike Milli, 2022.
More Stories and Viewpoints