Francesco Branca on Healthy and Sustainable Diets: Everything Has To Be Reset
September 14, 2020
By: Christine Grillo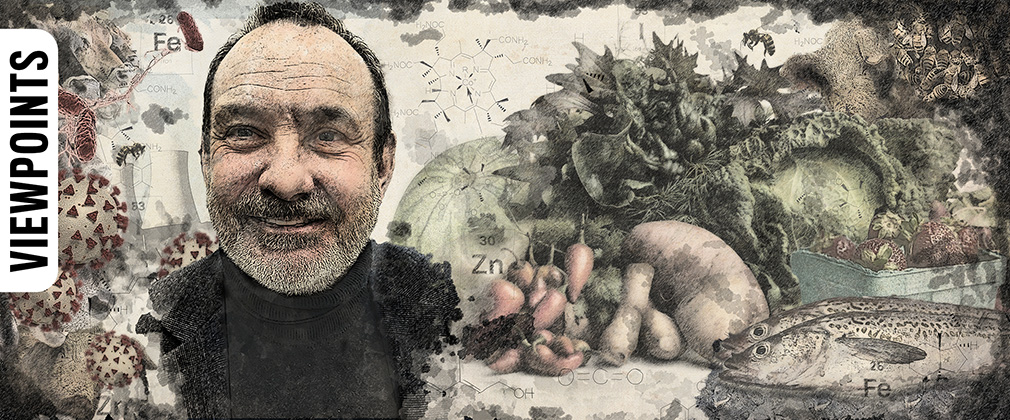 BALTIMORE—September 14, 2020. Francesco Branca is concerned about how many people are dying because of what they eat, and because of what they don't eat. When we talked in August, he recited grim statistics related to food safety and nutrition to illustrate how many people our current food system is failing. Citing research from 2019, he mentioned that every year 11 million people die of diet-related noncommunicable diseases such as heart disease, diabetes and certain cancers. "Too much sodium, too much fat, too much sugar," he said, describing the culprits, "and too little whole grains and fruits." He also mentioned the several million who die of obesity, another several million mothers and children who die of malnutrition, and 420,000 who die of foodborne diseases every year.
As the director of nutrition and food safety at the World Health Organization (WHO), he spends a lot of time thinking about foodborne disease. One in every 10 people in the world gets infected with a foodborne pathogen, salmonella being the main one, he said, and every year 125,000 children under the age of five die from contaminated food.
"You put all these things together, and frankly, it's an enormous challenge we have with the food system," he said.
He and his colleagues at WHO are working on a comprehensive review of the global food system that looks at  all its challenges, from unhealthy diets and unsafe food, through food insecurity, antimicrobial resistance, zoonosis, and health impacts on food chain workers. The 2021 UN Food Summit is one place he hopes that all of these challenges—as well as solutions— can be addressed.
"Making the food system work and establishing a food system that produces the right things, in the right way, is a priority," he said.
He took his current position in February, just as the novel coronavirus SARS-CoV-2 was creating a global pandemic. The pandemic has made the WHO's work harder, and more important. The work of establishing a food system that benefits everyone has been more difficult with the pandemic. "It's even more urgent than we thought," he said.
"The pandemic has demonstrated that the resilience of our food system is low. We're seeing how a health crisis can easily become a food crisis." There are no real data yet, he said, but estimates on the increased number of people experiencing food insecurity and estimates on the number of children who are at risk of malnutrition as a result of the pandemic are, in his words, "tragic."  We've seen a decline of the progress made on improvements to nutrition.  "Covid has made all nutrition indicators worse," he said.
"Also, we're concerned about the synergy between the virus and obesity," he said. "People with obesity are much more susceptible to the negative consequences of the virus. We have more data that now points to that."
The inflammation created by obesity, he said, works synergistically with the virus. And then there's the issue of people with obesity needing special care, and not all health centers can offer that.
I asked him how climate change advocacy overlaps with the work to improve the food system, which brought us to the issue of food production, which brought us back again to the phrase we hear so often lately, "Healthy and sustainable diets affordable and available for all."
"Three billion people can't afford healthy food," he said, referring to this year's State of Food Insecurity (SOFI) report published by the Food and Agriculture Organization of the United Nations.
Then there's the issue of greenhouse gas emissions. "The energy sector has been targeted as having the main responsibility for [greenhouse gas] emissions, but the second leading contributor is the food system," he said.
At the WHO, they're starting to weave into their narrative the association between healthy and sustainable diets that can be a win-win for human health and planetary health. "We need to clarify and operationalize that concept better," he said.
Animal-source foods is one place they're looking closely. The WHO is developing guidelines that describe the ideal proportion of plant-based foods in a diet, versus animal-source foods, for different age groups. In the last year, several studies have suggested various "planetary health diets," including studies published last year by the EAT-Lancet Commission, another one published in Global Environmental Change, and, most recently, in Nature Food.
"What is the contribution of animal-source foods in healthy, sustainable diets?" he asked. Naturally, this line of inquiry is ruffling some feathers. "Some people say, 'You want to stop meat production?'" says Branca, discussing the agitation around meat production.
"Some people are accusing us of being drastic and trying to impose a single diet on all people in the world, but that is definitely not the case. We appreciate that there are different geographies, and different local needs," Branca said.
With the WHO developing a document that clarifies the concept of healthy, sustainable diets for all, that leaves the enormous work of putting it into action. I asked Branca how best to get to that step of operationalizing the vision—is it through policy?
"Yes, it's through policy, but what is policy? It's not a regulation. A policy is a set of measures starting from public investment, such as research, development of technology, all of it toward certain goals."
The goals have changed over time. In the past, said Branca, the main indicator was about energy, or calories, produced per capita. But now there's a greater focus on sustainability and quality. He hopes we can all agree on a set of principles for a new vision of a global food system. Even if that happens, a massive shift must happen.
"Then everything has to be reset," he said. "That means deciding not to devastate land any longer, because we don't need that much livestock. But that also means downstream we have to have much smaller amounts of meat on our tables. We need to reset, and we need to adjust. We need the policies, the investments, on the supply side and the consumer side."
The WHO will be working on the consumer side, he said. A big part of their mission is working with governments on effective policies, and on educating consumers. He believes that a cultural shift can be achieved collectively, and the WHO's main entry point has always been health. Obesity is one area where fiscal policies and measures (such as taxes on sugar-sweetened beverages) can be effective in changing food environments. What he calls "marketing pressure" is another area of potential effectiveness, especially when it comes to communicating to children about the negative consequences of fat, salt, and sugar. Influencing the types of foods offered in public institutions, such as schools, may be another avenue of influence. Looking at food distribution systems will be an additional place to effect change.
"But these are just a start," he said. "We need other measures and increased engagement with  everyone in the food system to change what is produced and what is distributed. Plus making food accessible and affordable—we need to fix that."
For more perspective on food systems, read the CLF Global Thought Leaders Series.
Illustration by Mike Milli, 2020.
More Stories and Viewpoints