Food Trends for 2021 Focus on Diverse Cuisines, Home Cooking and Sustainability
January 14, 2021
By: Alyssa Wooden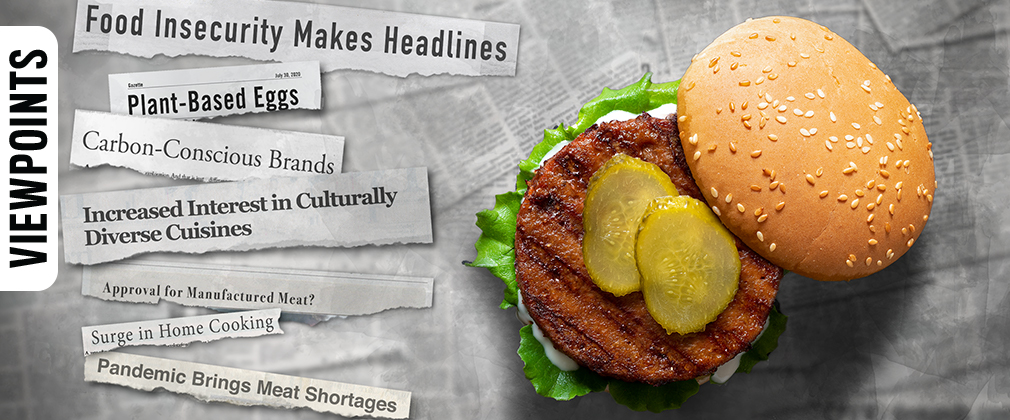 BALTIMORE—Jan. 14, 2021. After a year that gave rise to a global pandemic, record numbers of job losses and business closures, and unprecedented political and social unrest, it's hard to find much to look forward to in 2021. But in one sector – that of sustainable, healthy eating – there is reason to hope. An increase in plant-based products and sales is one of many positive food trends to look out for in the coming year, as well as carbon-conscious brands, the growth of home cooking, culturally diverse cuisines, and heightened awareness of food insecurity.
Plant-based foods gain even more momentum
Plant-forward diets, such as vegetarianism, pescetarianism, and Meatless Monday, are on the rise. In the United States, 28 percent of consumers ate more plant-based protein in 2020 compared to previous years.
Luckily, new vegans and vegetarians – and even those wanting to try to incorporate some plant-based meals into their week – have plenty of options. The global plant-based meat market was valued at $4.3 billion in 2020, and is projected to grow 14 percent over the next five years. This growth has been driven by increasing awareness of the health benefits of plant-based meat substitutes over animal meat, which some studies have associated with type 2 diabetes, obesity, heart disease, and cancer. Sales of plant-based meat substitutes were rising even before the pandemic hit, but meat shortages and concerns over the state of the meatpacking industry prompted more people to try plant-based meat products such as the Beyond Burger. This trend is mirrored by the plant-based dairy industry, which is expected to grow 10 percent per year between now and 2024. This growth is driven primarily by environmental and health concerns, as well as massive marketing pushes by companies such as Oatly.
A flurry of plant-based products have entered restaurants and supermarkets during the past year, including Kellogg's Incogmeato plant-based burgers and sausages, Gardein's Ultimate Plant-Based Burger, JUST Egg's folded egg product, and Planterra Foods' OZO line of plant-based meats. Restaurants, both fast-casual and sit-down, have jumped on the trend. Burger King was one of the first eateries to enter the fray, rolling out its Impossible Whopper across the U.S. in summer 2019, with McDonald's, Hard Rock Cafe, The Cheesecake Factory, Qdoba, TGI Friday's and many more following close behind. For the month of January, Starbucks is doing Meatless Mondays, offering $2 off any vegetarian breakfast sandwich or wrap. Even IKEA joined in, developing a plant-based version of their famous Swedish meatballs. In December, cultured meat – manufactured from real animal cells – was approved in Singapore and is available to consumers exclusively at the restaurant 1880.
Covid-19 and cooking from home
According to Food Insight's 2020 Food and Health Survey, a significant majority (85%) of Americans reported that the Covid-19 pandemic prompted them to alter their food habits. The most common change was cooking more at home, followed by snacking more, washing fresh produce more, thinking about food more than usual, and eating healthier than usual. Grocery shopping habits have also changed – 2020 saw more people shopping for food online and fewer people shopping in person. Although restaurants have reopened for business in many states, many people are still hesitant to return to public spaces, and demand for takeout and delivery will likely remain high. So will demand for baking staples and restaurant meal kits, as the home cooking trend – which started early in the pandemic with banana bread and sourdough – continues into 2021.
Eco-friendly food
As the end of the pandemic draws closer, concerns about sustainability and the climate crisis that have been sidelined for the past few months are likely to come back into focus. Over 100 countries have pledged to become carbon neutral by 2050, including Korea, Japan and the United Kingdom, as well as the European Union. In order to achieve net zero emissions, these countries may need to reform the animal agriculture industry, which is responsible for 14.5 percent of human-caused greenhouse gas emissions. Consumers are making the environment a priority as well: Food Insight's survey found that 59 percent of Americans say it's important that their food be produced sustainably, although only 34 percent say that environmental sustainability has an impact on their food purchases. In 2021, we'll be paying more attention to the environmental impact of the food we eat, as well as making an effort to cut down on food waste and single-use packaging.
Diversity and Food Justice
Even though many of us have been working from home and staying inside for months, we've managed to broaden our horizons. Social media and virtual cooking classes have enabled chefs and restaurant owners from all over the world to share cuisines from different cultures. The Black Lives Matter movement fueled an interest in traditionally Black and African ingredients, as well as support for minority- and women-owned restaurants, especially local spots that had been disproportionately affected by the economic recession. The pandemic also exposed deeply-rooted social and economic divides and brought the issue of food insecurity to the forefront, as some farmers were forced to destroy their products because of a variety of food chain breakdowns, while elsewhere people waited hours in food pantry lines and millions of food industry workers were laid off or put at risk in the workplace. Consumers took notice, and will likely continue to advocate for more equitable food and worker protection policies.
It is too early to say for certain whether the trends that took hold amid the unprecedented events of 2020 will continue through the rest of the decade, but for now, sales of plant-based meats are rising, concern for sustainability, diversity and equity is growing, and food's ability to bolster communities and lift spirits even in the darkest of times remains strong.
Alyssa Wooden is an MHS student in Environmental Health at the Johns Hopkins Bloomberg School of Public Health and a research assistant with the Center for a Livable Future's Meatless Monday team.
Image: Mike Milli, 2021.
More Stories and Viewpoints