Food Trends for 2020 Show a Sustainability Focus
January 07, 2020
By: Becky Ramsing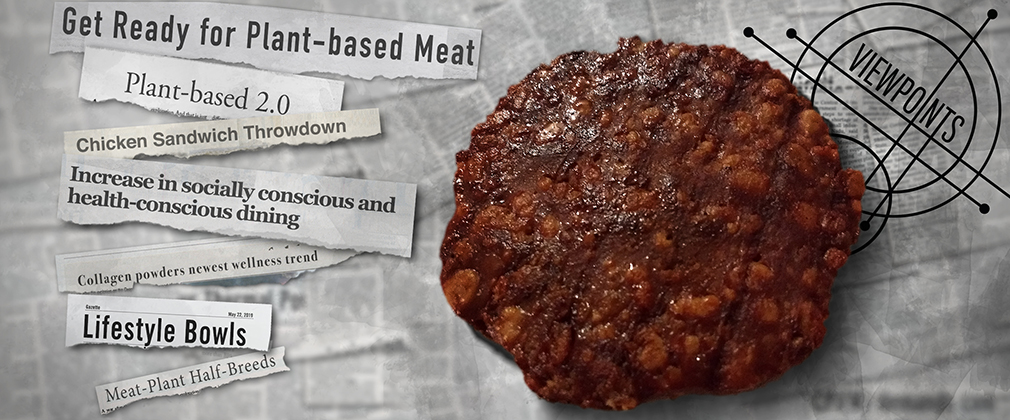 BALTIMORE—Jan. 7, 2020. The new year is here, and a lot has changed in the food and sustainability world. We took a brief walk through some of the most popular food predictions for the new year. Here's what we found!
Plant-based foods are more mainstream.
More fast food and quick serve restaurants offer meat alternative products, and sales are up. TGI Fridays, Subway, Carl's Junior, Yard House, BurgerFi, Del Taco and even Disney World are carrying Beyond products. Hardees and Dunkin' Donuts offer Beyond Sausage, McDonalds is testing a PLT (Plant-Lettuce-Tomato) sandwich in Canada, and KFC offers Beyond Fried Chicken. The Impossible Burger crowd is being led by Burger King's Impossible Whopper, along with White Castle, Red Robin, Qdoba, Fatburger, HardRock Café, Cheesecake Factory, Applebee's and Little Caesars Pizza.
"Since its debut less than a year ago, Carl's Jr. has sold more than 6.7 million Beyond Famous Star burgers to-date, making it the most successful product launch in the past two years…," said Patty Trevino, senior vice president of brand marketing at CKE Restaurants. Since launching the plant-based burgers in late 2018, Carl's Jr. has seen an uptick of new customers, due in part to the partnership with Beyond.
Plant-based is going beyond the Beyond Burger.
National Restaurant News predicts that plant-based meat substitutes will be more broadly incorporated into menus.  "Expect to see more tacos, sausage, meatless balls, plant-based loaf, chili and so on incorporated into menus as chefs become more accustomed to using these products as normal items in their walk-ins." They also predict more plant-based egg substitutes, such as the Just Egg being served at Le Pain Quotidien, as well as seafood substitutes made from seaweed and other vegetables. And cheese is no exception—we're starting to see new plant-based cheese and dairy replacements that act and taste a lot more like cheese!
Whole Food's Number 5 trend is Plant-Based, Beyond Soy. In 2020, soy will step back for other plant-based protein foods and supplements, including innovative grain-legume blends that mimic the creamy textures of yogurts and other dairy products. "As the plant-based movement gains traction with flexitarian eaters, brands are looking to avoid as many of the top allergens as possible, so look for plant-based prepared foods (especially meat alternatives) and traditionally soy-based condiments going soy-less!
Real Simple joins the chorus, signaling "Alt Meat 2.0" and "vegan comfort food" (veggie centric mains) as top trends.
Food deliveries are bringing more plant-based options to the door!
GrubHub's Year in Food Reports shows that vegan and vegetarian options grow in popularity.
On the top delivery orders of the year in 2019 list, cauliflower pizza claimed the top spot, rising 650% in popularity throughout the year. Vegetarian- and vegan-friendly dishes took over seven of their top 10 (compared to only three in 2018).
Cauliflower pizza: 650%
Spicy Brussels sprouts: 622%
Portobello empanada: 601%
Black bean & sweet potato taco: 513%
Miso pork ramen: 413%
Chicken burger: 318%
Bone broth: 298%
Brown sugar milk [bubble] tea: 281%
Vegan pad thai: 280%
Impossible burger: 203%
Uber Eats also reports that as 2020 kicks off, food delivery users are increasingly ordering plant-based food alternatives, vegetables, and trendy wellness food products like collagen and bone broth.
Consumers are thinking more about sustainability.
Trends show that plant-based is not the only answer. Consumers are open to including meat if they feel good about its sustainability and environmental impact.
Nation's Restaurant News Food and Drink Trends predict that in 2020, real meat burgers will be pitched as better for the planet, and we will see the rise of a better-for-the-planet (beef) burger that supports regenerative agriculture. As an example, Burgerville in the Pacific Northwest recently introduced "No. 6 Burger" named for carbon on the elemental table. The burger uses grass-fed and grass-finished beef from Carman Ranch, and the buns, cheese and other ingredients are locally and sustainably sourced.
Whole Foods' Number 1 trend for 2020 is the focus on regenerative agriculture. "Farmers, producers, academics, government agencies, retailers and more are taking a closer look at how to use land and animal management practices to improve soil health and sequester carbon." According to Jeanette Mellinger, head of Uber Eats user research, the service is seeing a "greater increase in socially conscious and health-conscious dining." And a focus on the planet's health, from vegan food to regenerative agriculture and packaging, is a theme of the New York Times 2020 predictions.
Along the same lines, blended products that augment meat with vegetables or legumes continue to grow in popularity. Whole Foods' Number 9 trend is meat-plant blends. Inspired by the James Beard Foundation's Blended Burger Project, chefs, butchers and meat brands are on board with the concept that meat can be "better for customers and for the planet." Applegate is leading the charge of brands carrying blended products, but more are expected in 2020. According to Whole Foods, "Flexitarians looking to strike a tasty balance between meats and plants can expect more blended products in their future."
Baum + Whiteman, International food and restaurant consultants, believe that this is not a mere trend; it is a movement led by younger and increasingly more influential consumers. The acceptance of manufactured plant-based foods and cell grown food is girded by an ideology that "livestock's pooping and belching pollute our rivers and warm our climate, farming is environmentally destructive, the oceans are depleted of fish, rising temperatures could decimate traditional agriculture, we're being fed hormones and antibiotics that wreak havoc with immune systems, etc., etc."
Meat and chicken are still on the menu.
Just when you think plants are taking over, the top news story of 2019 was about chicken! According to Hunter Annual Food News Study, a social media-led story broke through as the most memorable story of the year, with news of the fast food chicken sandwich throwdown between Popeye's and Chik-Fil-A, which took place on Twitter, ranking as 2019's Number 1 food news story.
Nation's Restaurant News predicts we will see more chicken sandwiches on menus for all meals in 2020. Take for example, Wendy's Honey Butter Chicken Biscuit, which will be part of the brand's upcoming breakfast rollout.
Catering to special diets attracts customers.
Health is still important, and customers are looking for specialized products in every aisle.
An Accenture research study found that more than half of US millennials are on a specific diet, such as keto, plant-based, or veganism, with many citing health, ethical and environmental concerns as their reasons for following their particular diet. According to Mordor Intelligence, the global ketogenic diet food market is projected to grow by 5.3% between the years 2019 and 2024. Baum & Whiteman noted the popularity of lifestyle bowls constructed for specific diets. Whole Food's Number 6 trend is Everything Butters and Spreads - nut/seed/other ingredient spreads that often include superfoods and tout paleo- and keto-friendly attributes.
Back to the top food news stories of 2019, The Keto Diet gains in popularity came in as the Number 3 food news story of the year, with nearly one third of respondents selecting that topic as most memorable.
Even kids' menus are growing up.
Kids' menus are featuring less of the typical kids foods and more trendy, adventurous ingredients, according to Whole Foods and The New York Times.
The majority of millennials (born between 1979-1995) already have children or will begin soon. "The same demands from the food industry that they place for themselves is rapidly being pulled over to kids' meals. Transparency, healthy options, and customization are key to winning over this new generation," says the Menutrinfo website.
So, hold onto your hats, the 2020 food world will be dynamic! Food is getting more specialized  as customers, chefs, food brands and restaurants react to the world around us. What food will you try next?
Image: Michael Milli, 2020.
More Stories and Viewpoints