Ertharin Cousin on Food Security and Covid-19: The Datapoint Becomes a Reality Point
July 20, 2020
By: Christine Grillo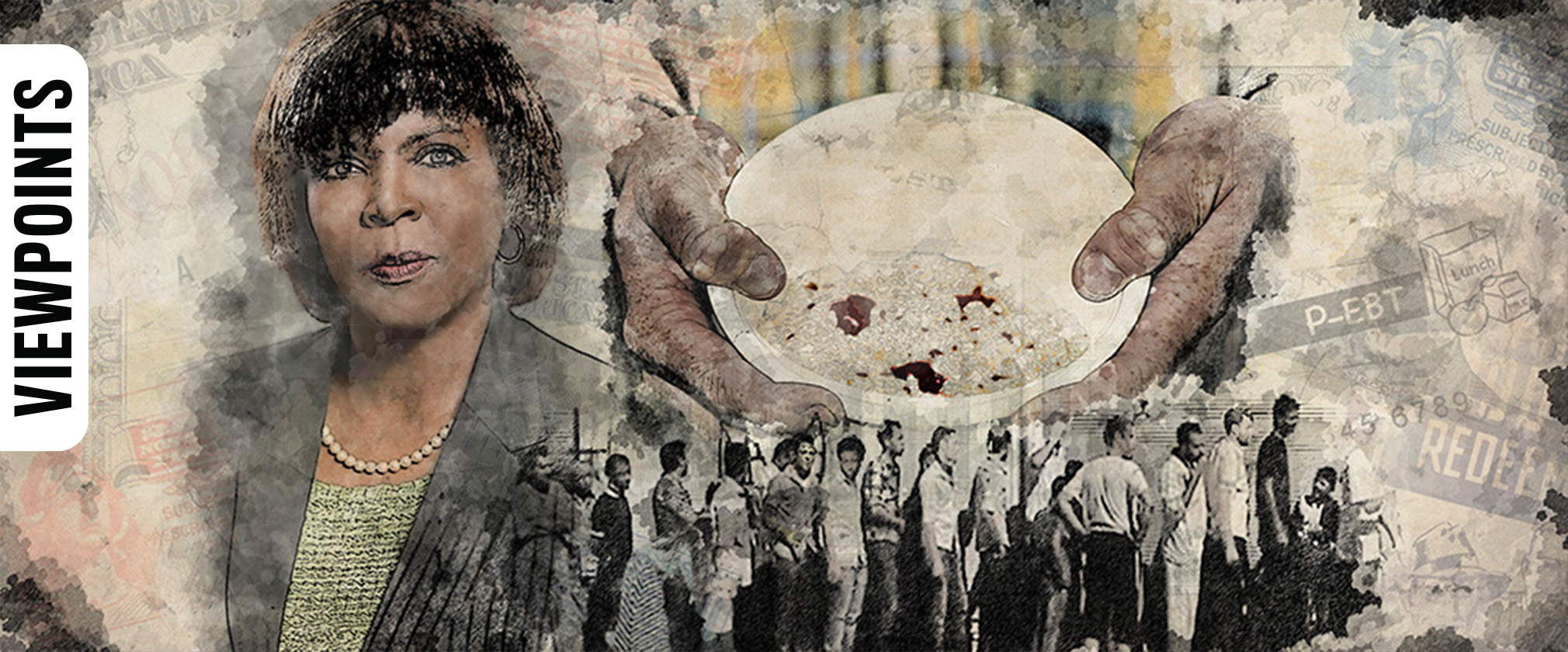 BALTIMORE—July 20, 2020. Ertharin Cousin has seen what happens to food systems during a crisis, and she's had a significant role in providing food relief when they strike. In 2010, when Haiti was devastated by an earthquake, she helped to coordinate relief in her role as the US Ambassador to the UN Agencies for Food and Agriculture, a position she was appointed to by President Obama. From 2012 to 2017, she served as the executive director of the World Food Programme, the world's largest humanitarian organization, which responded to food crises in Africa and the Middle East, as well as the Ebola virus outbreak, during her tenure. In other executive leadership roles, she's helped to guide US investment in activities supported by USAID to end hunger and directed operations in a national confederation of foodbanks. Rounding out her perspective, she's also worked in the private sector, as a senior VP for a major grocery corporation.
She's now a distinguished fellow at the Chicago Council on Global Affairs and a  visiting scholar at Stanford's Center for Food Security and the Environment. Ertharin also serves on the boards of Bayer, DSM Sustainability Advisory Board, Heifer International, and other organizations, and publishes and speaks often about food security, nutrition, and agriculture.
We had a chance to chat in April, and started by talking about global food security, big-picture goals, and  vulnerable communities. The conversation about at-risk populations segued into a conversation about the food crisis that's been catalyzed by the coronavirus pandemic. In the United States, we've seen a sharp increase in the number of people who are suddenly uncertain about where their next meals are coming from, and we've seen some news coverage of the long lines forming at food banks, which are running out of resources. Socioeconomic inequity has come into the spotlight as well, as we see low-income communities and communities of color being hardest hit not only by food insecurity but also by deaths resulting from Covid-19, the disease caused by the virus.
It's been interesting, we agreed, to witness how surprised Americans are to learn that many of their fellow citizens are so vulnerable. The inequity between communities in access to nutritious food has always been bad, Cousin maintains, just not as visible as it is now. The people who've always lived on the margins are, not surprisingly, at the highest risk, particularly low-income Black, Latinx, and Native American communities.
"The pandemic is creating crevices where there were once fissures," she said. "And it's exposing crevices that, if you lived in these communities, you were [already] well aware of their existence. And [the pandemic is] exposing those challenges to the entire country, and to the world."
She mentioned a 2019 Federal Reserve study showing that almost 40 percent of American adults wouldn't be able to cover a $400 emergency with cash, savings or a credit-card charge that they could quickly pay off.
"We're seeing the impact of a reality that many of us were not aware of, that most Americans have no savings," she said. "If you live in these communities, you know the challenges that you and your neighbors are facing. What has surprised many [of us] is not just the impact of the inequities on economic stability in families, but the realization that those inequities are based not just on race, which is significant, but they also follow along educational lines, particularly on women-headed households."
But that datapoint about Americans' saving accounts has been out for almost a year, I suggested. Why are we taking notice now?
"The datapoint becomes a reality point when it affects the ability of Americans to buy food," she said.
We talked about the US coronavirus stimulus bills, and she echoed much of what we're hearing from so many experts now: that the most vulnerable are still slipping through the cracks, and that if and when we make changes to support them, those changes should become permanent.
She highlighted that many of the low-income people have been boxed out of the stimulus check because they don't file income taxes. We talked about the need to increase SNAP funding, to improve and expand online SNAP purchasing, to make school and summer meals programs more robust and less bureaucratic.
"Those kinds of tools, we need to get online and get online fast," she said. "Some people will be able to return to work before they have the ability to get access to food. "
Regarding a return to "normal," she expects that the staggered and uncoordinated "re-openings" will be nothing like the bounce-back that some are hoping for.
"We will have staggered business openings, we will continue to have physical distancing, and the uncertainty around all of these issues suggest that not everyone will return to work at one time. … We will still have very high unemployment, which means that the kinds of programs we are talking about now, we will continue to need for the foreseeable future," she said. "If you think about how we re-open the economy, the food security problem does not dissipate until we have full recovery. When will a full recovery occur?  Evidence suggests, the most vulnerable households just began in late 2019  to experience a full financial recovery from the 2008 economic crisis, which was nothing in comparison to this."
But Cousin allows herself some optimism about the long-term impact of the pandemic, because so many Americans have finally been forced to see vulnerable communities.
"When you witness the racial disparities and underlying comorbidities in the United States directly attributable to nutrition-related health conditions like diabetes, hypertension and obesity… when you see thousands of people lining up for food and finding the cupboard bare after they stand in line for three and four hours, these situations demand  that our political leadership take action to address issues that did not seem quite as important before the crisis," she said. "Eyes wide open."
Is she hopeful?
"I am hopeful. Legislation at the national level that affects access to nutritious food and economic opportunity for the most vulnerable people now seems possible. Issues not considered a priority before Covid-19 including food justice for low income Black, Latinx, and Native American communities are now on the table for discussion. If we can make those new tools a reality, and keep them in place beyond the re-opening of the economy, ensuring that people have a sustainable access to food, then that's a win," she said. "If we create new systems for supporting business continuity and business recovery and build back better local food systems here at home as well as in the developing world that provide farmers with more income and people more access to foods, we will achieve a win-win. But achieving these outcomes requires investment in the work and action now, and not just conversations."
Who needs to work together on this? I asked.
"All of us. All of us," she said. "When you're seeing thousands of people line up for food, we know we have a problem not just 'over there' but domestically right here at home that requires all of us coming together.
For more perspective on food systems, read the CLF Global Thought Leaders Series.
Illustration by Mike Milli, 2020.
More Stories and Viewpoints