Under Gaia's Skin: The Future of Life
The Johns Hopkins Center for a Livable Future and the Department of Environmental Health and Engineering bring you the 20th Annual Edward & Nancy Dodge Lecture.
April 15, 2020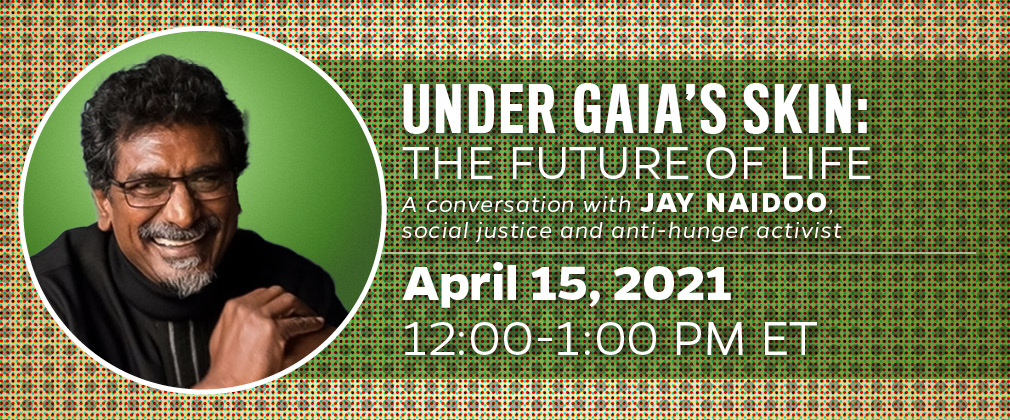 About Jay Naidoo
Jay Naidoo, who once served in Nelson Mandela's cabinet and chaired the Global Alliance for Improved Nutrition, currently devotes his time to exploring how we can collectively change mindsets to protect our ecosystems, achieve greater equity, and leave a better world for our children and grandchildren. At this critical inflection point for the planet, we must re-establish harmony, starting with our precious soil. His talk will range from how to reimagine life on Earth by centering ecology, elevating women, and acknowledging the sacredness of all people and all lands.
Read Jay Naidoo's viewpoint on Today's Challenges: Ecology Must be at the Center
Check out other Dodge lectures
Program
12:00 PM: Introductions
                 Natalie Wood-Wright, Director, Public Affairs, Johns Hopkins Center for a Livable Future
12:05 PM: Land Acknowledgement
                 Joel Bolling, MA, Assistant Dean for Inclusion, Diversity, Anti-Racism, and Equity, Johns Hopkins Bloomberg School of Public Health
12:10 PM: Introduction of speaker
                 Martin Bloem, MD, PhD, Director of the CLF and the Robert S. Lawrence Professor of Environmental Health at the Bloomberg School
12:15 PM: Jay Naidoo, social justice and anti-hunger activist
12:35 PM: Q/A Session
12:55 PM: Closing Remarks
About the Edward and Nancy Dodge Lecture 
The Edward and Nancy Dodge Lecture is supported through the R. Edward Dodge, Jr. and Nancy L. Dodge Family Foundation Endowment, established through the generosity of Dr. Edward Dodge, MPH '67, and his late wife Nancy to provide core funding for the Center for a Livable Future.