Panel Addresses Risks Faced by Farmworkers: Heat, Pesticides, and Other Inequities
November 09, 2021
By: Christine Grillo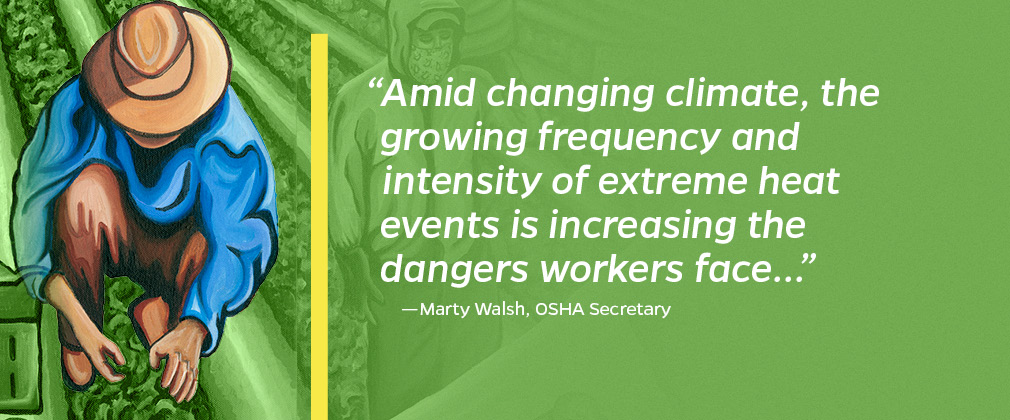 DENVER—November 8, 2021.  It seemed serendipitous that on the same day that experts spoke on a CLF-sponsored panel about climate change and farmworker health, the Occupational Safety and Health Administration (OSHA) took its first step toward rulemaking for a new policy to prevent workers from heat stress. Currently, there is no federal heat standard that keeps workers out of workplaces that are too hot to be safe. In cases where workers become ill or die because of heat, OSHA can investigate and cite employers after the illness or death has occurred—but a new federal heat standard will make prevention possible. Such a standard could mandate that employers protect their workers  with tools such as water breaks, shade breaks, rest breaks, and training that would help workers and managers recognize signs of heat stress.
The panel, "Agriculture, Climate Change and Farmworker Health: from Health Impacts to Policy Interventions," was part of the American Public Health Association's offerings during its annual conference in Denver. Panelists included medical and legal professionals, and advocates who work closely with (im)migrant farmworker communities. Informing and inspiring much of the panel were two collaborative reports on farmworker health released this year: Essential and In Crisis: A Review of Public Health Threats Facing Farmworkers in the US, which is published in English and Spanish, and Essentially Unprotected: A Focus on Farmworker Health Laws and Policies Addressing Pesticide Exposure and Heat-Related Illness. The first one, which was developed by the Johns Hopkins Center for a Livable Future, reflects on the impact of Covid-19 on agricultural workers and highlights an urgent need for systemic reform, while the other report, created by Vermont Law School's Center for Agriculture and Food Systems, focuses on the gaps in labor protections that put workers at risk.
Panelists spoke broadly of the decades-long US policies that exacerbate inequities and injustice among farmworkers, and that put them at so much more risk than the population at large. Climate change loomed large as a factor that especially exacerbates risks and inequities that have existed for at least a century. As temperatures rise, workers will be exposed to more and longer days of unsafe heat. Iris Figueroa, from Farmworker Justice in Washington, DC, spoke about the work of coalitions to petition for a federal heat standard. She also spoke about some other challenges that have faced workers for at least one hundred years: immigration challenges, low wages, substandard housing, limited access to health care, and more. She noted that of the estimated 2.4 million farmworkers in the US, 83 percent are Hispanic*, which means language barriers become another challenge for this community.
Neza Xiuhtecutli, of the Farmworker Association of Florida, spoke about the challenges faced by Hispanic* and immigrant farmworkers, especially health care. Climate change, he said, is not only a health issue—it's driving immigration. With no health insurance and few health centers, farmworkers are left little recourse when they're ill. Some farmworkers make use of ice vests and ice bandanas to stay cool, but these are insufficient solutions.
Marysel Pagán-Santana, from the Migrant Clinicians Networks in Puerto Rico, spoke about the higher levels of asthma, hypertension, and diabetes among farmworkers. Both Hurricane Maria and Hurricane Irma, as well as earthquakes and droughts in the last two years, represent a walloping climate change impact, she said, especially in rural areas. Mental health issues have skyrocketed among her constituents, and there is not yet a culturally appropriate tool, or instrument, for evaluating the impact of these events on mental health and resilience.
Anna Aspenson, from the Croatan Institute, and Laurie Beyranevand, of Vermont Law School, addressed the negative health effects of exposure to pesticides and other chemicals, including an elevated risk of breast cancer, as well as machine injury and repetitive motion injury. Ms. Beyranevand noted that children make up five percent of all farmworkers—but 52 percent of injuries occur among them.
Ms. Figueroa ended the panel by urging listeners to take advantage of OSHA's 60-day comment period soliciting data and ideas about how best to create a federal heat standard. The advance notice of proposed rulemaking provides a link for submitting comments.
In OSHA's news release about the heat standard, Secretary Marty Walsh said, "Amid changing climate, the growing frequency and intensity of extreme heat events is increasing the dangers workers face, especially for workers of color who disproportionately work in essential jobs in tough conditions."
The panel was moderated by Sarah Goldman of Land Stewardship Project and Marianne Engelman-Lado, the Deputy General Counsel for Environmental Initiatives at the Environmental Protection Agency.
*Hispanic is Ms. Figueroa's  and Mr. Xiuhtecutli's term of choice for describing their constituents.
More Stories and Viewpoints