New York Town Goes Meatless, Wants to Do It Again
January 14, 2019
By: Christine Grillo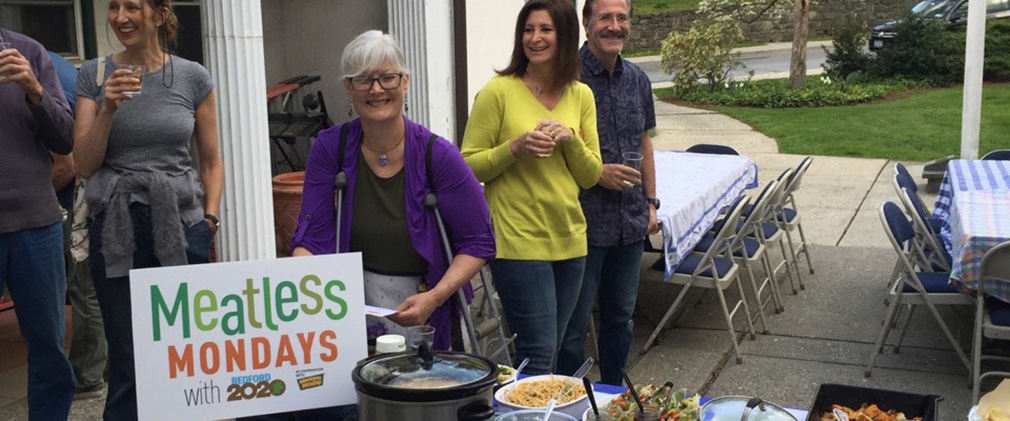 How do you inspire a community to give up meat one day a week for 12 weeks? In Bedford, New York, where more than 300 households took up the Bedford 2020 Meatless Monday challenge last year, some of the motivation came from learning the connections between meat and climate change.
Working with the Johns Hopkins Center for a Livable Future (CLF) and the Meatless Monday campaign, the environmental grassroots group known as Bedford 2020 was able to offer science-based information that moved the community. One of the promotions from the challenge reads: "Global livestock productions creates more greenhouse gas than the entire transportation sector."
The CLF served as the science and content experts, and Bedford 2020, which focuses on reducing greenhouse gases, hosted events, promoted the challenge, and adapted Meatless Monday materials to inspire the community. The town of Bedford, located in Westchester County with a population of 17,000, passed a resolution in support of the initiative. Ellen Calves, the group's program director, said, "People here are very interested in the connection between climate and meat."
"Some people took it very seriously, and every Monday would go out of their way to make it work," said Calves. "Others just enjoyed having that target every week."
In addition to serving as the science experts, CLF conducted several surveys—before, immediately after, and six months after the 12-week challenge—in order to quantify the number of households participating and whether habits had changed as a result. The survey conducted immediately after the challenge shows that 74 percent of respondents said it raised their awareness about the connections between food choice and climate impact.
According to the surveys, 320 households took the Meatless Monday pledge, with the average household composed of 2.2 people. "If they all did it," said Calves, "the carbon equivalency calculator says our community did the equivalent of driving 56,000 fewer miles over 12 weeks."
But in addition to positive climate impact, the Bedford 2020 Meatless Monday challenge encouraged creativity in households and eateries, and may have even boosted some businesses.
"The homemade pasta shop did great on Mondays," said Calves.
During the challenge, Katonah Pasta became a go-to for Bedford residents, with year-round offerings that included lemon fettuccine, spinach gnocchi, mushroom ravioli and more.
Truck, a casual restaurant specializing in Northern New Mexican cuisine, created a special known as the Bedford 2020 Roasted Vegetable Blue Corn Enchilada, and the Katonah Reading Room, a gourmet market and café, created the Bedford 2020 Kale Salad.
"One restaurant offered a multi-course vegetarian meal paired with wine," said Calves of Le Fontane. "There was great buzz about it… Restaurants got the message that people want to see meatless options."
Bedford 2020 did "major" outreach and education, and offered recipes on their website. Calves notes that restaurant partners often posted on social media that customers were coming in specifically for Meatless Monday dinners. Some of the local papers covered the initiative, as well. Partners in the challenge included not only restaurants, but also hospitals and schools.
Judging from the CLF survey results, it does seem that an impressive number of residents are more aware of the carbon footprint of meat, as a result of the initiative. Echoing one of the Meatless Monday campaign's strategies, Calves said, "We meet people where they're at—and then we can introduce them to additional ways they can have an impact on the climate, like by buying more local food or by composting."
"Everyone keeps asking when we're doing it again," said Calves.
More Stories and Viewpoints