A New Year's Resolution You Might Actually Keep
January 04, 2018
By: Jessi Silverman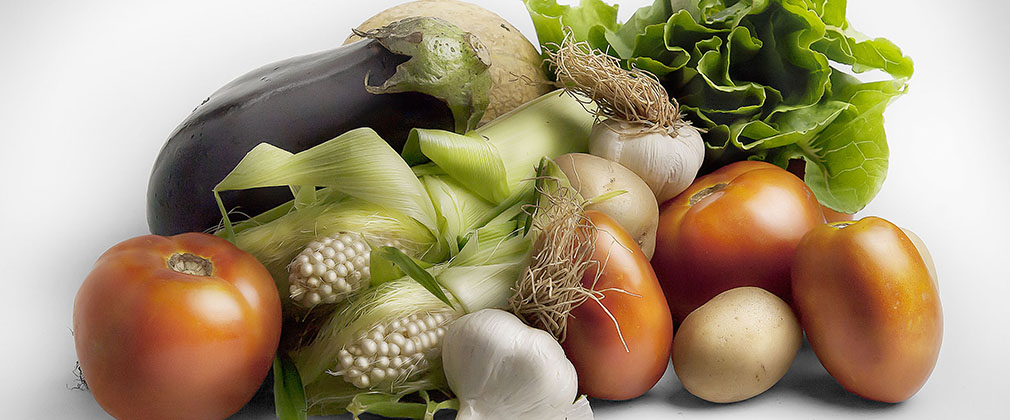 New Year's resolutions are notoriously difficult to keep. How many of us have resolved on New Years past to join a gym, keep a journal, or learn a new language, and end up leaving it by the wayside come February? January 1 can be a powerful impetus to initiate behavior changes, but after that it can be very difficult to incorporate these changes into daily life in a sustainable way.
Perhaps you have resolved to eat less meat in 2018, and for good reason. The typical American diet that is high in animal products raises one's risk for chronic disease1. Compared to most plant-based proteins, animal products, especially red meat, have a higher carbon footprint and use much more fuel energy, water, and land2. The industrial animal agriculture paradigm in the United States is fraught with additional problems for the environment and public health. The routine, non-therapeutic use of antibiotics in livestock production is contributing to the growing threat of antibiotic resistant diseases in humans3. The accumulation of waste in industrial food animal production facilities pollutes the surrounding water and air and negatively impacts the health and quality of life of the workers and nearby residents4.
Once you have decided that cutting down on the meat in your diet is a good idea, how do you make that a reality, given how difficult it is to change habits? Well, what if instead of once a year on January 1, that powerful reminder to do better came once a week? This is one of the motivational ideas behind the Meatless Monday campaign. Here are a few reasons why practicing Meatless Monday in 2018 can be a great way to start eating less meat and keep it up.
It's not a drastic change. When the New Year comes around, many people try to completely overhaul their diets and quickly get discouraged. Starting with one day a week is much more manageable. And, instead of a diet with complicated rules and restrictions, all you have to remember for this resolution is to cut out meat once a week.
Monday definitely needs a makeover. Because we all share Monday as the beginning of the work and school week, there is a negative attitude toward Monday that pervades our culture5. Instead of thinking of Monday as the end of weekend freedom, you can reframe it as a positive new start to focus on bettering your health and the common good. Even better, Meatless Monday gives you an opportunity each week to be creative and find new recipes and flavors you enjoy.
One day a week can have a big impact. Studies have shown that replacing as little as three percent of one's calories from meat with plants is associated with a ten percent reduction in risk of death from heart disease and diabetes6. In terms of environmental impact, switching out one hamburger for a veggie burger saves enough water to shower for an hour and a half and the amount of greenhouse gases emitted after driving a car for six miles7,8. You can check out CLF's resources to learn more about the links between meat consumption and public health.
Monday happens every week. As I alluded to already, Meatless Monday serves as a reliable reminder once every seven days to make eating less meat a normal part of your life. Some research shows that frequent, periodic prompts are effective at changing behavior5. Receiving the weekly Meatless Monday email newsletter can be one such prompt to keep you on track.
It can catalyze a bigger shift in your diet. The more frequently you make room on your plate for plants, the more benefits accrue to your health and the planet. Meatless Monday is a natural first step toward eating more plant-based meals throughout the week. Once you get accustomed to shopping for and cooking a variety of plant-based foods on Monday, you will find that meatless meals become familiar, affordable, and easy to prepare on any day of the week.
From all of us at CLF, have a happy and healthy 2018. May this year be filled with a few more delicious plant-based meals than the last.
References
Yip, C. S. C., Lam, W., & Fielding, R. (2017). A summary of meat intakes and health burdens. European journal of clinical nutrition.
McMichael, A. J., Powles, J. W., Butler, C. D., & Uauy, R. (2007). Food, livestock production, energy, climate change, and health. The Lancet, 370(9594), 1253-1263.
Silbergeld, E. K., Graham, J., & Price, L. B. (2008). Industrial food animal production, antimicrobial resistance, and human health. Annu. Rev. Public Health, 29, 151-169.
Casey, J. A., Kim, B. F., Larsen, J., Price, L. B., & Nachman, K. E. (2015). Industrial food animal production and community health. Current environmental health reports, 2(3), 259-271.
Fry, J., & Neff, R. (2010). Healthy monday: Two literature reviews. Johns Hopkins School of Public Health: Baltimore, MD, USA.
Song, M., Fung, T. T., Hu, F. B., Willett, W. C., Longo, V. D., Chan, A. T., & Giovannucci, E. L. (2016). Association of animal and plant protein intake with all-cause and cause-specific mortality. JAMA internal medicine, 176(10), 1453-1463.
Mekonnen, M. M., & Hoekstra, A. Y. (2010). The green, blue and grey water footprint of farm animals and anima products. ( No. 48). Delft, the Netherlands: UNESCO-IHE Institute for Water Education.
Pelletier, N., Pirog, R., & Rasmussen, R. (2010). Comparative life cycle environmental impacts of three beef production strategies in the Upper Midwestern United States. Agricultural Systems, 103(6), 380-389.
More Stories and Viewpoints