Gone Fishin': The Tilapia Harvest
April 02, 2014
By: Laura Genello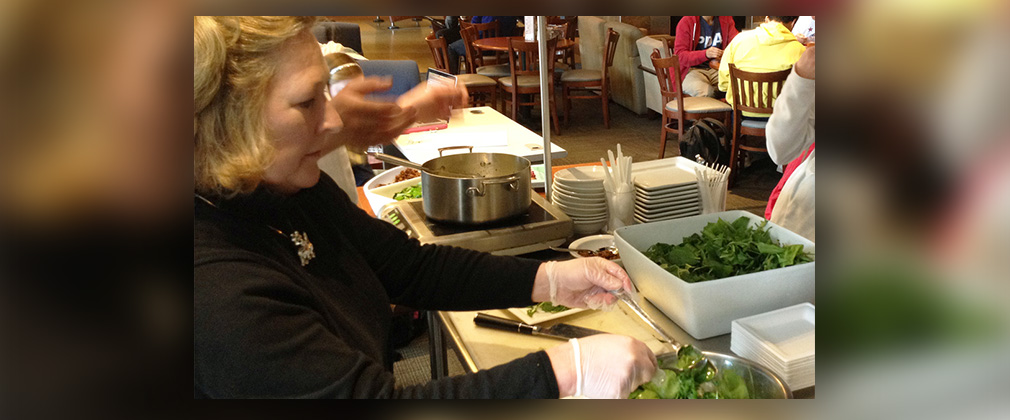 I've grown vegetables for most of my adult life, and I have become accustomed to eating a lot of locally produced food, either resulting from my own farming endeavors or a trip to the local farmers market.  I feel fortunate to be able to easily source the majority of the vegetables on my plate from small-scale, local growers, or grow them myself. However, despite growing up in coastal communities, there have only been a handful of times in my life when the fish I ate came from a local source. Last Tuesday, I was provided with an opportunity to eat fish produced in Baltimore City when we harvested 20 pounds of tilapia from the CLF Aquaponics Project.
Working with Bon Appetit Management Company and Chef and Cookbook Author Kerry Dunnington, we supplied produce and fish for a chef demonstration at a campus café on the Johns Hopkins Homewood Campus. Chef Kerry and the staff of Bon Appetit visited our facility, met our fish, sampled our greens, and concocted recipes for tilapia chowder and sorrel salad to highlight the flavors of our products.  Although harvesting the fish was a more solemn occasion than our weekly greens harvests, the result was delicious and it was rewarding to build a connection between the Aquapononics Project and JHU students through the food that we produce.
The fish harvest is a quick and simple process. Two days prior to harvest, the fish are transferred to a purge tank containing clean water, a process that helps remove off-flavors from the mild-tasting tilapia. Following the purge, they are removed from the tank, weighed and packed on ice before journeying to the Bon Appetit kitchen for processing.
While our fish are not currently sold at the farmers market, our sorrel and greens are featured regularly at the Farm Alliance of Baltimore City's table at the Waverly Farmers Market. Stop by the Waverly market, pick up some sorrel, and try out Chef Kerry Dunnington's Sorrel Salad Recipe!
More Stories and Viewpoints