Emergency Covid Food Policies: Can They Become Permanent Reform?
April 16, 2020
By: Christine Grillo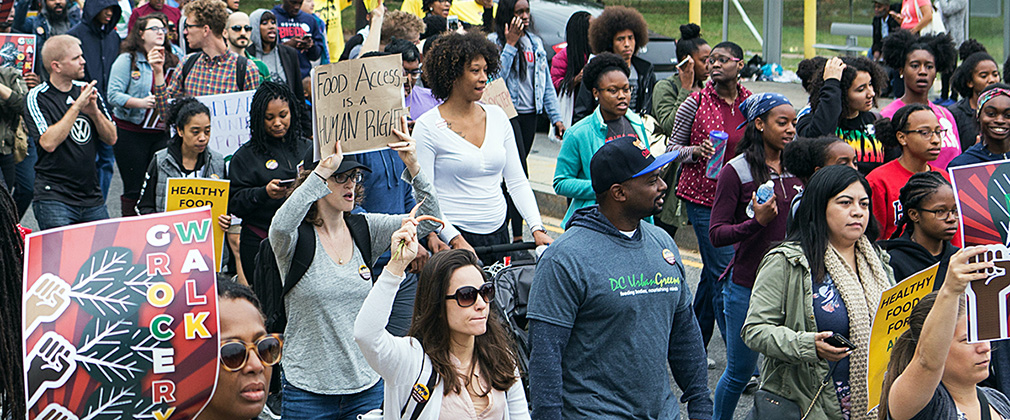 BALTIMORE—April 16, 2020. The coronavirus pandemic has brought into sharp focus that even in "normal" times, for millions of Americans, life is a daily balancing act where we teeter on the brink of food insecurity and financial distress. With Covid-19, many of those on the edge have just been pushed over into suddenly not having enough to eat, not being able to pay the bills, and even bankruptcy. The nation is watching the story unfold in real time. So is Congress.
Rapidly, the US Congress has passed three coronavirus emergency aid packages, and when Congress returns to session on April 20, they will work on the fourth aid package. The third and most recent is the Coronavirus Aid, Relief and Economic Security (CARES) Act, which was signed into law on March 27, for about $2 trillion. Last week the Johns Hopkins Center for a Livable Future (CLF) convened food policy advocates in an online roundtable to discuss how the CARES package might support their activities and mission, how it touches the food systems world, and how this kind of rapid-fire, emergency funding could lead to more lasting, broad-reaching reform once life returns to normal, whatever "normal" looks like post-coronavirus.
During the roundtable hosted by the CLF's Food Policy Networks team and policy experts from the CLF, guests Corey Malone-Smolla of Feeding America and Wes King of National Sustainable Agriculture Coalition (NSAC) discussed not only what the new aid package means on the ground today, but how the programs it funds could lead to good news in the future.
"Food policy councils are directly confronting the challenges of federal guidelines that limit the reach of food and farm assistance programs," says Karen Bassarab, a senior program officer at the Center. "They are raising critical questions about how states and agencies are, or are not, taking advantage of opportunities to expand access to SNAP and school meals, as well as trying to untangle the (mis)interpretation of information about financial aid available to small farmers."
"Food policy councils have identified creative solutions to challenging food systems issues during these difficult times," says Sarah Goldman, a senior program coordinator at CLF. "This ingenuity, and unique community-based solutions, are important perspectives to bring to federal policy discussions."
Malone-Smolla and King, as well as many participants, discussed ways in which sudden aid could mean improvements for both anti-hunger advocates and for local and regional farmers. Some of the most obvious opportunities have to do with bolstering and expanding programs that address food insecurity, such as SNAP, TEFAP and FDPIR. Pandemic EBT, as well as allowing the use of SNAP benefits for the online purchase and delivery of groceries, are part of the sought after SNAP improvements. A Universal Meals program would also support the anti-hunger landscape. For farmers, the aid packages could offer improvements in terms of direct aid, added capacity for food safety and cold storage, and markets for surplus food that would otherwise go to waste.
Widening SNAP and TEFAP
SNAP (The Supplemental Nutrition Assistance Program), formerly known as food stamps, is the largest federal nutrition assistance program in the United States. TEFAP (The Emergency Food Assistance Program) distributes about half a billion dollars in USDA Foods each year through food banks across the country. WIC (Women, Infants and Children) provides food and nutrition assistance to women with infants and children under the age of five. As Malone-Smolla underscored, SNAP is the nation's first line of defense against hunger, and was created specifically to address emergency food needs in a crisis.
"I would say the major top line messaging to take away from everything right now is that we really need to support SNAP, we need to do everything that we can to make sure SNAP benefits and access are expanded to meet the rising need," she says.
A critical change made to SNAP on April 1 was to remove time limits on "able-bodied adults without dependents" being able to participate in SNAP. Anti-hunger advocates are still pushing to raise maximum allotments and minimum benefits. Malone-Smolla urges that if people have previously lost access to SNAP because of these regulations, they should re-apply immediately. Increasing flexibility for programs like WIC and TEFAP are also critical right now. Food policy councils across the country can help by spreading the word to get more families to apply for SNAP benefits, and to help agencies staff up for enrolling more families.
Policy Fix for SNAP and FDPIR
The federal program known as FDPIR, the Food Distribution Program on Indian Reservations, provides USDA foods to low-income households, including the elderly, living on Indian reservations, and to Native American families residing in designated areas near reservations. Currently Native Americans cannot participate in both SNAP and FDPIR programs, and the USDA can't change this without an act of Congress. Anti-hunger advocates are working on a policy fix that would change this regulation. "Allowing participation in both SNAP and FDPIR simultaneously would increase access to food in communities that often face increased risk of food insecurity and access barriers," says Malone-Smolla.
SNAP Online and SNAP Delivery
Currently "big box" retailers such as Amazon and Walmart can accept SNAP payment online and deliver eligible food to homes—but only in about six states in the US. Most SNAP participants must travel to grocery stores to make food purchases, putting themselves at more risk of infection compared to people who are able to have food delivered. King and NSAC have been working with members of Congress on legislation to provide resources to expand SNAP online payments and to allow the delivery of groceries in the forthcoming aid package.
Pandemic EBT
Electronic Benefit Transfer, known as EBT, is the mechanic that SNAP participants use to pay for their food; the EBT card is, essentially, a debit card that links to their SNAP benefits account. In mid-March, the Families First Coronavirus Response Act created the Pandemic Electronic Benefit Transfer (P-EBT) program, which provides nutritional aid to families who are losing access to free or reduced-price school meals as schools across the country close in response to Covid-19.  Through the P-EBT program, states can issues temporary EBT cards to low-income families that are now missing out on free and reduce-price school meals. The program makes it possible to provide aid to households that are not SNAP-participating, but do have children who qualify for free or reduced-price school meals. As of April 14, only nine states had submitted P-EBT plans, and only two (Michigan and Rhode Island) have been approved.
"I am looking forward to a robust rollout of Pandemic EBT as a way to address the loss of school meals that children are seeing as a result of school closures, and I think depending on how that process goes, I would be interested to see how that could lay the groundwork for essential advancements in child nutrition programs going forward, such as expanding summer EBT pilots," says Malone-Smolla. "While those programs are different, they could function in similar ways and hopefully we're able to make progress in that to move beyond this crisis and expand access to meals for children in the future as well."
Advocates have been pushing for the expansion of SNAP summer EBT for some time. Now, with the pandemic, the reform could be enacted and become permanent. Food policy councils can make sure their states take advantage of waiver options for "emergency standards" of eligibility and levels of benefits.
Universal Meals
The Universal School Meals Program Act, introduced in the fall of 2019, would provide free breakfast, lunch, and dinner to every student – without requiring proof of financial need. Anti-hunger advocates stress how this legislation removes stigma, reduces bureaucracy and paperwork, and guarantees three meals to every student in the US. In times of crisis, such as now, a program like this could be especially useful, as it does not require review and approval of eligibility. Food policy councils could help the effort to get this passed by providing data that shows the potential impact of a program like this.
 "What we've learned is that our response to a pandemic is built on federal nutrition programs that are strong, successful, and robust when we're not in crisis, and that are ready to adapt to unexpected situations like this to meet changes in need," says Malone-Smolla. "There are a lot of hurdles that would not exist if access to universal school meals was an essential part of our federal nutrition programs. "
Direct Aid to Farmers
The latest coronavirus aid package provides $9.5 billion in funding for specialty crop producers, livestock producers (including dairy), and producers that supply local food systems (including farmers markets, restaurants, and schools) who have lost markets or incurred new costs as a result of the coronavirus outbreak.
But, as King points out, "The bill only includes about one sentence about this. It basically says $9.5 billion to assist farmers, including local and regional farmers who sell through farmers markets, farm to school, and direct to retail and directly to restaurants. That's about it. There were no guardrails or parameters provided to the USDA except 'Here's $9.5 billion.'"
He says that a lot of that money is intended for commodity producers, livestock producers, and large-scale specialty crop producers. "It's not all for local foods," he says. "So there's definitely a sort of a knife fight behind the scenes around making sure each group gets their fair share."
In the local and regional food world, there's concern about how much of this $9.5 billion will go to small and mid-size producers, instead of to integrators and agribusiness. NSAC has been advocating for $1 billion of that pot of funding to go to local and regional producers (and the Center, as a member of NSAC, supports targeting aid to small farmers, as well). NSAC is also keeping its eye on how the $349 billion allotted to paycheck protection could support farmers and farm businesses, and how to leverage the Economic Injury Disaster Loans program to support food system businesses.
"I think one of the most frustrating things going on with all of this assistance when it comes to farmers and food businesses in the CARES Act is nobody quite knows," says King. "There's a lot of uncertainty, we're dealing with the situation where the federal government is trying to implement programs and policies in a matter of weeks that in another world, they would have implemented over a matter of months to a half a year."
Farm workers
For now, it seems that the plight of farmworkers, many of whom are undocumented migrants, has been overlooked in the first three aid packages. NSAC and other groups are supporting advocacy for the forthcoming aid package to include aid for farmworkers. Organizations such as the HEAL Food Alliance, Farmworker Justice, Food Chain Workers Alliance, and United Food and Commercial Workers Union are advocating for additional federal protections for farmworkers in future coronavirus relief packages. A participant said that some farm worker organizations are supplying their members with an "I am an essential worker" letter in case they're stopped by law enforcement. The letter wouldn't provide any protections, but may influence the actions of the law enforcement officer.
Food Safety, Cold Storage and Surplus Food
King suggests that the pandemic and its emergency aid packages could be an opportunity to advance long-term investment in local and regional food system infrastructure through increased capacity for cold storage (refrigeration) and other resources for ensuring food safety.
"This could be leveraged to increase investment in food safety and cold storage throughout the supply chain," he says.
With school and restaurant closings, many farmers have found themselves with excess food on hand, potentially resulting in a great deal of food waste. Advocates are looking for funding to purchase the surplus food from farmers who would not otherwise have markets and put that food into the emergency food system.
"Conceptually the 2018 Farm Bill created a farm to food bank program that is part of TEFAP. However, there is not a lot of flexibility built into it, but there is at least a potential concept there that could be changed or adapted legislatively to fit this situation and then provide funding to purchase that product," says King.
Some farmers are leaving food on their fields, that is, not harvesting or packing it, because without a market for it they can't pay for labor to harvest or transport. For that surplus food to be harvested and distributed to, for example, food pantries, there would need to be funding to pay those labor costs. Further complicating the matter, some food banks don't have cold storage, so even if the farmers could get the surplus food to food banks, it can't be stored safely. Fortunately, some food policy councils have been able to connect farmers with surplus produce to restaurants, hotels, and arts and event venues that are closed but are allowing use of their storage space so that food banks can use the food donations.
Some councils are also connecting food banks with gleaning organizations.
What It Might Mean
In the end, we may see some long-lasting permanent change emerge from the scramble to provide emergency aid—at least, this is what advocates are hoping for and working toward.
Malone-Smolla says, "I do hope a silver lining out of all of this is that we're encouraging innovative approaches to current federal nutrition programs."
"I've seen the collaboration between the anti-hunger/nutrition world and the local food world growing over the years, and I think the trajectory is good," says King.
Image: 2017 Grocery Walk for Food Justice in Washington, DC, by Brian Oh, CLF Food Policy Networks Photo Contest, 2017.
More Stories and Viewpoints