CLF Brings Public Health Perspective to Aquaculture Conference
June 05, 2015
By: Jillian Fry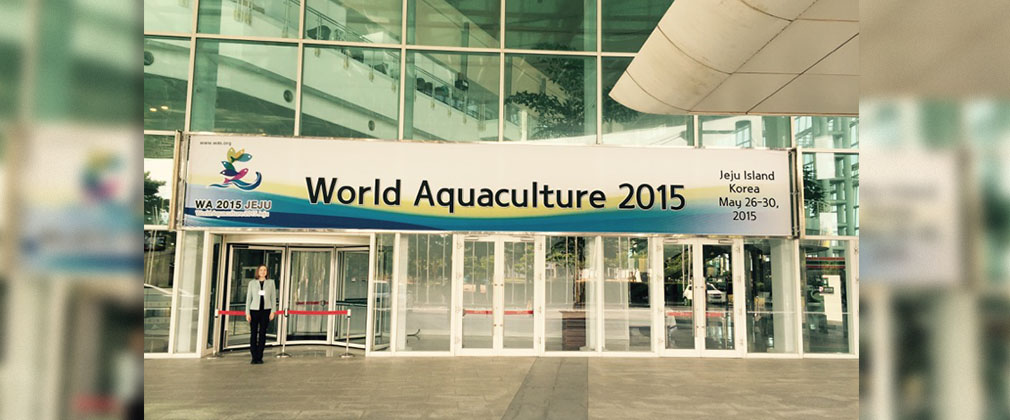 Last week, I gave a presentation at the World Aquaculture Society Conference in Jeju, South Korea. The invited talk was based on a paper I published with three colleagues last year, Public Health Perspectives on Aquaculture. The conference was mostly focused on how to continue expanding the aquaculture industry, and I provided a public health view in an effort to demonstrate the importance of producing farmed seafood using methods that are sustainable and safe.
Some intensive aquaculture operations result in high nutrient pollution from waste and uneaten feed, disease transmission to wild aquatic animals, habitat loss, escapes, and contamination from chemicals and drugs used to control disease. In addition, some aquaculture feed contains ingredients made from small, wild fish that could be overharvested.
Significantly reducing these problems should be a top priority, especially because the wild and farmed seafood industries regularly highlight the health benefits associated with eating moderate levels of seafood. Most consumers want to eat seafood that is healthy and produced responsibly, whether it is wild or farmed, and stakeholders from industry, government, academia, environmental organizations, and consumer groups need to work together to create a seafood system that protects public health and the environment.
I was pleased to have the opportunity to present the work of the Johns Hopkins Center for a Livable Future's Public Health and Sustainable Aquaculture Project to an international audience, especially in Asia where most aquaculture production takes place. My colleagues and I will continue to represent the public health perspective in conversations about how the aquaculture industry should look moving forward.
More Stories and Viewpoints