10 Years of Mapping for Positive Change
July 18, 2022
By: Christine Grillo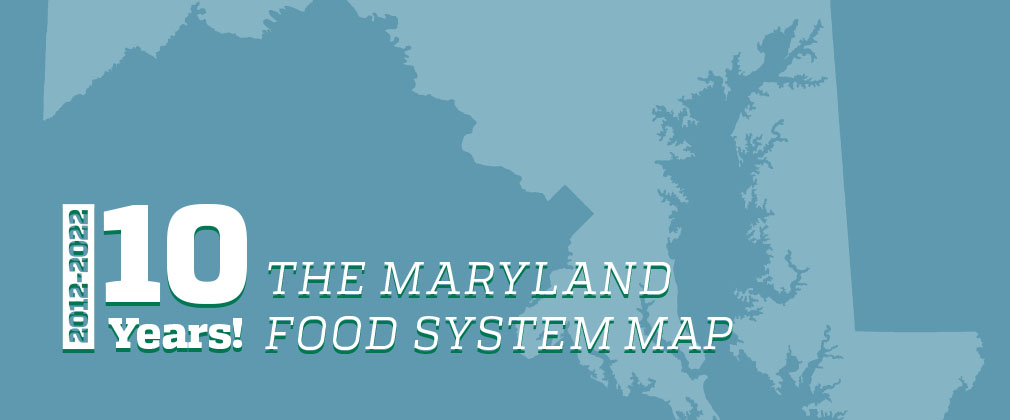 Food systems are complex systems, and each is unique. With that in mind, anyone who wants to effect positive change in a food system, from advocates to government agents, must start with an understanding of how the complex system is operating, and how its geographical context affects or creates problems (or opportunities). Map data can help fill in blanks, providing a big-picture way to understand what's going on in food production and consumption, and insight to questions such as, Where is food being produced—and how? Where is food being purchased—and how? Where is food being wasted? And how do the answers to these questions relate to each other? Maps can also identify trends and alert us to where things are happening, and to what degree.
"If you want to understand the food system, you have to understand its geography," says Jamie Harding, GIS specialist at the Johns Hopkins Center for a Livable Future (CLF).
Caitlin Misiaszek, a program officer at the Center, underscores the importance of being able to recognize spatial differences in food production and consumption: "Spatial data is critical for tracking trends, finding problems, and helping to make decisions—those data are how we understand complex systems."
Both Harding and Misiaszek manage the Maryland Food System Map at the Center, which has been mapping the food system in Maryland for 10 years. The project uses data on the food supply chain, public health and the environment to create interactive layers that can be manipulated by users who want to learn more about the food systems they're trying to change. In 2012, the project started with 30 data layers, and now features more than 190 data layers. It also links to an open data portal where an additional 300+ archived data layers are available for download.
Over the last 10 years, Harding and Misiaszek have learned many lessons about food systems (and they have a webinar about it here), and they've used the map project to support a variety of partners in a number of ways, including food policy councils, community-based organizations, academic institutions, and advocates in Maryland, as well as stakeholder in other parts of the United States. They've been able to use the map to conduct local food assessments, identify gaps and challenges, and communicate issues in ways that are useful for helping policymakers and stakeholders find and promote solutions.
Ferzana Havewala, who worked as an assistant professor at the University of Baltimore and is now at Enterprise Community Partners, has used the map and its data not only in her classroom, but also in her own research to map food environments. She found the map especially useful in that it aggregates so many different kinds of data from so many different sources to provide a comprehensive picture of what she was studying. She was able to pair data about healthy food priority areas, formerly known as food deserts, with demographic information on access to hospitals and recreational spaces to better understand the food environment. "It's been great to have it all in one spot, rather than me pulling from multiple sources," she says. "We would have [had to] to spend research dollars to actually buy that data, and so having that accessible is really very useful."
Heather Bruskin, executive director of the Montgomery County Food Council, has worked with Harding and Misiaszek for more than six years and has found the ability to represent data spatially to be very helpful in community collaboration building, resident referrals, and advocacy. "A key piece of policymaking, as well as bringing people together, is knowing what's out there, what's happening," she says. "People always find visual tools more accessible, and the map is a perfect example of that."
Six years ago, the food council realized that there was no comprehensive, accurate list of all the food assistance providers in their community. As a result, they didn't know about each other, which made it difficult for them to coordinate, collaborate, and share resources. She and the mapping team worked together on how to create an online database of providers (as well as a print directory) and how to display that data on a map. The map they created was accessed more than 25,000 times during the pandemic, and it's still one of the more active pages on their website.
"The tools they've created have served as models of best practices nationwide, and their impact travels far beyond Maryland," says Bruskin. "They've shown how you can take data, make it accessible, and use it as an accountability tool and systems change tool."
In addition to helping providers and residents connect with services, mapping can support legislation that creates positive change. Anna Sierra of the Maryland Department of Emergency Management has supported the Maryland Food System Resiliency Council as they create reports and legislation that will help Maryland be better prepared for future emergencies. While she and colleagues were writing the interim report, they used the Maryland Food System Map to gather information that would support the council as they considered goals and objectives for legislation. The map provided the data they needed to help them create parts of the report, and Sierra hopes to continue to build toward a similar type of map for use with emergency management. She'd love to refine the layers for emergency preparedness and emergency response, and as she says, "We're really just starting down this road and looking forward to continued work with CLF."
The Maryland Food System Map has proven itself useful outside of Maryland, too. Becca Jablonski of Colorado State University's Food Systems Institute found herself turning to Harding and Misiaszek with an ambitious project for her institute. Her goal: to mimic the map for her own state.
"Before the [Maryland Food System] map came out there was no place I could think of that had all of the food system infrastructure in one place," she says. "To have all of those data compiled in one place was super helpful."
When Jablonski saw that they had created the map with so much transparency around their data sources, she knew they could re-create it for Colorado.
"In my mind, the mapping team at CLF were really the pioneers in getting some mapping solutions up and running," says Jablonski. "Their openness to sharing has been phenomenal, and there's been a lot of positive spillover effects in other states."
Future plans for Jablonski include working with USDA on a larger data metrics project to think even more comprehensively about metrics, a github site with new indicators, and a commitment to updating the data annually.
Ultimately, says Harding, "Mapping is one tool we can use to understand local challenges and potential solutions." Misiaszek adds that "It's essential that we ground-truth information so that we can incorporate lived experience into our findings."
Looking forward, the mapping team will continue to use GIS technology and spatial data to address a number of Center-wide investigations and solutions toward improving the food system.
The Maryland Food System Map project has benefitted from assistance and support from the Towson University Center for GIS and by Blue Raster.
Image: Mike Milli, 2022.
More Stories and Viewpoints