Seafood, Public Health & Food Systems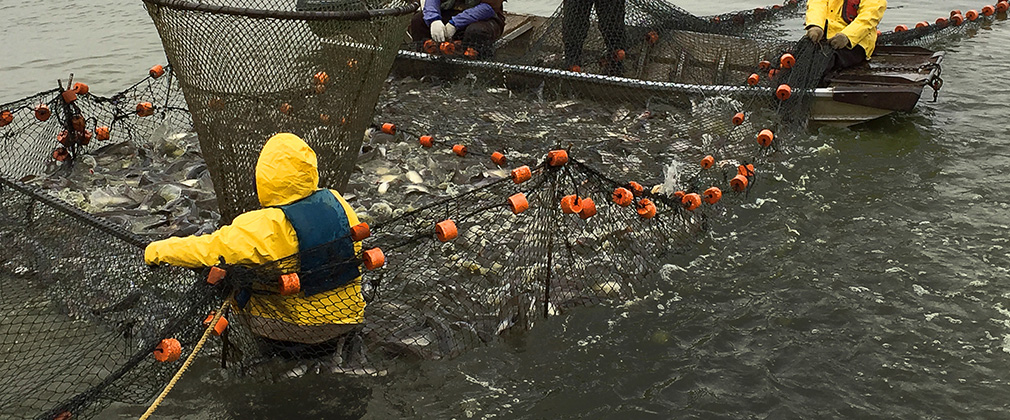 As harvests from worldwide fisheries plateau or decline due to overfishing, pollution, and other factors, aquaculture production has been increasing to meet a growing global demand for sea­food. Aquaculture is the farming of aquatic species including plants, shellfish, crustaceans, and fish. Farmed seafood can be highly sustainable, but unfortunately, some forms of aquaculture can lead to public health risks due to the use of chemicals and antibiotics, bioaccumulation of contaminants through feed made from fishmeal, diseases and pollution from farmed animals reducing wild populations and threatening food security for local communities, and increasing pressure on limited cropland and resources to produce crop-based feed for an expanding industry.
Because seafood can be a good source of lean protein, omega-3 fatty acids, and other nutrients, the challenge is to evaluate the potential health benefits of consuming farmed seafood in light of its possible health risks, as well as the potential environmental risks of expanding the industry. Some aquaculture producers, such as those using recirculat­ing aquaculture systems, have embraced more ecologically responsible farming techniques.
Our work aims to increase public health professionals' involvement with aquaculture. To that end, we conduct and support research, provide technical assistance and expertise to other organizations, and educate policy makers and the public about aquaculture issues.
Other activities of the Seafood, Public Health & Food Systems Project include:
Examining trends in resource use, nutritional quality, and the environmental footprint of the rapidly growing aquaculture industry

;

Identifying regulatory gaps that can threaten public health and the environment;

Investigating oyster aquaculture in the Chesapeake Bay region as a sustainable alternative to wild oyster harvesting;
Supporting faculty, staff, and doctoral student research at Johns Hopkins University through the Aquaculture, Public Health, and the Environment Research Grant Program.
For further information on the project, contact Liz Nussbaumer.
Aquaponics
We operate a small-scale, urban aquaponics farm at CLF's Food System Lab @ Cylburn. Aquaponics, a combination of aquaculture (fish farming) and hydroponics (soilless plant farming), uses fish wastewater as a resource, circulating it through hydroponic grow beds where plants take up its nutrients. The filtered water is then recycled back through the fish tanks. Aquaponics inspires dialogue about sustainability and the food system, making it a powerful teaching vehicle. We have hosted thousands of visitors since 2012, including many school field trips. We have also harvested thousands of pounds of fish and produce, which you can find at Baltimore area farmers markets and restaurants.
Visit the Food System Lab @ Cylburn page for more information on field trip offerings.
Related Links
Veterinary drug use in United States net pen Salmon aquaculture: Implications for drug use policy, December 2019
Ecosystem and Public Health Risks from Near- and Offshore Finfish Aquaculture

,

Revised August 2018
Wasted seafood in the United States: Quantifying loss from production to consumption and moving toward solutions (News Release, Infographic), Global Environmental Change, September 6, 2015
Our Seafood Choices: Health and Sustainability, NYT Letter to the Editor, June 2015
Offshore Finfish Aquaculture in the United States: An Examination of Federal Laws That Could be Used to Address Environmental and Occupational Public Health Risks, International Journal of Environmental Research and Public Health, November 2014

Public Health Perspectives on Aquaculture

, Current Environmental Health Reports, July 2014.
Study Analyzes Half-Century of Oyster Poaching Enforcement in Maryland (Research Brief)

Testing of Seafood Imported into the U.S. Is Inadequate

Aquaculture practices and potential human health risks: Current knowledge and future priorities, Environment International, 2008.
Food and Water Watch Smart Seafood Guide
         Aquaponics: