Food System Resilience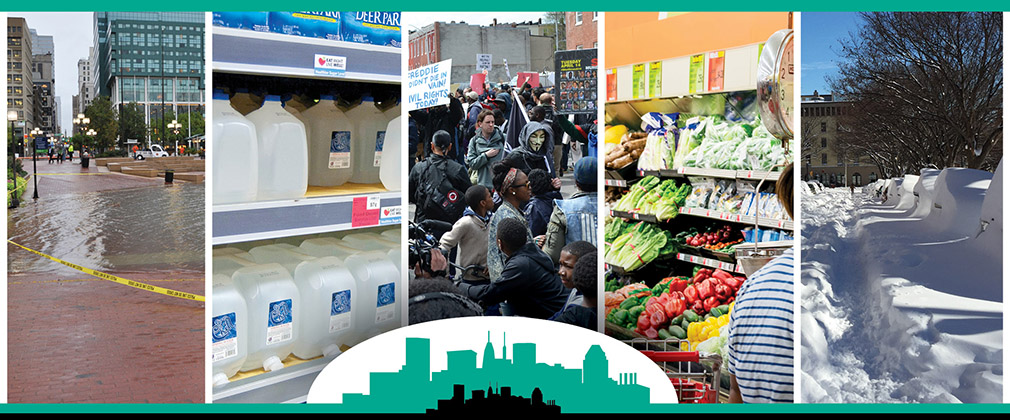 Why food system resilience?
Disasters can upend food access and incomes in the short term, stretch food system businesses and safety net programs to the limit, and cause longer term harm to people and systems that produce and distribute food. Due to structural inequities and racism, the consequences are typically worse for marginalized communities. The hazards are many, and often co-occurring: climate change, pandemic, supply chain disruptions, rising prices for food and production inputs (e.g., fertilizer), conflict, worker shortages, and more.
A resilient food system is able to withstand and recover from disruptions in a way that ensures a sufficient supply of acceptable and accessible food for all.
We need to prepare food systems for future disruptive events—and to plan in a way that builds on assets and also advances food systems that are equitable for the long term. Until recently, food was largely absent from resilience and disaster planning activities in local governments. Following our 2017 report, Baltimore became one of the first cities in the country to engage in food system resilience planning.
What are the Food System Resilience project's goals?
We provide resources to help local governments more effectively prepare for and respond to crises that disrupt food security for their residents and ensure a secure food supply for the future. We build the evidence base regarding effective responses to advance community food system resilience and equity; and educate students, professionals, policymakers and the public about food system resilience.
Food System Resilience: A Planning Guide for Local Governments
The Planning Guide supports local governments in preparing for food system disruptions and planning for long term resilience of their food systems. Read more. 
What are some of the activities of the Food System Resilience Project?
Supporting food system resilience planning
With funds from the Bloomberg American Health Initiative, the project is sharing the Planning Guide, evaluating its impact, and communicating with policymakers and others about the need for local government food system resilience planning. (2022-2023)
Co-convened a Food System Resilience Community of Practice (CoP) with the Johns Hopkins University Center for Applied Public Research and five cities around the US. (2020-2022)
The Baltimore Food System Resilience Advisory Report (2017), developed in partnership with the Baltimore Food Policy Initiative, assessed the city's resilience capacity and recommended strategies. Findings were based on interviews with local organizations, residents, food sellers, farmers and other stakeholders in Baltimore's food system. The City incorporated findings into the 2019 update of the Baltimore Sustainability Plan.
Working with engineers at the Johns Hopkins Whiting School of Engineering, we developed a fault tree model specifying the range of factors that could disrupt community food systems.
COVID-19 activities
During COVID-19, CLF engaged in multiple projects to community food system resilience from the local to global levels. Many of these have longer-term implications beyond the pandemic. Our work included:
Practice-oriented projects focused on food system mapping, assistance to communities, governments, labor unions, and more.
Descriptive and analytic research related to household food security, food system workers, aquatic food systems.
Co-leading the National Food Access and COVID Research Team (NFACT), which developed a publicly available household food security survey implemented in several US locations and nationally; the team published dozens of communications briefs and over a dozen manuscripts.
We are contributing to design of a new disaster-oriented household food security metric.
Education
Related reports and peer-reviewed research
Optimization Based Modeling for the Food Supply Chain's Resilience to Outbreaks
Frontiers in Sustainable Food Systems. 2022
Emer

 

ging COVID-19 impacts, responses, and lessons for building resilience in the seafood system
Journal of Global Food Security. 2021
Frequency of Workplace Controls and Associations With Safety Perceptions Among a National Sample of US Food Retail Workers During the COVID-19 Pandemic
Journal of Occupational and Environmental Medicine. 2021
A Multi-Site Analysis of the Prevalence of Food Insecurity in the United States, before and during the COVID-19 Pandemic
American Society of Nutrition. 2021
The Early Food Insecurity Impacts of COVID-19
Nutrients. 2020
Urban Food Supply Chain Resilience for Crises Threatening Food Security: A Qualitative Study
Journal of the Academy of Nutrition and Dietetics. 2019
Planning for resilient urban food systems: A case study from Baltimore, Maryland.
Journal of Agriculture, Food Systems & Community Development, 2018
Using a trauma-informed policy approach to create a resilient urban food system.
Public Health Nutrition, 2018
Assessing food system vulnerabilities: A fault tree modeling approach. 
BMC Public Health, 2018
Building Resilient Food Systems for Urban Food Security: Examples from Baltimore City, Maryland.
Urban Agriculture Magazine, 2018
Baltimore Food System Resilience Advisory Report.
CLF Report, 2017
Related news and narrative content
Related CLF Projects