National Farm Bill Poll Results 2023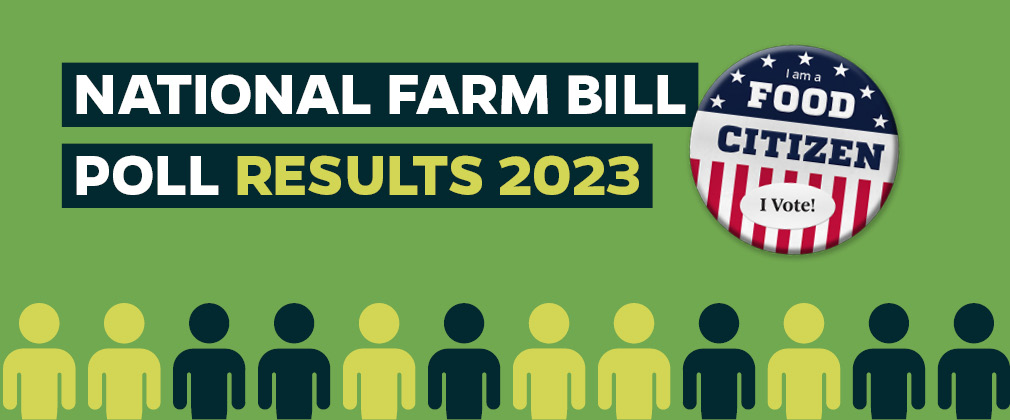 News Release  |  Poll Results  |  Memo
Context
The current Farm Bill, The Agriculture Improvement Act of 2018, was enacted into law in December 2018 and will expire in September 2023. The 118th Congress, seated in January 2023, is preparing to draft the next iteration of this comprehensive bill. Grassroots advocacy efforts around topics such as conservation, sustainable agriculture, and climate-smart agriculture have already begun, and this online poll, conducted in January 2023, furthers our knowledge of public attitudes and perceptions of relevant agriculture and food systems issues as the 2023 Farm Bill debate begins.
Summary of Findings
The National Farm Bill Poll 2023 was conducted in January, 2023, and again in March, 2023, in order to measure registered American voters' attitudes and perceptions about conservation programs, farmer supports, and terms including regenerative agriculture, agroecology, and climate-smart agriculture. Most respondents were unfamiliar with technical terms such as agroecology and climate-smart agriculture, but strongly supported these practices when the terms were defined. Overall, the poll demonstrated among respondents an appetite and license for food to be produced sustainably, as well as a belief that rising food costs are not the fault of farmers. The results were remarkably stable across the two polls, showing very little variation in responses, suggesting that registered American voters have consistent views about pressing farm bill issues.
Methodology
One nationwide, confidential, online poll was conducted by Greenberg Quinlan Rosner (GQR) Research in January 2023 and drew responses from 1,000 randomly selected registered American voters. A second nationwide, confidential, online poll was conducted by GQR in March 2023, drawing responses from a different set of 1,000 randomly selected American voters.
Key Findings from January 2023
94% of respondents said the federal government should support small- and mid-sized agricultural producers.
88% of respondents report that it is a high priority for food to be produced in a way that is sustainable and that ensures a supply of healthy foods today and in the future.
84% of respondents are in favor of incentivizing farmers and ranchers to implement sustainable, resilient agricultural practices.
84% of respondents believe agricultural policies should be aligned to support the production and consumption of healthier foods.
78% of respondents prioritize healthy and sustainable food for Americans over feed for animals.
Additional Findings from March 2023
The findings in March remained consistent with those from January, and a few more issues were included in the March poll, yielding these additional key findings:
82% of respondents favor holding corporate integrators responsible for pollution and other harm caused by CAFOs.
88% of respondents favor additional protections for meatpacking workers.
82% of respondents favor prohibiting the use of unfair tournament or ranking systems for paying contract growers.
For more information about the survey and its findings, please contact Patti Truant Anderson, senior program officer of the Food Systems Policy Program, at CLF: ptruant1@jhu.edu.
This poll was commissioned by the Johns Hopkins Center for a Livable Future (CLF) as part of its Food Citizen Project and conducted by Greenberg Quinlan Rosner.