National Farm Bill Poll Results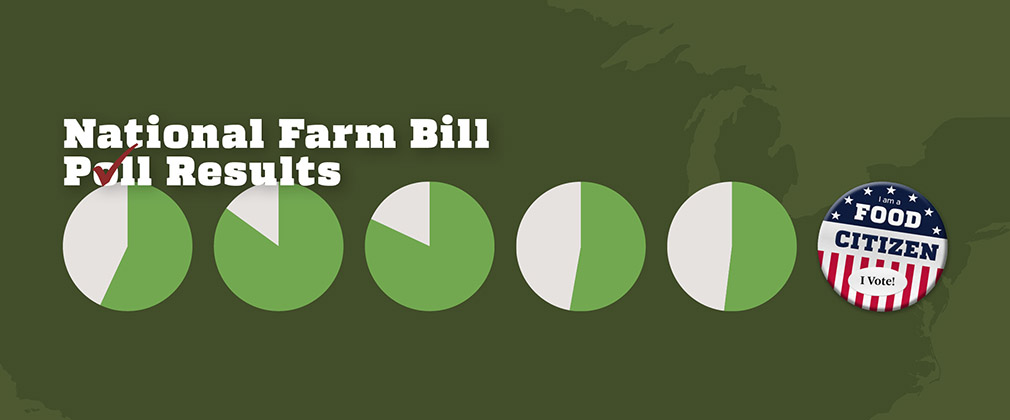 News Release   |   Survey Results   |    Infographics
Summary of Findings
A majority of registered voters oppose recent efforts to scale back Supplemental Nutrition Assistance Program (SNAP) food benefits and believe the government should be doing more to meet the needs of people facing food insecurity and other challenges. In addition to supporting an increase in funding for the nation's farmers, a majority of registered voters also support maintaining conservation programs for farmers. According to the survey, 58 percent of respondents oppose "eliminating funding for conservation programs that help farmers and agricultural operations maintain environmental quality." Of those, 38 percent indicated that they were "strongly opposed."
Methodology
The survey, conducted by Greenberg Quinlan Rosner (GQR) Research from June 5 to June 12, explores voter attitudes on several key farm bill issues, including conservation programs designed to protect US land, water and food supply. The nationwide survey conducted by phone included 1,005 registered voters.
Key Findings
61 percent of respondents said that they were opposed to reducing funding for SNAP, more commonly known as Food Stamps.
85 percent of respondents support increased opportunities for beginning, socially disadvantaged, and veteran farmers and ranchers to participate in government support programs
57 percent of respondents support increased funding for small- and mid-sized farms.
58 percent of respondents oppose "eliminating funding for conservation programs that help farmers and agricultural operations maintain environmental quality."
80 percent of respondents favor an increase in funding for food assistance to those experiencing a natural disaster abroad.
For more information about the survey and its findings, please contact Robert Martin, director of the Food Policy Program at CLF: rmarti57@jhu.edu