FDA's Michael Taylor on Food Safety and Supply
December 17, 2013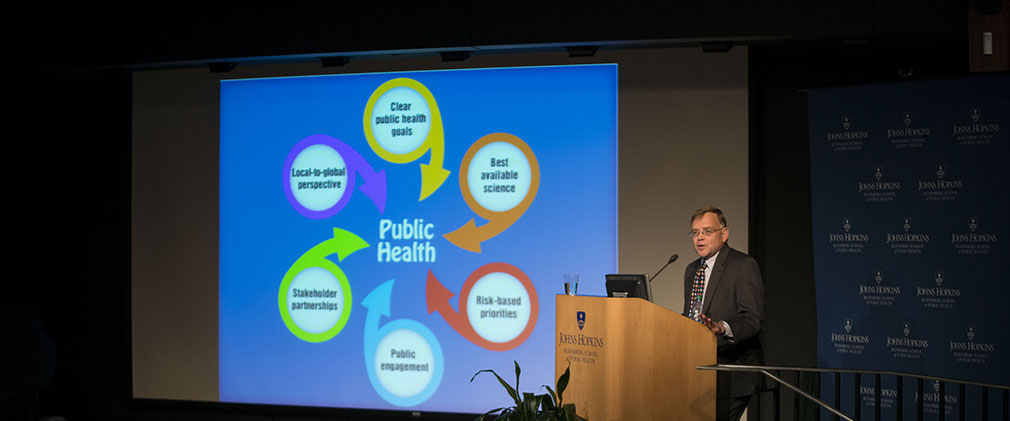 "It's a big step, but it's not the last step."
That was how Michael Taylor, deputy commissioner for foods and veterinary medicine at the Food and Drug Administration and a controversial figure in public health circles, described his agency's recent action to phase out the misuse of important antibiotics in livestock production. He addressed a Johns Hopkins Bloomberg School of Public Health audience two days after the publication of FDA's Guidance for Industry #213. The event was cosponsored by the Johns Hopkins Center for a Livable Future and the Center for Law and the Public's Health.
The finalized Guidance asks pharmaceutical companies to voluntarily abandon production approvals (like for growth promotion or feed conversion) for drugs. Instead of routinely feeding antibiotics to animals to make them grow faster, under the guidance the use of antibiotics will be limited to treatment of sick animals and "disease prevention." Public health advocates applaud the ruling on growth promotion, but are concerned that the industry nonetheless will continue to misuse antibiotics for growth, claiming that the use is "disease prevention", since for many drugs, the prescribed doses and durations are very similar to those for production uses. The effectiveness of the guidance hinges on how steadfastly the veterinarians overseeing the livestock hew to the intent of the Guidance.
In response to questions from the audience, Mr. Taylor said, "We've laid out criteria for what constitutes legitimate prevention use … and we expect the veterinarians to follow [them]. We have to be sure that actually happens. You guys will look over the shoulders of the veterinarians."
Mr. Taylor acknowledged that the question of accountability remains open, but he emphasized that the new Guidance is a big step for FDA in an extremely politicized Congress. "Look," he said, "I feel kind of bullish about this, because for 40 years we've been unable to take a concrete step on this, and now we have."
Several times during the talk, he suggested that agencies such as FDA find it difficult to "do our jobs" because of the current centralization and politicization of government. As early as 1977, he said, the FDA tried to address the issue of antibiotic misuse, but "Congress precluded FDA from taking action."
In his talk, he underscored that FDA's mission is to protect the public's health. In this vein, the agency's top five priorities currently are the antimicrobial resistance problem created by misuse of antibiotics in animal feed, chemical hazards (such as toxic dyes), in foods, nutrition, microbial hazards (such as food disease outbreaks), and labeling. Recent projects include the banning of trans fats, an investigation into arsenic in rice, an investigation into caffeine additives in products such as energy drinks, gum, and waffles, an initiative to reduce sodium intake, and a final regulation on a definition of "gluten-free." They will soon issue a rule to update the Nutrition Facts panels found on food packaging.
Mr. Taylor also made it clear that there are many food system issues that fall clearly outside of FDA's jurisdiction. Some of these include meat safety, animal welfare, agricultural policy, or "telling people what to eat." (FDA may influence dietary guidelines, but does not have authority over them.)
Professing a delight at being able to address a school of public health, he said, "It's the most fun I've had in months." He encouraged engagement from students and scholars. "We need the research, the analysis, the ideas about how to accomplish our goals, and the students to come work with us."
—Christine Grillo