MPH Concentration in Food Systems
Masters of Public Health (MPH) students in the Food Systems Concentration will explore the critical role of food systems in public health and apply research, communication and/or public health policy analysis and advocacy skills to address the public health, equity, and environmental implications of food systems.
The MPH Concentration includes a minimum of 18 credits of coursework. Some courses are based on field trips and/or experiential learning. Other courses can be taken online and incorporate interactive sessions and recorded presentations by a wide range of experts from various fields. Students in the MPH Concentration in Food Systems participate in group mentoring meetings with the Center's faculty and staff and complete practicum and capstone experiences.
The MPH Concentration in Food Systems is open to full-time and part-time students. For the most updated curriculum, please refer to Appendix A of the MPH manual for full-time students. The Center also offers a Food Systems, Public Health and the Environment Certificate.
For students across the School, CLF hosts a variety of optional networking and enrichment activities. Examples include seminars, endowed lectureships, skills trainings, social events, and alumni panels.
The Capstone Experience
The capstone experience involves applying the skills and competencies acquired during the MPH coursework to a particular food systems problem or to the analysis of policies and/or programs at the intersection of food, the environment, and public health. Students' capstone projects may be inspired by the list of research and project ideas that the Center updates each summer. Students will make presentations about their capstones at the Food Systems MPH Capstone Symposium.
Learn more about the No. 1 ranked Master of Public Health program at the Johns Hopkins Bloomberg School of Public Health.
Learn more about our 2022,  2021, 2020, 2019, and 2018 graduates.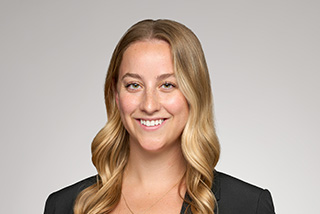 "While at Hopkins, Dr. Keith West advised me that when working in food systems and/or public health, it's important to get comfortable with not seeing quick changes. Especially in food systems, change can take decades. With that advice, I hope in 10 years time, safe, nutritious food can be universally accepted as a basic human right." —Abby Reich
Learn More