Veronica Greene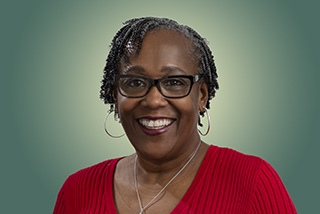 ---
111 Market Place, Suite 840, Baltimore MD 21202
Sr. Administrative Coordinator

Veronica joined the Center for a Livable Future in 2013 as the administrative coordinator. With a background in customer service and administrative support, Veronica enjoys working as the Center's "motor" and ensuring everything is running smoothly.
A native of Baltimore, Veronica enjoys spending time outdoors, watching movies, and cooking healthfully for her family, especially her grandchildren. "As you get older, you realize how important it is to take care of your vessel," she says.
Her idea of a livable future is one in which we sustain ourselves by responsibly sustaining our resources. She believes a livable future also includes a mindfulness of how food is produced, its quality, and the impacts of our food choices.
A true "people person," Veronica finds joy in helping others and spreading compassion. In this way, she says she feels at home in the supportive team atmosphere at the Center.