Raychel Santo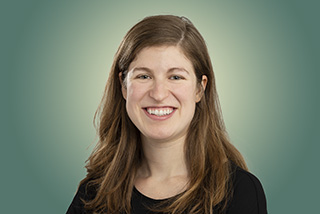 ---
111 Market Place, Suite 840, Baltimore MD 21202
---
Senior Program Coordinator, Food Production & Public Health, Food Communities & Public Health

Raychel is a Senior Research Program Coordinator with two programs at the Center: the Food Production and Public Health program and the Food Communities and Public Health program. In this role, she works on a variety of projects related to local/regional food policy councils and governance (through the Food Policy Networks project), the relationship between diet and climate change, urban agriculture, and institutional food procurement.
Originally from Dayton, Ohio, Raychel's interests in preventive health, environmental sustainability, and community empowerment began with her discovery of the sustainable food movement. As an undergraduate at Johns Hopkins, she immersed herself in academic and research pursuits to learn more about this emerging field. Double-majoring in Public Health and Global Environmental Change & Sustainability, Raychel directed her studies to better understand how pesticides, toxicants, and environmental conditions affect human and ecological health. She learned about the physical effects and psychological influences of our diets; how climate change will affect local, regional, and global food production and security; and the social and political implications of various food policies. During this time, she worked with the CLF as a student research assistant (2010 to 2013) and as a full-time program coordinator (2014 to 2015), gaining a more critical eye toward understanding the complexity of creating systemic solutions to our food-related issues. After completing her Master's degree in Food, Space & Society at Cardiff University School of Geography & Planning with the support of the US-UK Fulbright Commission, Raychel returned to the CLF full-time in spring 2017.
Raychel extends her passions to extracurricular life as well. She co-founded Real Food Hopkins, a chapter of the national Real Food Challenge student movement committed to bringing local/community-based, ecologically sound, humanely raised, and fair food to the JHU campus and surrounding Baltimore area. In addition to organizing food advocacy and awareness events, the group was instrumental in getting the University to commit to purchasing at least 35 percent "real" food by 2020. An avid gardener at the Blue Jay's Perch Community Garden, she can often be found there weeding, digging, and chatting on the weekends. She also enjoys cooking, yoga, hiking, and playing cards and board games.
Related Stories and Viewpoints
What would it look like if we incorporated food system issues into climate action plans?
If our world leaders think we will solve all of the problems we are already – and will increasingly be – experiencing as a result of climate change with simple public education or eco-tree benches, they're delusional.