Polly Walker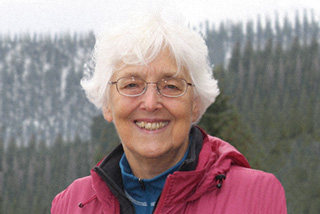 Senior Fellow

Polly is a Senior Fellow and former Associate Director at Center for a Livable Future and a Research Associate in the Department of Environmental Health Sciences.
In 1996, Polly joined the Center, shortly after its creation.  As part of a two-person team, Polly helped Founding Director Bob Lawrence launch the Center by initiating the interdisciplinary collaboration, research, education and community outreach that continue to be a hallmark of the Center today. Polly served as Associate Director of the Center until 2010.
What inspires Polly is the vision of Sir Albert Howard, the father of organic agriculture who worked tirelessly to convey the imperative that "the health of soil, plant, animal and man is one and indivisible."  For Polly, that message from over 80 years ago is even more urgent today as a growing population and unsustainable human activities impact the environment.
Polly has devoted her life to two major interests: health and the environment. She led several successful land preservation campaigns in Baltimore County, worked to improve nature and science education, initiated and organized the first Hazardous Household Waste days in both Baltimore City and County, among other environmental advocacy efforts. A physician trained in pediatrics, Polly turned to public health to address problems at their source. At the Center, these interests all came together in a setting that looks upstream for solutions to human health and environmental problems.
Because Polly believes it is important to practice what we preach, she initiated the Ad Hoc Committee for the Greening of Johns Hopkins, a University committee for increasing environmentally sustainable practices. This effort, which began in 2000, laid the groundwork for the official JHU Sustainability Initiative in place today.   
Community involvement is very important to Polly. She initiated and ran a program for student, staff and faculty volunteers at the Rose Street Community Center (Facebook page for Rose Street) in East Baltimore from 1998 to 2005. This included a tutoring program for children. In 2005, Polly was awarded the Johns Hopkins Martin Luther King Award for her contributions to the community and work toward healing racial intolerance. 
In 2005, Polly moved to Providence, RI, to be near two of her children and her six grandchildren.  As Senior Fellow, she serves as course faculty for the popular online course at JHSPH:  Food Systems and Public Health and continues to be involved in other CLF activities.
Polly is a graduate of Radcliffe College, Harvard Medical School and she received a Master of Public Health degree from the Johns Hopkins Bloomberg School of Public Health.