Paulette Wilson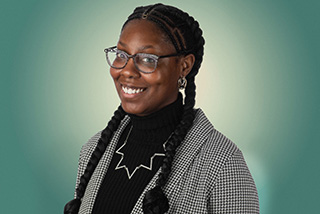 ---
111 Market Place, Suite 840, Baltimore MD 21202
Social Media Manager

Paulette joined the Center for a Livable Future in 2022 as a social media manager, building on experience composing social media campaigns for the University of Maryland, Baltimore, Kennedy Krieger Institute and the University of Baltimore. She is a certified Social Media Strategist (SMS) with the National Institute of Social Media (NISM), and serves as a member of the NISM Advisory Committee.
Paulette manages and implements social media strategies that communicate the Center's research, education programs, and activities aimed at food system reform. Her social media strategies play a key role in advancing the Center's strategic plan, by bringing attention to potential solutions to entrenched food system problems, and collaborating with strategic partners to promote new ways of thinking about how to improve the food system.
A Baltimore native and graduate of Towson University (Go Tigers!), Paulette is excited to explore the intersection of food systems and public health through social media. The mission of the Center resonates with her, starting from childhood, as she observed her mother, a former Baltimore City educator, participate in fundraising to supply her students with lunches each month. In her 20s, she developed an interest in contributing to a healthier food system by buying from local farmers markets and embracing "Meatless Mondays."
"Turning my passion for educating people about the environment and food systems into my daily work is the ultimate honor," she says. At home, you can find her making healthy meals. She is always open to trying new recipe suggestions.