Natalie Wood-Wright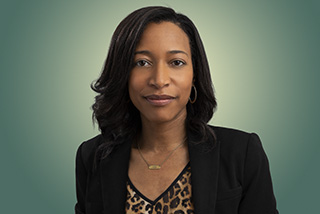 ---
111 Market Place, Suite 840, Baltimore MD 21202
Director of Public Affairs

Prior to joining the Center in December 2013, Natalie served 5 years as associate director of public affairs in the Bloomberg School's Office of Marketing and Communications where she worked to increase public awareness of the school's research and faculty. Her background, besides JHSPH, includes stints as a television reporter at an ABC affiliate on Maryland's Eastern Shore, and handing public relations at Baltimore's prestigious Mt. Washington Pediatric Hospital.
Natalie's experience working with the local, national, and the international press community-and her reporting background-make her ideally suited for her position at the Center where she'll be working to increase awareness of CLF's programs and research to the public and news media.
Reaching out to new audiences with what are sometimes complex messages can be difficult, according to Natalie. "My goal is to actively engage journalists and organizations who can educate the public about the many issues that face our food system," she says. "People can't help us influence change if they don't understand how a particular situation may affect them."
Natalie is passionate about the Center's work and has a strong interest in access to healthy and affordable foods. As a youngster with deep roots in one of the nation's worst food deserts, she often wondered why locating a fast food restaurant in the "Motor City" often seemed easier than locating a mainstream grocery store.
A wife and mother of two young children, Natalie is more interested than ever in where food comes from and how it's produced. "I have tried to instill in my children the importance of eating healthy and the joy of growing your own food," she says. "Even though I don't have the greenest thumb, my daughter and I were able to grow a tomato plant over the summer."