Fumi Agboola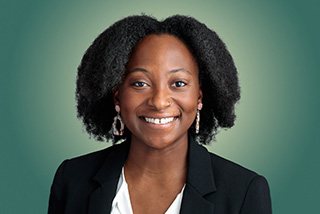 ---
111 Market Place, Suite 840, Baltimore MD 21202
Program Officer

Fumi joined the Center for a Livable Future in 2023 as a Program Officer, bringing expertise in research, analysis, and evaluation. Prior to joining the Center, she was a  Research Associate II at NORC at the University of Chicago, where she assisted in conducting interviews, leading small group discussion, and analyzing survey data for projects related to early childhood care, nonprofit community development, and arts & culture. While at NORC, she led a notable project on the evaluation of choice programming in foodbank and pantries, in partnership with Feeding America and More Than Food Consulting. She has dedicated her career to policy analysis research, nonprofit advocacy, and social impact, and at the Center she focuses her research and evaluation skills toward policy initiatives and policy solutions.
Originally from North Carolina, Fumi graduated from North Carolina State University with a Bachelor of Science in Education and double minors in Nonprofit Studies and Business Entrepreneurship. She earned a Master of Public Policy degree from the University of Chicago Harris School of Public Policy, with three certificates in International Policy & Development, Global Conflict, and Policy Analysis. 
She was drawn to the Center because she wants to be at the cross-point between research and practice, where policy rooted in evidence can create a more equitable and sustainable food system. She is also passionate about making food and agriculture the center of policy because of their intersectionality, touching public health, climate change, and economic development. 
Fumi enjoys cooking, taking photos (particularly film photography), listening to music, traveling, and spending time with her cat, Yomi.