Daphene Altema-Johnson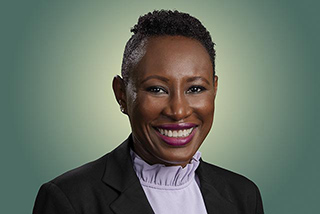 ---
111 Market Place, Suite 840, Baltimore MD 21202
Program Officer, Food Communities & Public Health

Daphene joined the Center for a Livable Future in 2019 as a Program Officer with the Food Communities & Public Health Program, following a year-long dietetic internship that led to her becoming a registered dietitian/nutritionist (RDN). Before that, she was an epidemiologist and lead evaluator at the Maryland Department of Health and Mental Hygiene, Oral Health Department. While there, she performed all data collection, analysis and reporting activities, and served as the chief evaluator for the HRSA workforce grant and CDC's Cooperative Agreements oral health grant. She developed and implemented a five-year evaluation plan for Maryland's oral health program and evaluated legislation to determine effectiveness and impact.
At the Center, Daphene uses her expertise and experience as a nutritionist to support the Meatless Monday campaign. She's especially interested in reaching young people with wellness messages through school programs and community outreach to effect generational change. "Get them started early," is one of her guiding principles.
As the granddaughter of long-lived Haitians who "ate what they grew and what they raised on the land," Daphene learned first-hand about the benefits of eating fresh, organic, whole, locally-grown foods. "They taught me the importance of family, wholesome eating and how to live simply," she says about her grandparents, who lived into their late 80s and 90s. She feels that her work at the Center and with the Monday Campaign is an opportunity to apply her experience in public health epidemiology to issues she feels passionately about—public health and sustainability.
"I love families," says Daphene, who is raising two children, and wants to help people learn how to re-connect with a slower, healthier pace of life. "My son is so proud he grew his own basil this summer," she says, "and when he said he wanted to make pesto, I knew I'd done something right."