D'Ann Williams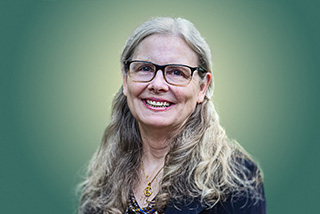 ---
111 Market Place, Suite 840, Baltimore MD 21202
Assistant Scientist, Industrial Food Animal Production

D'Ann joined the Center for a Livable Future in 2020 as a Senior Program Officer, following a position as Chief of the Center for Food Emergency Response and Defense at the Maryland Department of Health (MDH).  At MDH she also was the Rapid Response Team Coordinator and worked with multidisciplinary, multi-agency teams to investigate and stop foodborne illness outbreaks. Prior to her time at MDH she served as an Assistant Scientist in the Department of Environmental Health and Engineering at the Bloomberg School.
D'Ann has been contributing to the Center's work investigating the intersection of food systems and public health for many years. She was a CLF-Lerner Fellow from 2007 to 2009 and conducted research on mega-dairies in Yakima Valley, Washington in collaboration with CLF and local academic and community partners. That mega-dairy research contributed to the body of knowledge that helped the State of Washington take action on dairy CAFOs (concentrated animal feeding operations) and change policy to require greater oversight—a national precedent.
At the Center, D'Ann is building capacity and reaffirming our commitment to addressing the complex issues around Industrial Food Animal Production, drawing on her many years of experience of community-based participatory projects, collaboration, program support, and research on food safety, environmental health, and air quality.
"After visiting with community members in Yakima and observing the environmental hazards associated with industrial scale agricultural operations, I became convinced about the increased public health risks to the environment, community residents and workers in those industries," says D'Ann. "To ensure a livable planet for our children and future generations, this model of food animal production must be vastly modified to reduce harmful impacts, incorporate sustainable practices and be resilient."
D'Ann is excited about helping CLF play an important role in a global shift toward creating a food system that reduces harm and benefits everyone.
She is also a professional goldsmith and has been making handcrafted jewelry since 1982.  While working as a goldsmith, she became aware of the critical importance of the occupational environment and worker health, leading her to Johns Hopkins to investigate causes, barriers, challenges, and solutions to protect occupational workers.