Becky Ramsing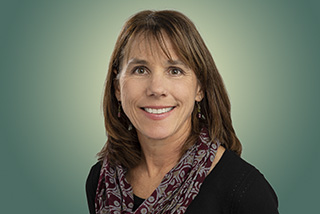 ---
111 Market Place, Suite 840, Baltimore MD 21202
Senior Program Officer, Food Communities & Public Health

Becky is a senior program officer with the Food Communities and Public Health Program, primarily responsible for managing the Center's science advisory role with the Meatless Monday Campaign. At CLF, she oversees research, communication, evaluation and programming that facilitate a shift to sustainable, healthy diets that are plant-centric and lower in meat.
Prior to joining the CLF, Becky worked with University of Maryland as a Technical Advisor for Nutrition and Food Security for projects in Afghanistan and Ethiopia, helping women produce and utilize food for family consumption and income generation. She also worked as a nutrition consultant for community, worksite, and school-based programs developing and implementing health and nutrition curricula with clients such as Head Start, Howard County Public School System and other business and community partners.
Her interest in food began early in life but was further ignited while studying nutrition at University of California, Davis and when she worked for Sunset Magazine developing and testing recipes.  After becoming a Registered Dietitian and working as a clinical dietitian at Boston's Brigham and Women's Hospital for 4 years, she worked with a diabetes education project in Tanzania, East Africa for another 4 years.  She returned to the States and obtained her MPH from Johns Hopkins Bloomberg School of Public Health and has worked in the nutrition/public health field since then focusing on helping individuals and organizations make healthful, lifestyle choices that are evidence based, relevant, and sustainable.   She has extensive experience initiating and overseeing health and nutrition programs and research projects, and she loves creative problem solving that includes networking and collaboration.
Linking nutrition with agriculture has been a focus of her passion and work over the past years­––from working with local farmers and food suppliers, to promoting consumption of local foods, to helping resource limited families here and abroad access fresh, affordable food. Becky believes good nutrition for everyone relies first on a healthy food system. In the same way, addressing hunger and food security within the scope of agriculture cannot be separate from nutrition. 
Becky is active as a board chair of Aids Orphan Education Trust, which supports a Ugandan organization serving orphans and vulnerable families. She is an avid runner and is passionate about all things vegetable—from soil to table—and loves gardening, cooking and eating.