Atif Adam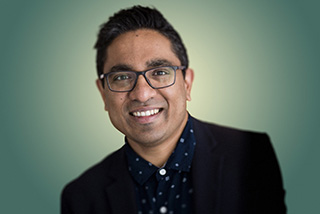 ---
111 Market Place, Suite 840, Baltimore MD 21202
Senior Technical Adviser

Atif joined the Center for a Livable Future in 2020 as a Senior Technical Adviser, after completing work as a postdoctoral fellow with the Global Obesity Prevention Center (GOPC) at Johns Hopkins University. At GOPC, he used systems science models to understand adverse health outcomes and health disparities linked to individual variability within the population, and his work allowed GOPC to develop frameworks for better understanding the global obesity epidemic and to develop interventions.
Having earned his doctorate in Health Systems at the Bloomberg School, Atif is a public health scientist who specializes in clinical modeling and systems approaches, and he's trained in internal medicine, as well. Through his research, he explores systems thinking approaches for studying the impacts of policies in a number of public health issue areas such as obesity-associated chronic disease and cognitive aging. He earned his medical degree and an MPH in spatial epidemiology from Loma Linda University.
At the Center for a Livable Future, Atif is helping to lead a directed research project using systems modeling to understand the complex and numerous factors that influence meat consumption. He uses his expertise to develop potential interventions aimed at reducing meat consumption, as well. He works closely with the Food System Mapping team, and he excels at developing technology to answer scientific questions of interest.
"Environmental sustainability is one of the most pressing issues we currently face and sustainable modern diets, including a shift in meat consumption, can help foster a healthier population and planet," says Atif. "We urgently need to learn from existing fragmented tools and programs, to better identify and tackle systemwide factors that can affect meat consumption."
In his spare time, Atif is active in his local community, raising awareness of mental well-being and healthy aging. "Health, in my understanding, is about relationships. Relationships among ourselves, the community, the environment, and the health care system are some of the many that have a significant impact on our well-being," says Atif.  "The simplicity of nurturing these relationships but the complexity of maintaining them as we age has long captivated me in my work and daily life."